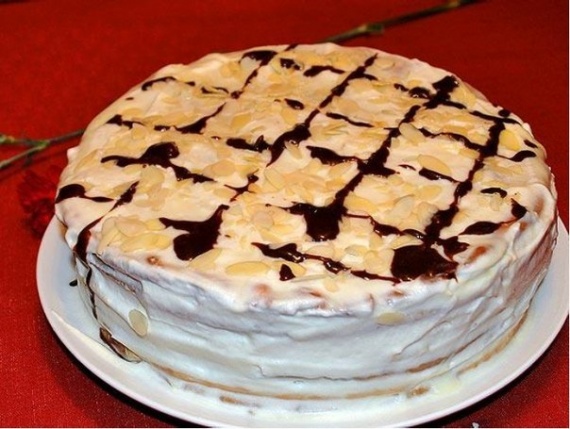 Ingredients:
2 eggs
1 cup sugar
1 tsp. Baking soda
0.5 tsp. Salt
200 grams of fat cottage cheese
2 cups (250 mL) flour
Almond
Cream:
3 eggs
1 tbsp. sugar
Article 1.5. spoon flour
750 ml of milk
200g butter
Vanillin
For the dough, beat eggs with sugar, add the cheese, mix well and add flour mixed with baking soda and salt. Divide the resulting dough into 8 pieces and put in the fridge for an hour.
Cooking Cream: Good mix all the ingredients for the cream, put on fire, bring to a boil and remove. When the cream has cooled, whisk it with soft butter. If you add 200 grams of whipped cream, the cream will be even more delicious as ice cream.
Preheat the oven to 180 ° C and bake the cakes until light golden color, a few minutes. Peremazyvaem their cream and leave the cake for impregnation. Sprinkle with almonds and decorate with chocolate.
Enjoy!