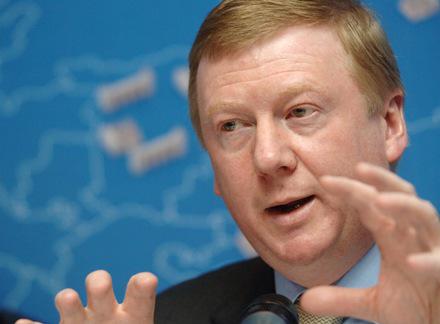 Leonid Melamed shifting to the post of head of the state corporation "Nanotechnologies", Russian President Dmitry Medvedev has appointed in his place of Anatoly Chubais. This personnel decision was not unexpected. Expert opinions regarding the new appointment Chubais separated from positive to extremely skeptical.
Yesterday, President Dmitry Medvedev has appointed Anatoly Chubais, the head of the state corporation "Rosnanotechnologies", shifting from this position Leonid Melamed, head of the "Nanotechnologies" the end of 2007
This was announced during the forum "Entrepreneurs of the border regions" Aktyubinsk in Kazakhstan, where there were Dmitry Medvedev, the newly appointed head of the "Nanotechnologies" Anatoly Chubais.
Shifting to "Nanotechnologies" was not unexpected. Persistent rumors of his impending appointment turned into confidence about a week ago, however, tells CNews in "Rosnano", reliable information about the new position until the last moment Chubais was absent.
The version that "Rosnano" was created specifically for the chairman of RAO UES Anatoly Chubais, who, after the liquidation of RAO July 1, 2008 was to find a new job, appeared at the end of last year, when the state corporation "Rosnanotechnologies" headed by Leonid Melamed. Since 2000, he worked under the leadership of Chubais, First Deputy Chairman of the Board of RAO UES, which left in 2004
In his own words, Leonid Melamed, the state corporation "Russian Nanotechnology" (brand "RUSNANO") is designed to support domestic investment of nanotechnology research in the "risk areas". To solve this problem, "Nanotechnologies" were obtained from the federal budget as a property contribution of 130 billion. Rub. ($ 5, 3 billion.).
Now it is known two investments committed by a state corporation. One of them was the payment? 8, 66 million. (About 320 million rubles.) In a Dutch company with Russian founders, producing positioners for the manufacture of aspheric lenses. As a result of investments "RUSNANO" received 50% minus two shares in the new company.
The second project, worth 1 billion rubles. As for the creation of Rybinsk-based NPO "Saturn" ("Rybinsk Motors") of the enterprise for the production of metal-cutting tools with nanostructured coating. Other means "Nanotechnologies" placed on deposits 8 Russian banks, the size of this deposit financial analysts called a record for Russia.
According did after taking office, the statement of Chubais, Russian nanootrasl sales should "catch up by 2015, with the current turnover of the former RAO UES energy companies. And this is a trillion rubles a year. " Leonid Melamed said in February that the domestic nanooborot in in 2015 is expected to reach 1, 35 trillion rubles.
Leading expert of "Finam Management" Dmitry Baranov, "Chubais - quite an effective manager who can organize the work of a new direction, and so he offered the post. I think that he himself was looking for something less politicized, and this is just what you need. Chubais and new technologies respects, so that the appointment of an understandable and successful. Firms with a similar volume of investments (130 billion - CNews) in Russia does not exist, although there are companies with assets that are many times higher than this figure. For example, "United Aircraft Corporation" or "Russian Technologies» ».
Appointment Chubais commented rigidly scientific director of the Institute of Globalization Problems Mikhail Delyagin: "To appoint Chubais head" Nanotechnologies "- it's much better than if it was placed to manage pension funds. Fortunately, no one in Russia nanotechnology, so they will not be destroyed. Now, around the "Nanotechnologies" will develop the business, and this business will be good. " - He told CNews.