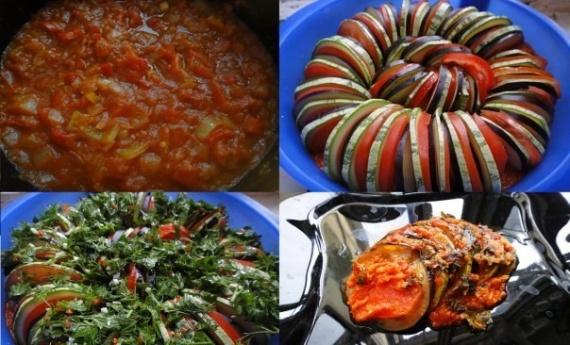 Prepare the sauce:
2 peppers cut
I did not separate from the skin, but it is necessary so:
Pepper put in a baking dish, put in the oven.
Bake at 180 degrees until the skin is not yet start to turn black (approximately 30 minutes)  
Hot pepper put in a plastic bag and leave to cool.
Then Pepper peel and seeds, cut into cubes
Onion (1 medium) and garlic (to taste) Mince.
In vegetable oil fry the onion
Add pepper and fry for 2-3 minutes.
Add grated peeled tomatoes (3-4), salt and fry up until the sauce begins to thicken (about 5-7 minutes)
add 2-3 tablespoons tomato paste and simmer another 5 minutes
You can even add a red (or white) dry wine - 2 tablespoons, but I did not add
Transfer the sauce to a blender, chop.
Add thyme leaves, stir.
Put the sauce in the shape, smooth.
Zucchini (1-2) cut into very thin slices.
Eggplant (1-2) cut into thin slices.
If bitter eggplant, they should salt and leave for 30 minutes, then rinse in cold water, wring out.
Tomatoes (3-4) cut into thin slices
In shape, alternating, put eggplant, tomatoes, zucchini.
filling:
5 tablespoons vegetable oil
2-3 cloves of garlic
herbs to taste
salt
pepper
optional:
balsamic vinegar
Vegetables pour dressing
Shape cover with foil.
Put in the oven.
Bake at 180 degrees for 1, 5h
If you prefer, you can sprinkle feeding vegetables with balsamic vinegar