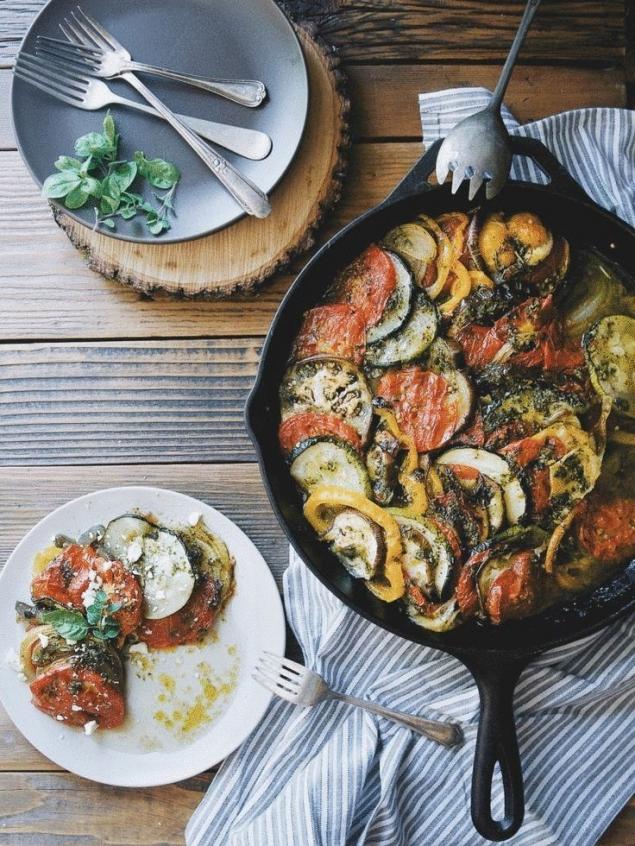 In the classical version of Ratatouille – a simple rustic dish of vegetables, but this recipe is straight from the movie "Ratatouille" – makes steamed vegetables worthy of a celebratory feast. Oh, and if you somehow think that the usual vegetables you can no longer anything surprising, be sure to try this Ratatouille.
Рататуй2 portions
base:
1/2 sweet orange pepper
1/2 sweet yellow pepper
3 tomatoes
1 clove of garlic
1 small onion
1 sprig of thyme
1 sprig of parsley
1 Bay leaf
olive oil
vegetables:
1/2 zucchini
1/2 yellow pumpkin
1/2 of an eggplant
2 tomatoes
2 tbsp olive oil
1 clove of garlic
1 sprig of thyme
filling:
1 tbsp olive oil
1 tsp balsamic vinegar
chopped greens  
Let's start cooking with base pipérade. Peppers will get cut down on a baking sheet covered with a sheet of foil and place in preheated oven at 220 degrees for 15 minutes. Tomatoes clean the skin and seeds, flesh finely chop. Finely chopped onions and garlic fry in a little olive oil over low heat for 8 minutes, then add the pulp of tomatoes, parsley, thyme and Bay leaf. Simmer for another 10 minutes, stirring occasionally, then remove the herbs. Peppers should be ready – remove them from the oven and reduce the temperature to 150 degrees. The peppers peel off the skins, finely chop, add to pan and simmer a few more minutes, then remove pan from heat. Evenly ready pipérade at the bottom of a small baking dish, hide one tablespoon of this mixture for the filling.
The recipe called confit byaldi was developed by Thomas Keller specifically for the animated film "Ratatouille" at the climax of which is dispassionate, a food critic, Antoine Ego is so blown away by the masterpiece little chef rat Remy. In the description of the recipe I did not skimp on the details, so it can seem a little complicated, but believe me, it's worth it. Just look at the facial expression of the Ego: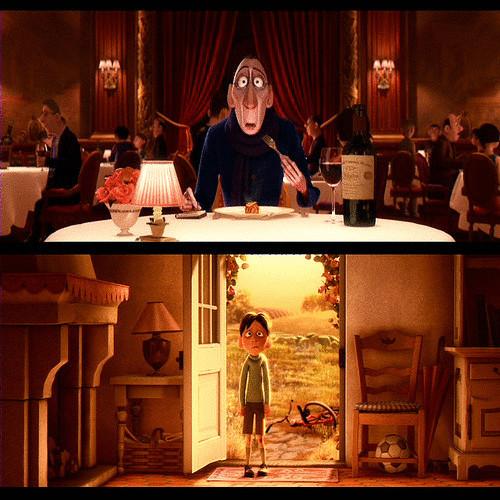 Crushed garlic clove and thyme leaves, pour a couple of tablespoons of olive oil, and season with salt and pepper and set aside. Zucchini, eggplant, tomatoes and pumpkin (you can substitute yellow squash) cut into thin slices – you need to vegetables was approximately the same diameter. Gently place overlapping slices of fruit to your baking dish and drizzle with olive oil, garlic and thyme. Tightly cover the form with foil and bake for 1 hour 40 minutes at a temperature of 150 degrees. Then remove foil, bake another 20 minutes, then remove from the oven. It will look something like this:
At this stage you can remove the vegetables in the refrigerator. Immediately before the meal place the mold under the grill for a few minutes, and when serving, first put on a plate a few spoonfuls of the base, and around them carefully lay the slices of vegetables in the form of a cone. Sprinkle with olive oil, balsamic vinegar, chopped fresh herbs (like thyme leaves of chives, parsley, etc.) and 1 tsp pipérade, and immediately serve.published
P. S. And remember, only by changing their consumption — together we change the world! ©  
Source: www.arborio.ru/ratatouille-confit-byaldi/