As you know, Georgia is famous for its succulent kebab, beautiful nature and warm hospitality of the hosts. In this post you will find 7 of the rules of the mystical ritual called Georgian feast. We went to Tbilisi, sat at the table with the master of ceremonies and made sure that the Georgians known way to not only stop the clock, but also significantly extend the life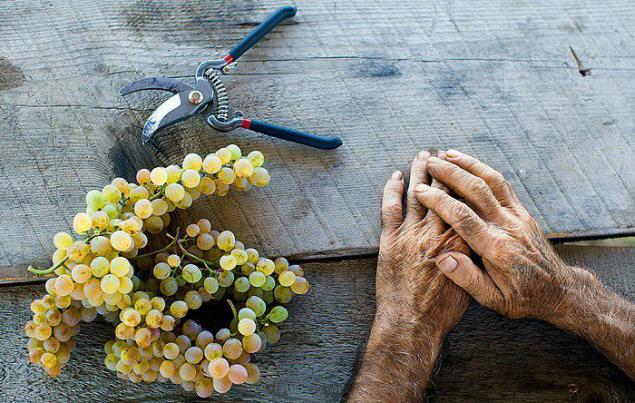 Georgian feast - a mystical ritual, born in love. The key word here is "love." It breathes nature, imbued with the air space is charged. Love is felt in every spoken during a party toast. In fact, as toastmaster Luarsab Togonidze before sip, gently rolls the wine in the glass. In fact, like looking at his wife Nino, give him five children.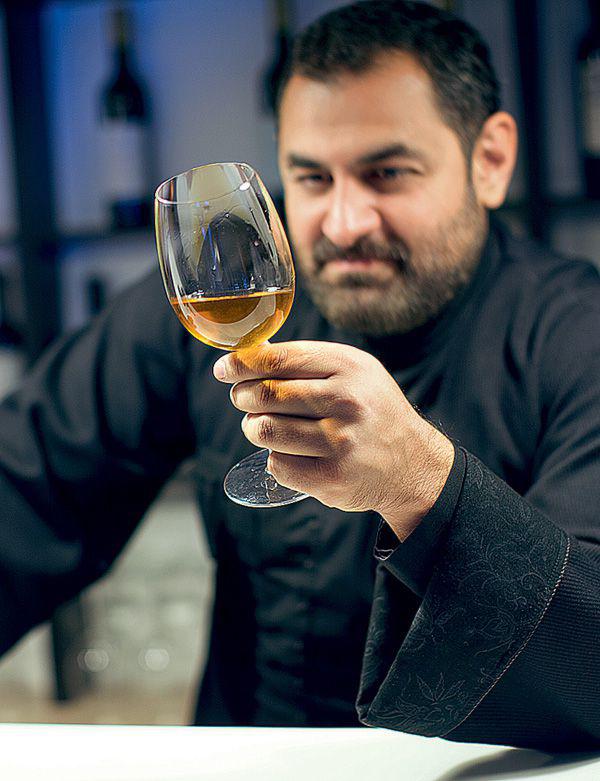 Tamada Luarsab Togonidze weighs every word. By the way, toast, raised during a feast for guests toastmaster, considered the last. After all it is necessary to disperse or choose a new toastmaster
Luarsab - a powerful, two meters, bearded mountaineer. His wife Nino - petite brunette. "The first time I saw Nino in 1997. Naturally, during the feast, the wedding of a mutual friend ».
Tbilisi Luarsab - a legendary personality. And not only because of toast ... In fact, the profession "toastmaster" in Georgia does not exist. Festive table are usually by vocation, and at the request of the organizers. Of course, free of charge. The main occupation of Togonidze - sewing and sale of costumes, patterns for which he restored for museum exhibits and old photographs. In addition, Luarsab - bright performer motets and owner of several restaurants. So the knowledge and experience he has enough to share with others. Of course, at the table.
According Luarsaba, in the atmosphere of this feast is invisibly present magic that creates a good wine, allowing a person to open the heart, and good company. Between the gathering should reign love and friendship, or a holiday will not take place, no matter what the master was toastmaster. Therefore, each toast completed a general exclamation "Gaumardzhos!" - A wish health to all those present. During the Georgian table are all equal before God. For him and pronounced the first toast. Always.
For the Almighty
- When God distributed among the nations of the earth, Georgians peacefully sat, drinking wine and eating barbecue. They had no part in this bustling process. Almighty their behavior so touched by what he took and gave them to Georgia - the land that reserved for himself - says Luarsab Togonidze so, and his voice is heard pride.
Any Toastmaster have a clear and universal structure of celebratory speeches. But the real master of ceremonies should bring to toast something personal from their own life experiences, my love. In Loire saba, like most of his countrymen, a special relationship with God.
- My family even in Soviet times, when they were persecuted for the faith, the table openly praised the Most High. After the meal historically - the continuation of a church service. A wine symbolizes the blood of Christ. For us, this sacred drink. Not drink wine to drink. Among the Georgian state is considered shameful! Wine allows us to touch our glorious traditions. Gaumardzhos!
For eternity
- There is a legend about the Georgian emigrants who have long sat in a Paris restaurant. Visitors are constantly replaced, and some leaving, asked the waiter what kind of people? Waiters responded: "Oh, that Georgians now they do not feel the time ..." In fact, for the Georgian feast is no such thing as time! When we sit down at the table, the clock stops.
Georgian feast always invisibly present "gone." Therefore, here, remembering the dead (required toast regardless of motive meetings), made clink glasses: they are alive until they remember and love. As a result, all the same ever again meet and, of course, come to the table.
- I happened many times such a metaphysical sense - says Luarsab - you're sitting at the table seven or eight hours and did not even notice it. Toasts, singing, energy though fascinating, is introduced into hypnosis. At the same time - a paradox - you realize that life is very short ... We drink for those who are no more. Because of their care, and you will inevitably becomes smaller. Gaumardzhos! ..
For the generosity of the earth
- ... But the land as takes and gives. Especially such fertile as in Kakheti! (This is an area in eastern Georgia, the famous ancient winemaking history, often called Caucasian Bordeaux. - Note. "Around the World".) One day I was talking with a friend on why so few famous people come from Kakheti. And we came to the conclusion that the land here gives all the benefits of local abundance. Therefore, people do not need to seek the capital scramble to achieve something and stand out. I think winemakers will confirm my words.
To maintain a dynamic communication at the table, the host often chooses someone to Alaverdi - continuation of the started toast. CSW necessarily develops the previous topic. For other Togonidze, winemaker Iago Bitarishvili producing wine on old technology, it's easy.
- I do not consider myself to be a winemaker. I'm just helping nature to give rise to the wine! Nature can not be fooled. A friend of mine as a student in Moscow in Soviet times, went to the potatoes. The work takes them purblind old grandfather, so they recruited one bag and one by one his old man is presented. And he just nodded and rather sticks teams drew. This I mean that a person can be fooled, and system. And the earth - not ... We say, "A bad man will not make good wine." Quality wine - a test of humanity.
Classic Georgian bread is baked in round shoti furnaces of refractory bricks. There is a belief that the bread like when during its preparation sing. Only in this case it turns out crispy and fragrant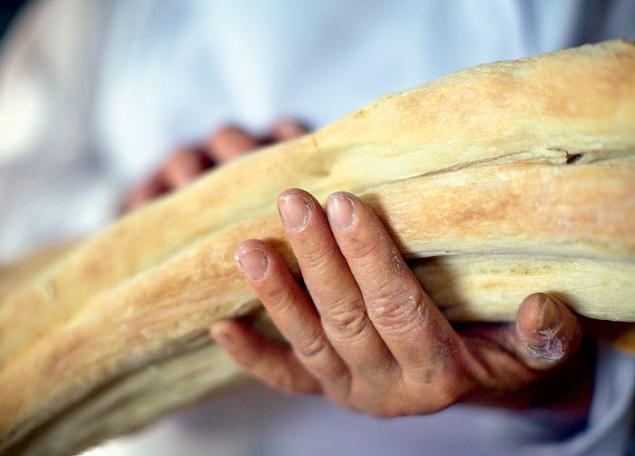 The harvested grapes are processed in Marani - a special room. First cluster choke feet in satshaneli - winepress, hollowed from a single trunk of a coniferous tree. This is the most gentle method, in which the grape seeds remain intact, thus eliminating unwanted bitterness in the taste of wine. Squeezed juice from the winepress gets buried in the ground in the egg-shaped vessels with a capacity of up to 2000 liters - kvevri - for fermentation, exposure and subsequent storage. Location kvevri underground allows to achieve a stable temperature of 14 ° C - the optimum for storage of alcoholic product. Many Georgian families still make wine in this old-fashioned way. From grapes of one harvest Iago produces about 1200 bottles, which come in small wine shops in Europe, America and even Japan. By the way, Georgian wine export to Europe, according to Luarsaba began approximately in the XIX century.
- Then Mukhranskii wines were supplied to France. At first they were not popular with local restaurateurs. And Prince Bagration-Mukhransky invented this move: dressed in rich costumes, students went to restaurants. For the money they were making luxury orders and asked to submit Mukhranskii wine. Hearing from the waiters that such wines are not available, the mysterious guests paid and not touching his food scandals removed. Gradually restaurant owners had to expand the wine list. So here's to the generosity of our land! Gaumardzhos!
For guests
- In Georgia, there is a tradition: during the feast is always made provision for random guests - we are waiting for new friends! However, not all come to us with an open heart and good intentions ... but it did not change our attitude towards strangers.
Georgians have to drink to the bottom "For God," "For the Motherland", "For those who are no longer with us." In other cases, you can just take a sip and put the glass on the table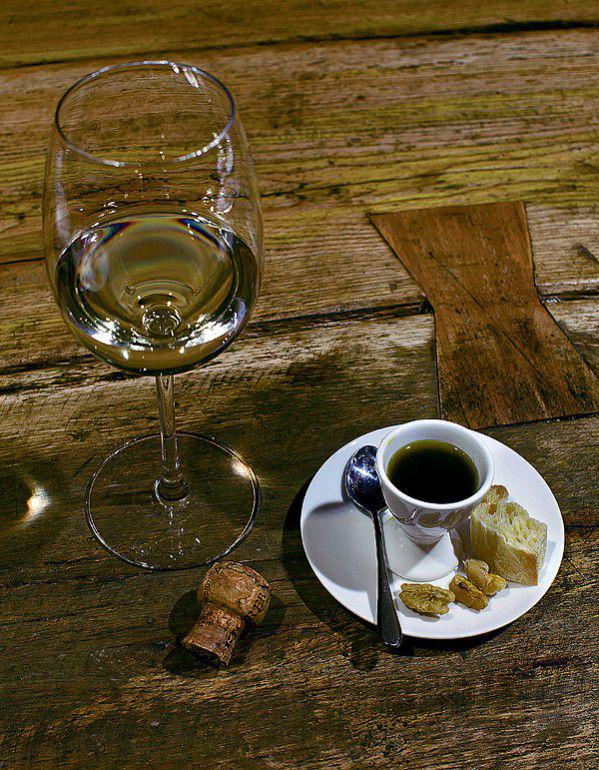 Any guest - a feast for the hosts. They rush Serve all the best. Following lobio, satzivi and khachapuri appear wrapped in pita kebabs, grilled meat on the coals, burning khinkali, fuming dolma. Exhibited wine - lots of wine, and each has its own character. Georgians try it and waiting to see how it will work. After three glasses can understand its power.
One Russian friend Luarsaba being in Tbilisi, once came to the Georgian house - he was asked to repair the TV. Master's wife, meanwhile, was the setting the table. Soon tightened neighbors, found out that the house guest. As a result, sat at the table all night. TV and not repaired.
- We have a great belief. While that is held in communication with the guests, on account of my life goes. Thus, each guest roads, because he, without knowing it, prolongs our life! Gaumardzhos!
For children
- And our lives extend children. Georgian folk wisdom says that this is a school for children of the family! But the main thing is that the "teachers" were kind, strict and fair, and the "lessons" becomes a holiday.
Good toastmaster - a great speaker, able to feel and keep the audience who knows the measure in the songs, jokes and philosophical sayings. Its mission - to create a company in the spirit of unity. It just does not learn. Toastmasters are gradually paying attention to the table the wisdom of elders from childhood and learning to appreciate wine.
- At family feasts children can see all the relatives. All the important things in life we ​​learn at the table. I was about four years old when I first tried the wine. Just took a sip. Because of this, I felt part of the family. Relatives always looked at me like an equal. And listen to me as an equal. We speculated together: at the table - is always a dialogue. You can express an opinion, but you can not start a quarrel. We're still going to his father's house in joy and sorrow. And the wine helps us to solve problems. It relieves stress, soothes the heart. In the West, analysts come up with group therapy and various other methods, and we do not need it all. All problems can be solved in the family at the table! My son is five years, it's all in me always wants to say it. Our children and continue the tradition of Georgian feast, our land. Gaumardzhos!
For mothers
- We had to fight a lot, a lot of men died. Therefore, a woman in Georgia - is the embodiment of the sacred force of life itself, it continue ... Let's say I have a diploma of a businessman and a few restaurants, but still - and business, and the family - rests on Nino! All this exists only due to her boundless energy!
The most terrible insult to the Georgian - disrespect for his mother. From childhood, everyone is brought up in the love of it. No wonder one of the main symbols of Tbilisi became the monument "Mother Georgia", built on a hilltop Sololaki in 1958, when the city celebrated the 1,500th anniversary.
History remembers the days when the festival was attended only by men or when men and women sat on opposite sides of the table. Now the table are all together. There are even women who lead the table, acting as a Toastmaster.
- Now many people to communicate using social networks. See no friends, only their photos! But people need to feel each other. In this there is something alive the creative and eternal. This is our identification code. On this still alive Georgia will always be wine and toast! Gaumardzhos!
Take the horns
Such a diversity of individual drinking devices in Georgia, where rarely see
AZARPESHI - low round cups with a long flat handle, resembling a ladle.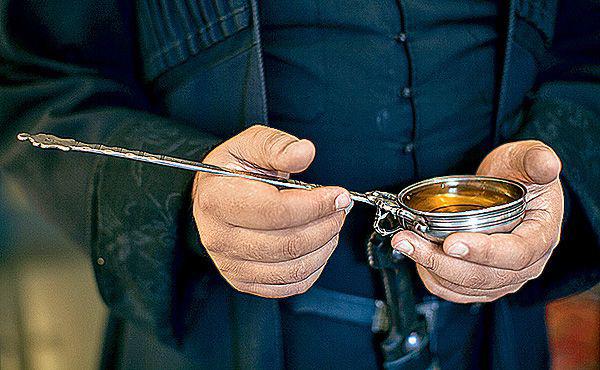 UCLA - closed wooden vessel with a long low neck. When out of him drink, he knocks like a small drum. It is believed that the Georgian men using molecule tuned before the battles.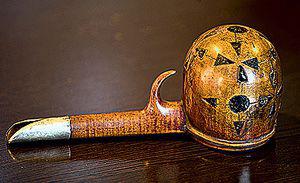 AKVANI - ceramic vessel cradle accommodates about half a liter. From such dishes drink for the birth of a child.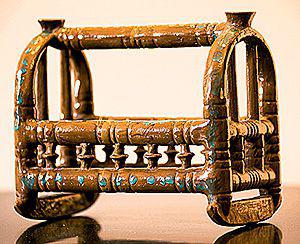 Karkar - spherical metal container with a curved neck, consisting of three intertwined tubes.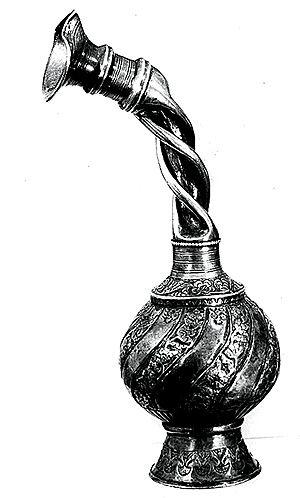 Chincha - a small jar with a capacity of about a glass of wine.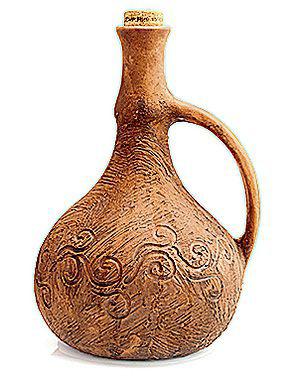 KHANTSI - horns of different sizes, usually decorated with a silver lining. The biggest companies usually indulges in a circle.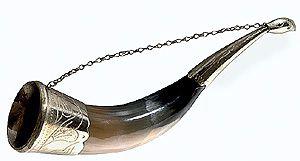 Institute - hemispherical cup without handles.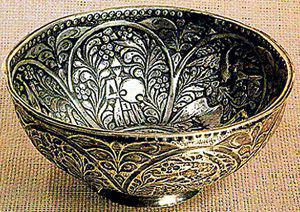 Source:
www.vokrugsveta.ru