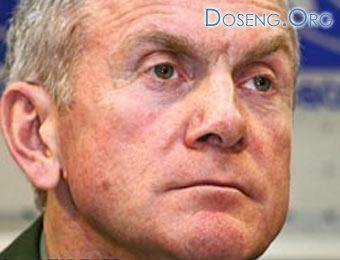 Deputy Head of the General Staff of the Russian Armed Forces, said that Georgia is preparing for a third war.
US and Georgia recognized that Georgia attacked South Ossetia, said today at a press conference the deputy head of the General Staff of the Russian Armed Forces, Colonel-General Anatoly Nogovitsyn.
He was commenting on the words of the US Ambassador to Russia John Beyrle, who believes that Russia rightly recognized Georgia's attack on the peacekeepers, but "gone too far". Thus, the US side acknowledged that an aggressor is not Russia, and Georgia.
In addition, the Deputy Minister of Defence of Georgia Baku Kutelia said in an interview with British media said that the Georgian authorities had underestimated the reaction of Russia and were unprepared to retaliatory military actions. "Georgia was not ready for the shock of Russia", - he said. B.Kuteliya noted that Georgia's military infrastructure suffered extensive damage, and will require significant assistance from abroad for the restoration of the country's defense, RBC.
A.Nogovitsyn said that if the military potential of Georgia is restored, only to re-aggression. According to him, Georgia's aggressive intentions confirms withdrawn learning trail, signed Deputy Minister of Defense of Georgia, which simulated an attack on South Ossetia.
Also, according to him, the Georgian special services create weapons caches for new military actions in South Ossetia. In addition, there is a build-up of military forces in the central part of Georgia.
"In fact, Georgia declared preparations for a third war. We are watching the situation, draw conclusions and report to our management. Our reaction should be adequate statements and actions of the Georgian side ", - concluded A.Nogovitsyn.
According to him, Russian troops will patrol the Georgian Poti. "Poti is not included in the security zone, but that does not mean that we sit and watch them as they rolled on the Hummer. If necessary, peacekeeping units will be nominated from strongholds to prevent provocations from the Georgian side ", - he said.
A.Nogovitsin added that Russia does not change the administrative border of South Ossetia and Georgia. "It (the border) has developed historically, and its change, we do not claim," - said A.Nogovitsyn.
He recalled that the position of the first line of Russian peacekeeping posts remained unchanged since the time of the agreement of 1992. "We are not increasing our strength and do not abandon this agreement as another mechanism for the activities of peacekeepers in the conflict zone is not developed", - said the deputy chief of the General Staff.