In Ayurvedic cooking, soups are most often served with the main course. Most often cook soups with beans, peas, lentils and eaten in combination with cereals (usually rice), which makes them easy to digest, besides protein this combination is absorbed better.In Ayurveda considerable attention is given to cleanse the body from all kinds of toxins. To maintain your body you should on a daily basis. This will help special Ayurvedic recipes that help to detoxify.
Corn soup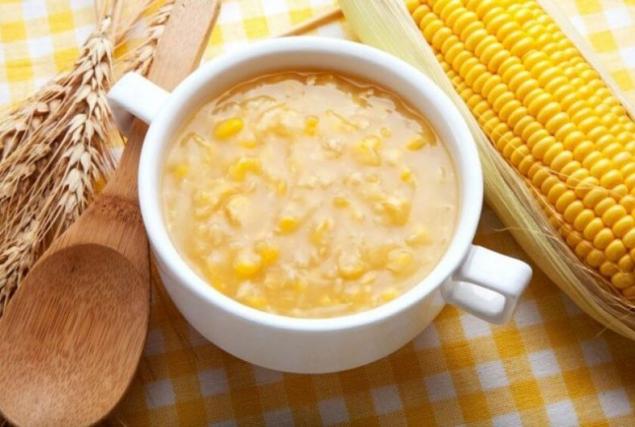 Ingredients:
5 fresh ears of corn
5 cups water
1 tbsp peeled and finely chopped fresh ginger root
1 tbsp with the top chopped cilantro leaves
1/4 Cup water
2 tbsp ghee
1 tsp cumin seeds
1/4 tsp black pepper
1 pinch of salt
Preparation:
Cut corn kernels from cobs to make about 4 cups. Place them in a blender, pour 2 cups of water and grind until smooth consistency. Then pour into a bowl and set aside. Now in a blender put the ginger, cilantro, a quarter Cup of water and grind for one minute to a liquid consistency.
In a heated on medium heat pan add ghee, then cumin. When cumin seeds start to crackle, put the contents of the blender, cooked corn dough and black pepper, add the remaining water and mix well. Cook over low heat without closing the lid, 15-20 minutes, stirring occasionally.
Season with cilantro leaves and black pepper to taste.
Corn soup — good dish for Breakfast.
Application in medicine:
this dish is useful for people with high cholesterol levels in blood and suffering from obesity, in the case if you cook it without adding ghee.  
Soup of Masha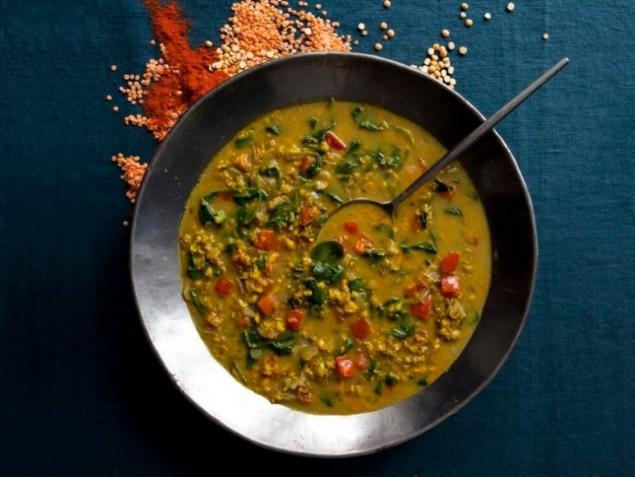 Ingredients:
1 Cup whole-Masha (green mung beans)
5-6 glasses of water
2 tbsp. l. ghee or safflower oil
1 tsp cumin seeds
1 tsp black mustard seeds
1 pinch asafetida
2 large chopped garlic tooth
5 fresh or dried leaves Carrie
1/2 tsp turmeric
1/2 tsp masala
1/2 tsp salt
Preparation:
Rinse the beans twice and soak overnight in plenty of water. In the morning drain the water, place the beans in a saucepan with 4 cups of water. Bring to boil and cook on medium heat for 25-30 minutes, without closing and stirring occasionally to avoid sticking to the bottom.
Add 1 Cup of water and cook for 15-20 minutes until the beans are soft. Set aside. Warm in a saucepan or small frying pan safflower oil add mustard seeds, cumin and asafoetida. When the seeds begin to crackle, add, stirring, the garlic and sauté it until sebaconitrile color.
Now put leaves Carrie, cilantro, turmeric and masala. Stir quickly. Then stir in the mixture of spices in the soup. Season with salt and add the remaining water or as much water as necessary for desired thickness of soup. Cook after boiling for two minutes, then serve.
Mash has a sweet, astringent taste, has a cooling effect. This soup is rich in protein and by eating rice and chapatis gives a lot of energy. It is easily digested and therefore are useful for people suffering from indigestion.
Application in medicine:
this dish has a beneficial effect in feverish conditions and diseases of the eye.  
Vegetable soup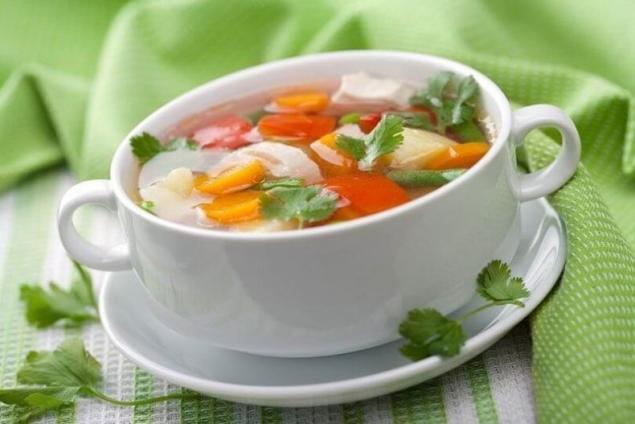 Ingredients:
4 cups vegetable mix (carrots, green beans, pumpkin, etc.)
8 glasses of water
1 tsp cumin seeds
6 peas of black pepper
2.5 cm cinnamon sticks
10 carnations
10 cardamom pods
2 tbsp ghee
1/2 tsp salt
Preparation:
Rinse and cut vegetables into small pieces. Place vegetables and water in a large saucepan, close and cook on medium heat until the vegetables are slightly softer. Then pour into a bowl and set aside.
Grind into powder, cumin seeds, peppercorns, cloves, cinnamon, cardamom pods using a coffee grinder or mortar and pestle. Preheat the pan on medium heat, add ghee and cooked with ground spices, sauté quickly, making sure that they don't burn. Now add the vegetables and 4 cups of vegetable broth. Bring to the boil and simmer for two minutes. Season with salt and serve.  
Cook with love.
P. S. And remember, only by changing their consumption — together we change the world! ©
Source: //www.samtulana.ru/b5bdfvmwfltsyjqb/#b1a4ve