Interesting to read our Russian folk tales now in adulthood. There is a key to solving many of the problems that we face in life, but rather, to address those situations that we deem problematic. Recently read the tale "the frog Princess" and discovered many useful things.
I think this story is designed for men, for young men who want to start a family. Now I will reveal those keys that I found to be important for the accomplishment of this event in the life of a young man, says Irina Lebedeva, exclusively for the .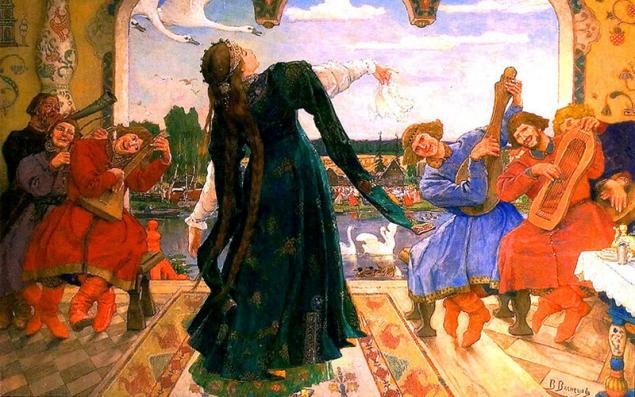 ©Victor Mikhailovich Vasnetsov
Key 1. "The choice of the bride."
Arrow shot at random, gets to a place where the point of power for men, the point of its growth and formation. Immediately need to mention that only one-third of men (the youngest son) have this Way, the other two-thirds is quite traditional scenario of life without making any drastic changes.
It is neither good nor bad, it is probably associated with nature and statistics of the distribution of energy between people. So the arrow gets to the Frog. Ivan, the youngest son finds his arrow at her and upset, but (!) resigns himself to destiny, after the words of the Frog. It emphasizes the importance of women's words to men. If a man have humility and hearing women's words, he begins by following her directions, pass.
Conclusion: Trust the fate of the woman.
©Victor Mikhailovich Vasnetsov
Key 2. "Burning leather".
Test (carpet weaving, bread baking, come to the feast) are the moments of lapping, which is home to a young couple. Genesis (King-father) gives assignments and have to do them. The point here is not who is and how to cope with the task, and that Ivan, a young husband discovering his wife's treasures, realizes how lucky he rejoices and then it waits for another lesson: to Overcome their impatience. Impatience to receive, take possession of his wife fully.
This key indicates frog skin? Frog skin is the Connection sheath, the previous woman's life (her family's influence, her habits, her installation). All this is not like my husband and he thinks, if dramatically once and for all to cut this connection, to burn the shell, then the wife will belong to him always.
He cares about himself at the moment. A husband must learn to recognize his wife in her world. The fact that even if a woman remains with her husband, she moves away from him, closes. This leads to conflicts. The woman needs time to adjust to the wave of her husband, to merge with him into one. There should be no sudden movements, otherwise there will be trouble. The trouble happened.
Key 3. "Path" (Becoming a man, as husband).
Again suggests still inexperienced immature husband Princess frog: "While three pair of stone boots do not wear, while three stone stick will not wear until the three stone bread not nibble, you will not find me. Look for me in Koshchey Immortal". The young husband is already ready for testing (have learned to listen and hear wife).
He begins to pass the test. When he wears out two pairs of boots a stone, two stone staves abrade, two stone bread eats he is getting ready to take advice and accept help from others (and not just relying on yourself). Carefully work through these difficulties in the Way, he begins to ACCEPT help. He comes across the old man-lesovichok, which gives a magic ball (direction), the ball shows man the way to his beloved.
Before that, notice the road he was not, and was the "stone" test. And here comes our hero to the hut, where he meets Baba Yaga (Wisdom). "Turn to the forest backwards, to me before" — in other words "Wisdom, turn to face me! I'm ready!" After a rest (wisdom comes and begins to speak only in silence and inner peace), Ivan opened the last steps to his beloved (to find Koshcheeva death).
Here let us digress and explain who is a SCRAG. Kashchey the Immortal is an immortal spirit, God, in other words. He does not give a wife to a husband until he is ready. And the point here is not to kill Koshchey, and that becoming strong, wise, patient, recognizing the female nature of the husband, the husband becomes God for his wife, her support and her spirit (and therefore the need for Wizard disappears by itself).
Another look at such quality as generosity and renunciation of their desires. (What becomes the Prince releasing the animals, despite the fact that he was tormented by hunger). The animals thanked him, and helped him to reach "Koshcheeva death". Therefore, for a man it is important to learn what is the matter: kindness, renunciation of their desires, and just know how to do good, it seems at first glance to himself is not beneficial, actions. Good always comes back and is returned at the most opportune time. But to return, it is necessary to sow in his life with good deeds.
Key 4. "Happy ending".
Well, friends, we come to the most pleasant! The meeting of husband and wife. Now my husband is ready to be a husband, he has a keen heart, strong hands, fearless soul, sober, calm thoughts. Now he has something to take a wife. He picks up, and the wife is happy and he is good.
What's more: advice and love!
Soon the fairy tale not soon deal done. In our modern families there is a sad picture. Even if a man finds the first key, the second "Burning leather" few who are able to overcome. Not to mention the third. Read stories and learn to live! Good luck to you!
PS: You say, "Yes, of course! Full lives of families, and there is no Koshcheev!" Maybe... God Forbid... This is two thirds (the two eldest sons!)  
Author: Irina Lebedeva, exclusively for the  
P. S. And remember, only by changing their consumption — together we change the world! ©
Source: Irina Lebedeva