Everyone wants to maintain their body fit and is particularly important for us, a flat stomach and abdominal muscles. But time to go to the gym to work out the abdominal muscles, is not always possible.
As incredible as it may seem,
you need only 4 minutes a day and quiet, secluded place for classes
(your bedroom or lounge suit)
We are talking about
the TABATA method
, a short but very intense workout, developed by Japanese scientist Izumi TABATA.
Still in 90-e years thanks to his research he came to the conclusion that one of the best ways to lose weight and build muscle
is a combination of aerobic and anaerobic loads.
He has developed a very unique workout plan, which he called "the TABATA Protocol". It was successfully used in many fitness centers and even some Olympic Champions have practiced it (and said he made good progress, in particular, and due to such studies). Shortly afterward, however, this approach was forgotten. It was not until recently, as a producer of Universal Pictures asked to make a series of documentaries that will be released on DVD that people have learned about the method of the Japanese scientist.
"The TABATA Protocol" is based on the following principles:
you need to strive to make the heart work in a certain "mode" (a rapid rhythm) during exercise (the combination of aerobic and anaerobic activity). This so-called "cardio zone".
metabolic processes in our body during anaerobic exercise will cause the muscles to require more energy than can be provided by breathing, and therefore we will be able to burn more fat.
the exercise takes place with high intensity for a short period of time.
If your body is not used to great physical stress, then it is better to go to the gym to experienced coaches suggested how to do.  
As this Japanese technique will help to get a flat stomach?
If you perform the exercises appropriate intervals of time (every day), then after two months you notice a positive result and you will be pleasantly surprised.
Below we will explain how to do it.  
1. First you need a little "warm up"
High intensity (no matter what group of muscles) can not be started without first warming. This can be a little skip rope (literally a few seconds) or perform stretching of muscles of the legs or waist.
In this way you will be able to avoid "jerking" back and overload the legs.  
2. Squeeze press
After you've warmed up, take the supine position and lift the leg (30 cm from the floor).
Put your hands under your head and lift your head (as shown in photo):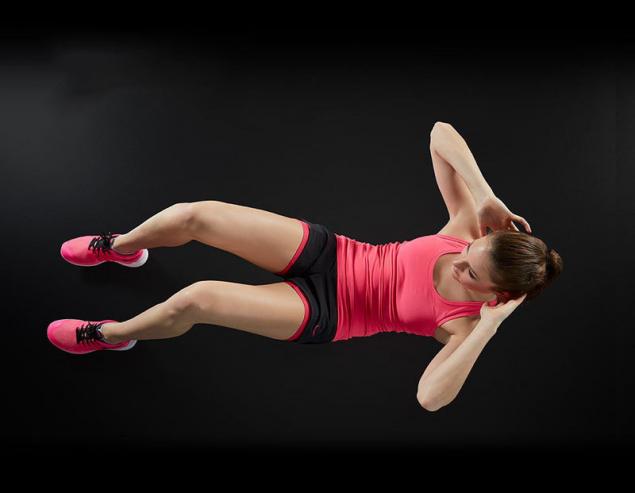 Try to stay in this position for 20 seconds.  
3. Little jumping
When performing this exercise, you should also be very careful. If you have back problems, it is best not to do anything at all.
stand and connect knees.
now push off and jump up.
when "the landing," do it with legs bent and separated to the width of the pelvis.
both repeat their jumps, while maintaining the same body position (up — knees together!).
repeat for 20 seconds.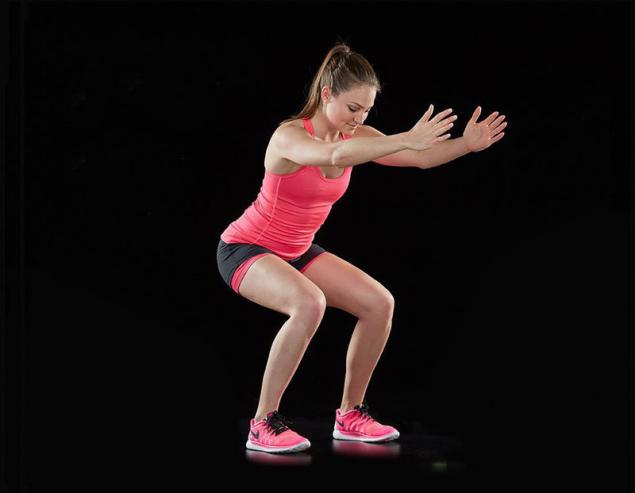 4. Not just pushups
When you are in ishodnik position (face down with support on the hands), bend your knee and press it to his chest. Stay in this position for 10 seconds.
then repeat for the other leg.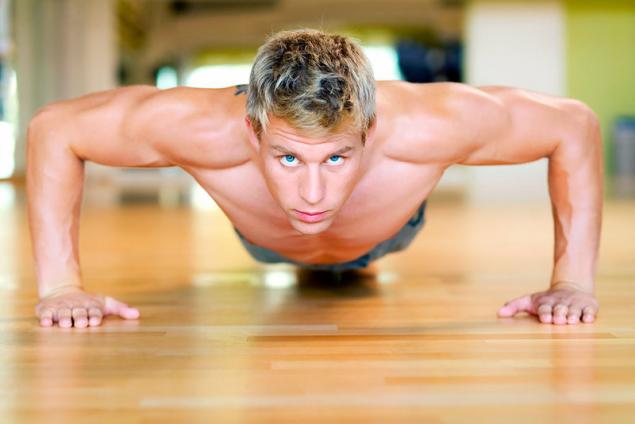 5. Abdominal exercises and stamina
take position lie on your back and pull your arms up.
now perform a classic twisting, lifting his body and with his arms around his knees, which have to be lifted to chest height.
repeat the exercise several times for 20 seconds (maximum speed)
As you can see, all the exercises are fairly simple, but require some endurance and speed.
Ideally, you should have time to perform all of these exercises for 4 minutes (at a good pace and without stopping).
Turn on appropriate music and try to practice it every day.
But remember the caution not peretrudites. After a few weeks your efforts will be rewarded — the stomach will become more toned and fit. And, of course, remember sponsorowane food! published
Source: steptohealth.ru/podtyanut-zhivot-vsego-za-4-minuty-poprobuite-etu-yaponskuyu-metodiku/#