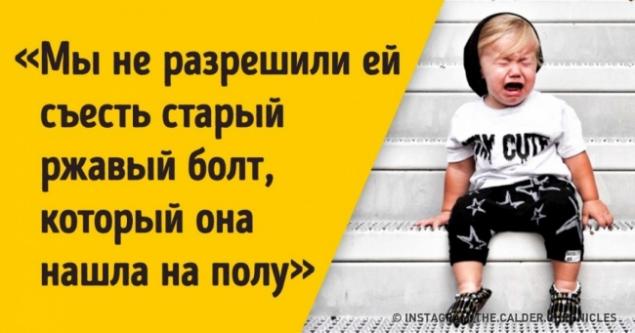 In the world of children is no place for logic and common sense. And sometimes their fairy-tale desires confronted with the harsh reality of adults.
The editors of
the Website
have compiled a selection of revelations from parents that have merged in the Internet under the hashtag
#assholeparent
(parent-asshole).
"I will not let her go home on the roof of the jeep"
"I forbade her to eat dog food"
"She wanted peanut butter with a SCOOP crackers. I only had a rectangular"
"We don't let her eat rusty old bolt, which she found on the floor"
"I said that she can't sit on the cat"
"I was wondering how his day at school"
"I didn't let her pour hot coffee on the dog"
"He wanted to climb up the hill, but I said that he did not succeed because of gravity"
"He can't get to fire their machine"
"I'm not allowed to get dirty in the dishwasher... it's Hard to be a child"
"She didn't want to be outside, so we went home. Obviously, it was also the wrong choice"
"The reason why I cry: my mom wouldn't let me lick her face"
"I will not let her remove his pants in the middle of the Park"
"I didn't let him fall off the cliff into the canyon"
"I'm not allowed to RUB her face on the Mat in the waiting room at the doctor"
Source instagram/assholeparents
Photo preview on instagram/the.calder.chronicles
See also
22 postcards about the fun of family life
12 online confessions from those who know a lot about family life
via www.adme.ru/svoboda-narodnoe-tvorchestvo/12-internet-priznanij-ot-teh-kto-znaet-tolk-v-semejnoj-zhizni-1283865/