Red cabbage contains many vitamins and minerals, and carotene, fiber, enzymes, volatile and sugar.
Therefore, salads, side dishes, soups, pickled items and fresh juice of red cabbage is very useful.
Salad of red cabbage
To prepare lettuce for 5-6 servings you will need small head of cabbage, an onion of medium size, a little bit of fresh herbs and vegetable oil, vinegar, salt and spices – to taste. It is recommended to slice the onions thin half-rings, then season with salt and pepper, pour two tablespoons of vinegar and leave to marinate for a few minutes.
The cabbage salad is better to chop the slices and add salt, then knead a little with hands to make it salty and softer. Shredded cabbage is shifted in a bowl (a bowl) and mixed with the other ingredients and then seasoned with salad oil or mayonnaise, and then serve.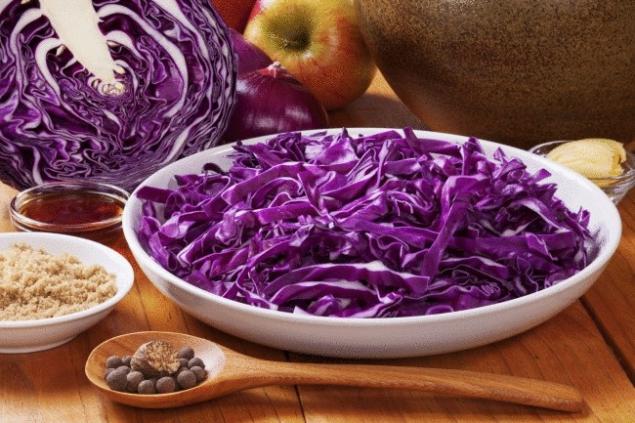 Photo: thinkstockphotos.com  
Soup of red cabbage
This soup looks delicious and nutritious and is cooked in vegetable stock.
5-6 portions of soup and 2 liters of broth amount of ingredients would be as follows:
half a cabbage,
3-4 potatoes,
1 onion and 1 carrot,
as well as garlic,
greens
salt,
Bay leaf and pepper – to taste.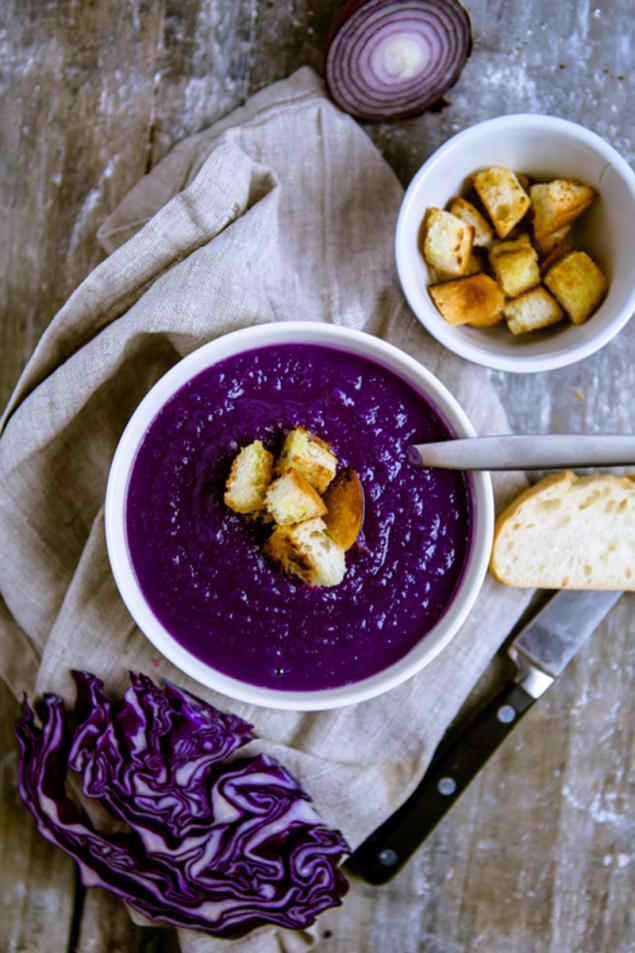 In the finished broth is first boiled cabbage (cooking time approximately 15 minutes), and then the potatoes, diced. After adding potato soup to cook for another 20 minutes, then it is necessary to add fried onions and carrots, herbs, spices and garlic. Ready cabbage soup should infuse for 15-20 minutes, then pour into bowls and serve.
Braised red cabbage with apples
For a side dish for 4 servings you will need the following ingredients: head of red cabbage, green Apple, butter (about 40-60 g), half an onion, a few cloves of garlic, 100 ml of water and about 30 ml of Apple cider vinegar, salt, pepper and herbs – to taste.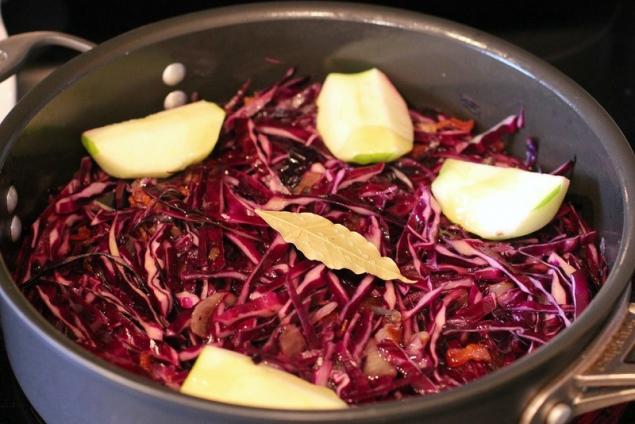 Butter, melted in a thick-walled pan, fry the grated garlic and onion, chopped into small pieces. Onions and garlic it is advisable to fry it until Golden brown then in the pan with the onions and garlic should be added chopped Apple and fry it for a minute.
In the next stage of cooking in the pan and added cabbage, Apple cider vinegar and water. Cabbage cooked at least 30-40 minutes, it is necessary to stir, and at the final stage of cooking add salt and pepper to taste.  
Cook with love!  
P. S. And remember, only by changing their consumption — together we change the world! ©
Source: domashniy.ru/