Ingredients:
1 small pumpkin
3-4 tbsp vegetable oil
1 small zucchini
1/3 yellow bell pepper
1/3 sweet red pepper
1 medium tomato
1 clove of garlic
1 red onion
2 tbsp finely chopped herbs (parsley, cilantro, onion, etc.)
20 g of hard cheese
1/3 tsp dried thyme
salt, to taste
ground black pepper, to taste
Preparation:
1. Pumpkin wash and dry. Cut into two halves and remove the seeds. The flesh is cut into bars.
2. Salt and pepper the pumpkin. Grease with vegetable oil.
3. Put the pumpkin in a baking dish lined with baking paper or greased.
4. Bake in a preheated 190 C oven for 20-25 min.
5. Zucchini, tomatoes and pepper to wash and dry. Dice vegetables into cubes OS side of 1-1,5 see
6. Onions and garlic are clear. Onion cut into cubes. Garlic squeeze through the press.
7. In a bowl, combine the peppers, tomatoes, zucchini, onions and garlic. Add thyme, salt, pepper and vegetable oil. Mix well the vegetables.
8. In 20-25 minutes after you start baking, remove the pumpkin from the oven. Fill the pumpkin with the vegetable mixture.
9. To return a pumpkin in the oven. Bake for another 15-20 minutes or until tender.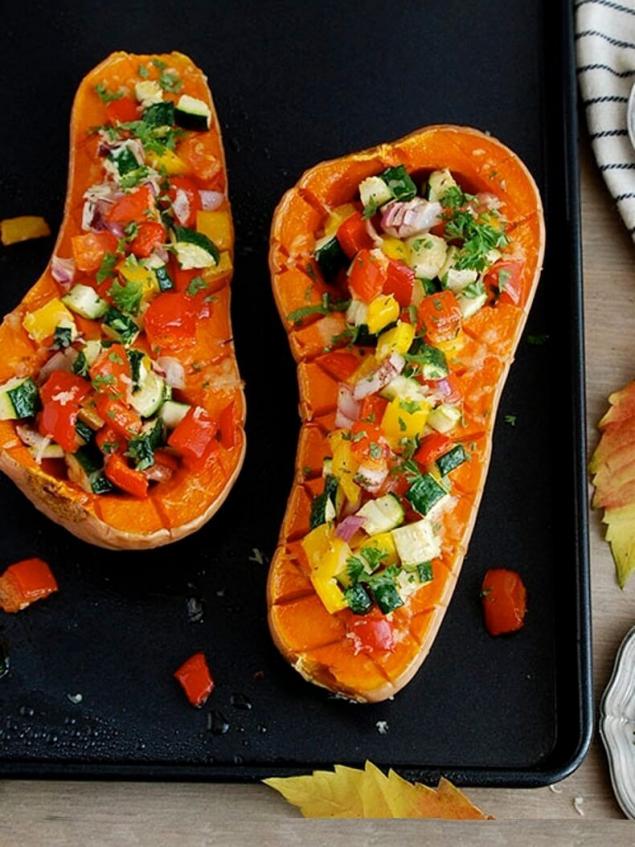 10. Grate cheese on a fine grater.
11. The pumpkin is ready remove from the oven and immediately sprinkle with cheese and herbs.  
Cook with love ! Bon appetit!  
Also delicious: Marble casserole with pumpkin and cheese Useful pumpkin muffins — hit of the season!
P. S. And remember, only by changing their consumption — together we change the world! ©
Source: beecook.net/tikva-zapechennaja-s-ovoshami/