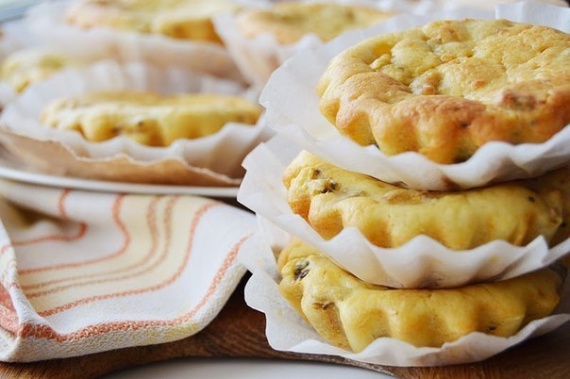 Ingredients:
150 grams of cottage cheese
120 grams of sugar
2 eggs  
60 g of oil
120 g flour
banana
kiwi
vanillin
1 hr. L. baking powder
powdered sugar for sprinkling
Beat eggs with sugar into a foam.
Cottage cheese and mix the softened butter in a separate bowl.
Without ceasing to operate the mixer, add the beaten eggs into cottage cheese and a creamy mass. Mix thoroughly.
Add vanilla, baking powder. Stir.
Add the flour. Knead the dough mixer.
Banana and kiwi clean. Cut into small cubes. Add to the total weight and mix.
In greased or lined with parchment molds put the dough. I got 10 pieces.
Bake in a preheated 190 ° C oven for about 30-35 minutes. Willingness to check with a toothpick.