A hundred of all kinds of interesting facts about New Zealand.
1. It is not the tropics. Neither North nor especially the South Island of New Zealand are not different warm climate. Yes, in the summer (November to April) are really good for my taste + 18-25, however, in case of rain the rest of the duration of a week, and freeze. Before driving tests scraping frost from the windshield.
2. Women are painted and put on heels only when people go to: club, a party to the opera, the ballet, and so on. Very clear things, really: why would they paint every day? Gender equality in New Zealand, of course, supported. "Feminist" - not a dirty word.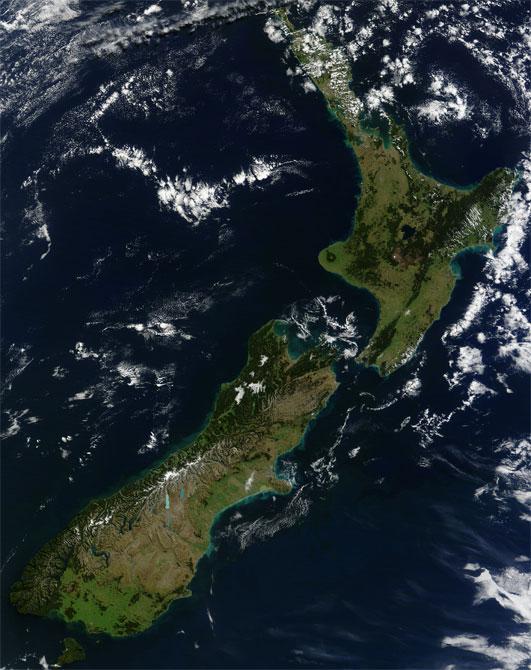 3. Hardened Kiwis (New Zealanders call themselves so) go at 0˚S in T-shirts and shorts. Frankly, I this phenomenon is not completely understood. Familiar local doctors talked about actually exists fact: local childhood used to freeze a little, because better tolerate low temperatures, less sick.
4. Most of the debris on the streets - Packages and packaging fast food chains. They say that, for example, in South Auckland, concentration-catering establishments like McDonalds - one of the highest in the world.
5. New Zealand's expensive to be a smoker. Already a pack of cigarettes costs 16 NZD, and by 2020, plans to either completely disable or raise the price to $ 25. To purchase tobacco products, you need to show identification to prove your age. Smoking indoors is impossible. Like this year, said that the smoking ban in the city center at all. Habit, which is already there.
6. A few days a year, to go skiing in the mountains near Christchurch, is relatively comfortable to swim in the cold ocean tolerated next to the city: from snowboarding to sёrfingovuyu board!
7. Relations between New Zealand and Australia in something similar to what happens between the US and Canada (South Park fans will understand) and Russia and Ukraine. If the Ukrainians called Russian, he would be offended. If the kiwi called Aussie («Aussie»), he will definitely have to get better. Not the fact that it works in both directions. They say Australians perceive New Zealand as a couple of small island inhabited by farmers and sheep, with the last ten times longer.
8. Separate fact: New Zealand - not Australia. The distance between these two very different countries is more than two thousand kilometers. Almost like between Moscow and Omsk, which is known in Siberia, near Novosibirsk. One of the commonplaces of myths.
9. In order to buy a beer, you have to present the document (license, passport, Record ID card plastic 18+), and to get on a plane - no: You can "zachekinitsya" online or SMS.
10. New Zealand is very beautiful, yes, yes - as in The Lord of the Rings. However, most of the beauties that you can see in the trilogy, Peter Jackson, is still in the South Island, where almost nobody but farmers do not live, and travel services, as they say European guests, not yet very developed.
11. SMS in New Zealand called TXT («text»). Russian emigrants say "tekstani me", by analogy with the English «txt me, please».
12. eBay is completely destroyed the project of one of nineteen students named TradeMe. That's where people buy and sell, looking for work, home, car, offers services. The boy is now a millionaire, of course.
13. In New Zealand, no orphanages and homeless animals. Children are adopted (I've heard over the years are in the queue), the animals are caught and ... Frankly, I'm not sure how long they are euthanized. Rather, only a few months hold in the nursery, in case the owners be missed.
14. Throughout the year, in any weather, it is recommended to use sunscreen. To struggle with skin cancer is, of course, know how, in the early stages it is treated. Just do it at state expense expensive - the state. That is why doctors recommend just do not walk down the street. As is the case with the recommendations in the spirit of "do 6,000 steps a day" smear cream is not all.
15. On Thursday, people in bars no less than on Saturday. People happy that tomorrow is Friday.
16. At the exit of the bus to say thank you to the driver, a "thank you" or "thank you, the driver." In 90% of cases, so do the passengers polite. It is very cute. Bus drivers often wait when a passenger sits down before travel. If the passenger elderly - always.
17. Wildlife - right untrodden paths and weeds - there are not very many. Earth is not much, and it always belongs to somebody. In national parks throughout plaques, how to go and in which direction. On some trails (Milford Track) should be booked in advance. Oh very beautiful there.
18. Almost nowhere to be bonfires. Open fire, as you know, the cause of most fires. In addition, after such a wild tourists always remains rubbish. Once upon a time, I asked the kiwi-guy Matt, they say, why not burn fires, because this beautiful country? "Because and beautiful that you can not burn," - he said. There's something in it.
19. It is not made to stay at work. To hurry at all in the tradition of kiwi. Vanity is contraindicated. If companies are looking for people urgently, then in six months the position will be occupied. It's okay if you do not immediately respond to a letter, it is normal, if the Internet is connected to three weeks.
20. grazing in the fields of private horses dressed in a kind of coat. I once believed that warming, it turned out - from the sun. Paragraph its dangers cm. Above.
21. The most dangerous animal of all fauna - is a wild boar. The rest of the birds here. You can not be afraid to sleep at night with a tent and walk barefoot through the dark forest. Snakes here, too, there.
22. Mosquitoes in New Zealand we can say no. On the South Island in the wilds of the Milford Sound and the District usual impressive size preprotivneyshaya midges, and all is quiet. You sit on the lake and not buzzing gnats. Even as it was unusual at first.
23. Here, there is little or no corruption. It is inconceivable to bribe the police. Stories of this kind are usually glad the Kiwi company. Of course, somewhere at the level of urban development must work recoiling scheme (not the fact that illegal). However, in the home for six years, I never faced with the fact that someone suggested "somehow differently to solve the problem" and hinted that it is necessary to "grease". Greatly simplifies life.
24. In New Zealand, drive on the left side. Enough simple fact, nothing to add.
25. The lunar month is more like a tilted bowl than a sickle. New Zealanders are looking a little more at the sky. Before, I was wrong in thinking that one of the few if not the only Sozvezdia international, appearing in the northern and southern hemispheres - the constellation Lepus. It bulschit course.
26. Kiwis and Australians are constantly arguing about the origin of various phenomena: whether Russell Crowe or a type of coffee «flat white» (like latte).
27. New Zealand - a country of small businesses. It is very easy to start a business and keep afloat at the beginning. Rumor has it that New Zealand land is full of talent, but perseverance is not enough, as soon as the company grows, it bought or taken to Australia. Such cases.
28. Winter is from June to August. Summer - December to February. Now go in full winter sales.
29. In New Zealand, as I said above, do not like to take the time and love to plan. To do this, it should be noted, it is very convenient - a stable political and economic systems contribute.
30. Mobile communications and the development of Internet communications are poor. The first is connected with a low population density and mountainous terrain. Second laziness telecom companies and small population. Unlimited tariff "Drill all you like," I know of only one or two. And, that's just received a letter, which increases the cost.
31. Some people believe that the American dream - a family, a house, a car, a stable job, medicine, ocean, hobby, sport - much closer to reality in New Zealand than at home in the United States. There is a so-called "rule of three b»: BMW, Bach, Boat - «Beha", giving the yacht. Not very hard, with his head on his shoulders and hard-working hands, without lying and stealing to earn these things by the age of fifty. All will be there.
32. Five of New Zealand's favorite sports in descending order of adoration: rugby, cricket, netball, tennis, football. "Netball" - basketball without a shield, it is particularly well played by women.
33. New Zealand's favorite food: «fish & chips» - fish and chips in batter, lamb with chips kumara (sweet root vegetables, sweet potatoes, orange such potatoes). Quite popular manuka honey (Manuka Honey) has antiseptic properties: they are the natives once anointed the wounds. Everything is better than water to wash.
34. Marijuana kind is prohibited, but the police are not particularly chasing those smokes. We used to have the house there was a rule: in the refrigerator should be wine in the locker to be grass. Just like that, just in case. Once a year, marijuana lovers gather in the center, where smoke and as a hint to what has long been legalized, such ordinary things.
35. In New Zealand, like coffee and know how to cook it. Auckland and Wellington huge number of cafes per capita. I will not hide, too addicted and has visited 50 different schools. Tea also love to, but smaller.
36. On the one hand the conscious part of the population, and a lot of hard playing sports and watching their health, and on the other - New Zealand ranks third in the world for obesity (data for 2012). It is due to come in large numbers of islanders who are genetically predisposed to be overweight, there is a sad fact.
37. Names of streets are shown at intersections. This, in my opinion, very uncomfortable. Lost in the middle of a long straight street, FIG know where you are - either the name or house number. Oh yeah, house numbers are not standardized, and are written in the format "from the bulldozer" how the householder wants. No standardized labels with prominent figures in Russia.
38. Famous New Zealanders Edmund Hillary - the first climbed Everest, Peter Jackson took one of the most successful in the history of the saga based on the works of Tolkien, Ernest Rutherford - scientist nuclear scientist, whom we all remember from school. The list can go on and on.
39. Walk outside the center almost nobody goes: trucks and buses relieve adults of the kind. Rare passers local teenagers shouting, passing by in a car, hurtful words. Very stupid activity, because most of the Doppler effect can not tell a word.
40. In New Zealand, in the streets and parks clean, almost no waste. About noticed graffiti on the wall can be reported to the city authorities, and a couple of days free repainted wall, hide the traces of vandalism. The same applies to unauthorized dumps.
41. On machines all go quite carefully, no signals from impatience. There courteous drivers. However, I heard comrade, who came from a provincial to local measures Christchurch, complained of rude drivers in Oakland. For me this year, it seems a couple of times "buzzed».
42. Art is available to the people. Not so long ago it was completed restructuring of the Auckland Art Gallery. Now there is great. In general, in the museums there are free guided tours. Recently arrived from St. Petersburg to someone like that in an art gallery full of volunteers who can ask questions.
43. On the street in the center of Auckland, as befits a relatively large city, many activists of almost anything, which is something you want from: save the forest, save the whales, to love Jesus, out of love of the Prime Minister. This is called a democratic society.
44. At the entrance to many parks are shoe cleaning fluid from the infection - it is necessary to spray the sole, kill germs. The point of course is voluntary, there is no controller.
45. It is likely that if you go to the doctor (about 100 NZD), you will register Panadol or give cough lozenges Strepsilz and released home. It is not from the inability of doctors to do their job, but what are the other medical system. Very good, it's worth noting.
46. ​​Due to the fact that we live on an island, there are a large selection of quality used cars, yachts, boats and all that. This register has just bought the car takes five minutes (fill in the form at the post office), after the purchase, you can take the keys and drive. Learning from scratch and get a full driving license it took me about a year and 80 thousand rubles, including the purchase of the machine.
47. Mail is running like clockwork: 90% of what I buy, order online with payment by credit card and home delivery. Forgot other day in the hotel under the mountain (five hours away from Auckland by car) phone. The next day brought to the cell door. Needless to say that to send a parcel to Russia takes no more than five minutes to the nearest post office. I, of course, hire and all this up.
48. In the history of the Olympic Games to New Zealand won medals per capita than any other country.
49. A particular delicacy is considered to be a small fish called Whitebait. The fry hang out along the banks of the crowds. They are not easy to catch, but very tasty omelet Add to morning and pour melted butter. The "composition" includes river fish fry, which during the spring spawn in tidal estuary. Extract it manually costs from 120-150 NZD per kilo.
50. The longest place name in the world belongs to the high (305m) hill New Zealand: Taumatawhakatangihangakoauauotamateapokaiwhenuakitanatahu. I will not try to say it in Russian.
51. Farmers' children are entertained by the fact that participated in the contest: who will throw on the dead opossum outfit who is better or stuffed possum. Usually, a few days later get such news in the Russian media in the section "About the life».
52. It is not very dirty on the streets, so many even in the heart of the city barefoot.
53. On the two islands have accumulated a huge amount of natural beauties. Here and tropical jungle with palm trees and vines, and green fields and snow-capped mountains and fjords, geysers, rivers and volcanoes, and ... that I forgot? Well, in general, everything is there, except for the tundra. However, even that can be found by climbing Mount Cook in the Southern Alps.
54. New Zealand's three official languages: English, Maori and sign language. And two hymns: and the British government, respectively.
55. In order to drive on the left side, the right need. But to operate a boat on the water - no. The boat can be thousands of dollars to buy ten, so as not to drown.
56. Foreign students - one of the main items of the replenishment of the state budget. Learn here is cheaper than in Europe and Australia, the level of universities high enough, and the conditions of life, you know, comfortable. "Cheaper" - a NZ $ 20,000 per year.
57. In New Zealand, the youth kicks noodle 25-30 years. Because they can. What do you think, what is the percentage of able-bodied people of New Zealand have higher education, comparable in duration and the number of the courses with the usual Russian magistracy? Two percent. Bachelors - eleven percent. Because not everyone needs to become a janitor master of philosophy to live a normal life. Too many New Zealanders do not learn, not because it is difficult, expensive or not available, but because and so like a good idea. There my father's farm, his wife, the ocean and surfing.
58. The unemployment rate in this case is between 6 and 7 percent. Not a lot, but not enough (in Australia below).
59. The newspapers write a lot about the outcome of kiwifruit to Australia, where the ruble longer "dvizhuhi" larger and smaller earthquakes. According to various estimates in Australia at the moment, it is home to about half a million citizens of New Zealand. This is almost 10% of the population. Some Aussie made fun of, say, kiwis come in large numbers. I have not yet formed a view on the matter.
60. A bit to the fact that New Zealand women are very beautiful. The average number of sexual partners in the life of an ordinary woman of the world - 7, 3. Kiwi female - 20, 3 partner. New Zealand has a unique point of view of the statistical situation: the average number of sexual partners among men (16, 8) is less than that of the opposite sex.
61. The Russian, or rather Russian speakers in New Zealand about 10,000 people, according to my estimates. There have been several waves of emigration, but sustainable community like the American "Brighton" is not formed. Someone hanging out in forums, some blogs, and some funny looks away at a meeting, so God forbid do not give a Russian. We all have different attitudes to the nation.
62. New Zealanders are traveling safely. Often it sounds like: "What I have not seen me and well here." Many of them were in the South Island.
63. In the elections for Putin Putin in New Zealand have voted as follows: Auckland 29, 77%, 40% of Wellington, Christchurch 34, 51%.