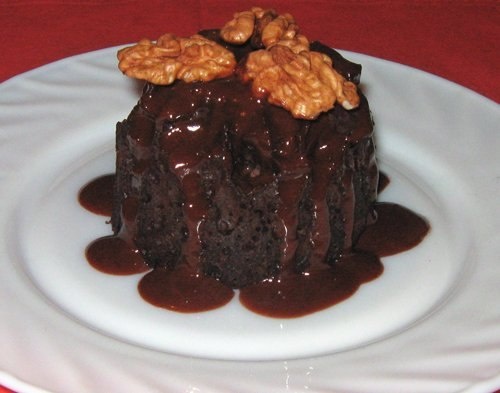 Ingredients:
 - 1 egg
 - 4 tablespoons sugar
 - 1 teaspoon vanilla sugar
 - A pinch of salt
 - 3 tablespoons liquid cream or milk
 - 1 tablespoon brandy or rum
 - 3 - 4 tablespoons vegetable oil
 - 2 tablespoons cocoa powder
 - 4 tablespoons flour
 - 3 tablespoons grated chocolate
 - A handful of walnuts  
Whip the egg with sugar, add the salt, vanilla, cream, brandy, vegetable oil, cocoa and flour, mix everything well.
Add chopped nuts and grated chocolate and mix.
Cup grease with vegetable oil. Arrange the dough to 1/2 cup volume.
Put in the microwave for 3 minutes.
Cool, remove from cups on a plate, pour the melted chocolate and garnish with nuts or fed directly into the cup.