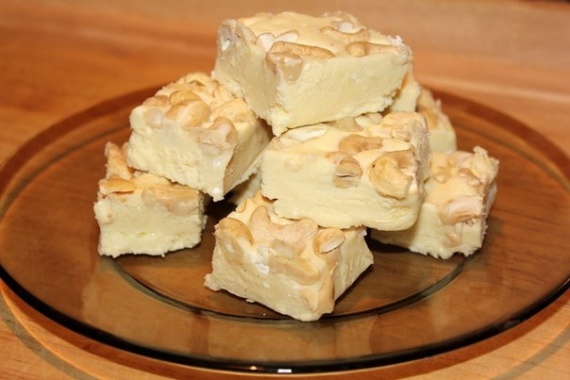 Ingredients:
 - 200 g butter
 - 200 grams of sugar
 - 200 g sour cream
 - 1 sachet of vanilla sugar (15 g)
 - 400-500 g of powdered milk
 - 200-300 g cashew
1. Melt the butter in a pan and put sugar.
2. Carefully stir until then, until the mixture begins to bubble and add sour cream.  
3. Divide the lumps and mix thoroughly.
4. Bring to a foam state and turn off the stove.
5. Pour the hot mass in a bowl for whipping mixer or processor and gradually add the milk and vanilla sugar.
6. Beat with a mixer (or in a food processor) to a thick viscous state. If the mass is too thin type in more powdered milk. But it is important not to overdo it, to try to do everything clearly in these proportions. Otherwise there is a risk completely spoil everything.
7. The resulting mass lay out a form.
8. Fall asleep on top of cashew nuts.
9. pressed their palms fully into our weight and put in refrigerator for 1 hour or in the freezer for 15-20 minutes.
Cut into cubes, and our miracle done.