The word "diet" for most people, at least it sounds unpleasant. Of course, to accustom themselves to the various restrictions is very difficult, especially if the list of banned products included is something without which your life seems impossible. In the first place in this list, of course, are sweets. After all, if meat and other products gradually are present in almost every diet, it really is sweet forbidden in all without exception. But is it? I want to reassure all those with a sweet tooth, sweet diets exist! Let's look at the most popular ones:
Sweet diet (American):
This diet is based on the following principles: first and main: the diet should be three meals a day! The second principle: the lack of any snacks, the only exception is water. Third: lunch and dinner must be low in calories, it can be fruits, vegetables, lean fish, etc. you don't use spices, mayonnaise, butter and vegetable oil. Now a nice feature of this diet: Breakfast. Here you can afford everything, not even paying attention to the amount eaten. Dieters who use this diet claim that it is easily tolerated and of great psychological discomfort does not deliver.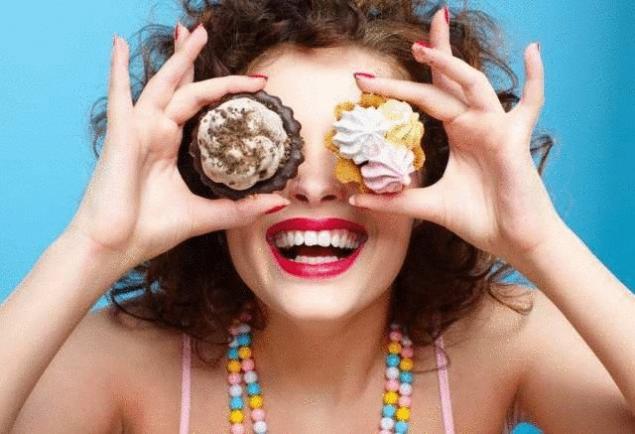 The menu for the day for the American diet:
Breakfast: at your discretion without any restrictions.
Lunch: 150 grams of chicken (white meat), of course boiled, vegetables (fresh, stewed, steamed). Potatoes not prohibited, but its use is undesirable. Also can eat no more than 400 grams of vegetable soup, boiled chicken or fish broth.
Dinner: fruit salad. Please note that bananas and grapes are losing weight people eat is not recommended. Plus a Cup of yogurt (nonfat, of course).
This diet is not desirable practice for a long period of time, the most optimal length is 5 to 14 days. The result is, of course, largely depends on the amount of your excess weight, on average, for 2 weeks you will lose 5-7 kg.
Sweet diet, lasting 3 days.
The best option for those who usually eats not at home.
Day 1:
Breakfast should consist of fruit salad (for dressing use 1 tablespoon of rosehip syrup) and green tea (sugar replace with honey). Lunch can consist of 2 sandwiches with low-fat cheese (used rye bread) and tea with jam. Dinner – fruit salad, which you can also add dried fruit ( eg, figs, prunes, apricots, etc.) and chicken broth (no more than 200g).
Day 2:
for Breakfast I drink only green tea with honey and lemon. Lunch: Apple, 150 grams of cottage cheese (fat-free), the taste you can add a spoonful of jam or preserves. For dinner we eat only vegetable salad (use only fresh vegetables, dressed with lemon juice), 150 g of fish (boiled or steamed), a glass of milkshake (skimmed milk only) and you can also add 2 tsp of jam.
Day 3:
Breakfast – oatmeal (you can add raisins and 1 locumed) and green tea (preferably with lemon). Lunch: Apple, 150 grams of cottage cheese (nonfat) with 1 spoon of jam or jam. Dinner vegetable salad (use only fresh vegetables, dressed with lemon juice), 150 g of fish (boiled or steamed), a glass of milkshake (skimmed milk only) and you can eat 2 tsp of jam.
Following all the above rules, you will be able to lose about 2-3 kg for these 3 days. Most suitable is it for immediate effect, when in any event you need to lose a couple pounds.
Fasting days with ice cream
Yes, indeed, this option is also valid. 1-2 times a week, without any negative reflections on your health. Of course, ice cream should be lean, but with the amount of overdo it is not worth it. With this diet you should be careful people are prone to diseases of the throat.
Chocolate diet
This diet is hard and in addition not very good for your body. Its meaning is: the day you can eat up to 80 grams. chocolate (bitter), you want to drink coffee (black and unsweetened, of course). To lose 5 days around 3-6 kg, but should go to the doctor before you start. The diet should be followed for 5 days, then be sure to take a break for 6 days, then repeat again.
Sweet diet with milk and honey
Diet is fairly simple, moreover, you can have all eaten before (of course, you should not overeat). The only condition: at 6 a.m. every day, you should start with a glass of milk and a spoon of honey. They say that this diet is very well reflected on the skin, but its effectiveness against weight loss rather doubtful.
And the last thing I would like to say. All interchangeable, fans of the candy can easily replace them with useful dried fruits, those who can not imagine my life without chocolate, I can eat candy bars, granola. Remember, the most important thing to do all the fun, including dieting. Only in this case, you will achieve your goals and will be satisfied with the result.
Source: dieta-dieta.ru