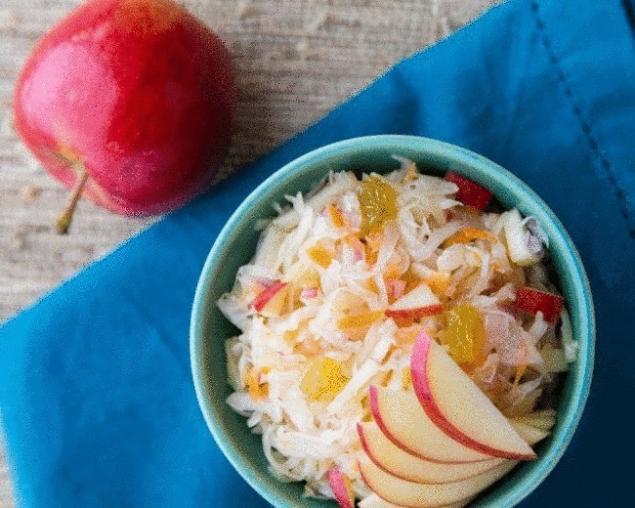 Harvesting of late cabbage is in the second decade of October and even early November. But we took the trouble to search the best recipes now in order to be fully prepared when the time comes to do homework of cabbage for the winter.Cabbage "Glory"Should Be:
cabbage varieties Glory (without green leaves)
carrots – to taste
datirovannaja coarse salt (1 handful per bucket nepamatoti cabbage-carrot mix)
How to cook:
1. Cabbage cut into thin long noodles, mix with grated on a coarse grater carrots.
2. Grind with salt and tightly compacted in the washed and scalded three-liter jars.
3. Banks to put in pots to juice in the fermentation process did not flow to the table.
4. Banks close the plastic lid and remove in the cold.
Ferment process takes about 4 days, so every 4 hours the cabbage should be cut into long wooden stick that a gas produced in the fermentation process, otherwise the sprouts will be bitter. Taste. If you like not very sauerkraut, 2-3 days will be enough.
Kapusta "Provansal"Is Necessary:
(3-liter jar)
1 kg white cabbage
300 g carrots
300 g of sweet and sour apples
500 g green seedless grapes
Marinade:
1.5 l of water
2 tbsp sugar
1 tbsp. salt
3 Bay leaves
1/2 tsp ground cinnamon
5 peas allspice
100 ml vegetable oil
150 ml vinegar 5%
How to cook:
1. Clean the cabbage from the top wilted leaves and cut into large cubes.
2. Carrots wash, peel and grate on a coarse grater. Apples wash, remove core, cut into slices of width 1 see the Grapes are also good to wash and separate the berries from the twigs.
3. Cabbage mixed with carrots, apples, grapes and put in pan. To prepare in advance the press.
4. For the marinade, mix water with sugar, salt, spices, vegetable oil, bring to boil, boil for 2-3 min. turn Off the heat, add the vinegar and carefully to avoid steam, pour vegetables with marinade.
5. Flatten the cabbage pressure for 1 day.
6. The next day, replace the vegetables together with the marinade in jars and put into the refrigerator. A day later the cabbage can be served.
Cabbage, fermented with luquinda:
(6 liter jars)
3 kg of cabbage
2 tbsp of fennel seeds
120 g of salt
100 g of cranberries
9 bayberry
1 tablespoon of sugar
How to cook:
1. Shred the cabbage into strips.
2. Sort through the cranberries.
3. Vegetables pour salt, sugar and fennel seeds, grind the mixture until the juice.
4. Compacted in jars layers of the cabbage and cranberries, sprinkling pepper and Bay leaf.
5. Leave under the weight in the heat until the foam, just to pierce it with a wooden rod.
6. After 7 days remove banks in a cool place.
Cabbage with onions and casinocanada:
(two-liter jar)
1.8 kg of cabbage
100 g carrots
300 g onions
2 heads of garlic
3-4 peas of fragrant pepper
2 tbsp. salt
How to cook:
1. To chop the cabbage. Carrots grate.
2. Cabbage mixed with carrots and salt and mash well.
3. Add the chopped onion and garlic, pepper and stir again.
4. Put the cabbage into the jar and put the oppression and leave in a warm place for a day, then place in the fridge. 
Source: domashniy.ru/