Washing powder is poison for nature. It contains very harmful to the environment substances that poison the water and soil, respectively, and all life around. And for the person powder is dangerous – not in vain because it in some people, especially children, is an Allergy. Things newborn it is forbidden to wash normal washing powders. Not there is reason to think that it is time to look for environmental alternative to chemistry? Moreover, it is easier and more affordable than you think.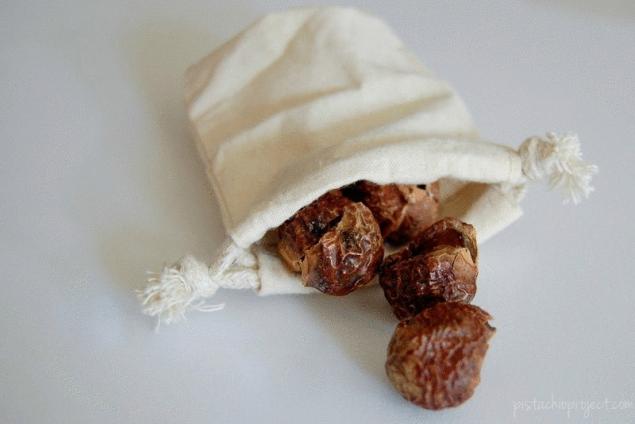 The soap nuts.
In Moldova, they are sold even in stores (I personally saw once the soap nuts in the supermarket "No. 1"). When I first started thinking about an alternative to washing powder, I was forced to bring their own nuts from Ukraine.
What can I say? It's a completely natural, environmentally friendly means. It is the fruit of a tree that grows in India. They actually give a slight foam and washes things. They can be washed both manually and in a washing machine (throwing the bag of nuts into the drum). While soap nuts are absolutely not allergic, they washed baby clothes. For whitening effect is recommended to add a compartment for powder regular baking soda. For flavoring things to drip on the bag of nuts a few drops of any essential oil.
I used this tool for several years. But I refused it. Over time, I ceased to arrange quality of washing. Things grizzled, soda did not give the effect of purity and freshness that I was expecting. Although many Housewives around the world are very happy with the soap nuts and use them regularly.
By the way, this tool is quite economical. For one wash need 6-8 nuts that you can throw into the drum again several times. In one package, probably more than one hundred nuts.
Natural soap.
Them I also enjoyed for quite a long time. Now on the shelves of a very large range of soap, but soap is not all natural. Read the composition. I met soap 100% vegetable origin, it was called "Palm". But even in not very high-quality Laundry soap is much less harmful substances than in the standard powder.
How to wash soap? When talking about hand-washing, clear. And machine washable I rubbed soap on the small grater, it turned almost to dust. Grated soap I added directly into the drum. But it should be nature actually very finely, otherwise it spoils the car. At one time, of course, but over a long period (several months). In any case, it is better to avoid. Select one grater specifically for washing purposes, buy dry, seasoned soap, and all will be well.
Why I gave up on soap? I'm really very tired of rubbing it for a year and a half almost every day (I started using them when my son was born, and washing every day was a lot). Well, the quality of washing me, too, is not inspired, although it was better than soap nuts.
Ecological washing gel.
That's what I use now. I stopped at the firm "Organic People" — just because while in Chisinau, the other is not found. I am satisfied with the quality of washing, but above all the fact that this product conforms to international environmental standards, safe for the environment and biodegradable. They can erase things newborn – gel 100% hypoallergenic. Smells great in the Laundry. One thing: high price. 150 lei we have poltoralitrovuju bottle of gel, which lasts for a month and a half of daily washing. It is because of the price I'm still looking for an alternative to this option.
Ecological washing powder.
In Moldova, while this was not met, but it can be ordered online, for example, on the website iHerb.com. Into the search need to ask "ecological washing powder" or something like that. Gives quite a lot of results, and also biodegradable products that do not harm the nature suitable for septic tanks, etc. On the website there are reviews about the product and its detailed description is in English. And, importantly, I now have in mind the detergent is in powder form, since the gel is essentially the same powder diluted with water. Why pay for water? I would love to buy only concentrate.
Why I haven't chosen for yourself? I have not had the time to understand the prices, descriptions and reviews, because I don't speak English perfectly. Plus shipping from this website pay, I think, $ 20 for Moldova. Need to cooperate with other people to make joint purchases and share the shipping cost at all. On iHerb.com sold a lot of products, including environmentally friendly, including natural, healthy food.
Tourmaline sphere.
This means I also have not used, although the reviews about it is just fabulous. Are plastic balls that blur due to the fact that give the drum machine a special magnetic field. This water is released active oxygen, which washes all the stains brand: old and fruity, and earthy. In short, everything! On the Internet I saw videos of how the thing in front of the camera spilled juice, smeared with fruit – in General, stained of capital. Threw in the machine with tourmaline balls and pulled perfectly clean. And in these areas no matter which erases. They only tourmaline (healing mineral). It turns out that washes the water itself due to the fact that it changes its structure. Ie this tool is also absolutely eco-friendly. You can read about it on the Internet and even watch movies.
Why have I not tried tourmaline beads? They, incidentally, are in Moldova. Sells them to the representative of the Russian company TianDe. There are two ball 610 lei. That's the catch. Although the sellers claim that these two spheres missing more than two years of daily washing. One wash according to the calculations is 50 Bani. Yeah, that's great, but I don't want to put up 610 lei, may I then two years do not spend on Laundry penny.
However, I'm still in thought. Maybe I will decide to tourmaline.
Just imagine: dry mustard powder washes any grease even in cold water. Like the famous ad. Only for a penny and without harm to the environment and their health.
Scientists estimate that each person drinks in a year one liter of poisonous chemicals to wash dishes – after all, we want the glasses and plates shone like new. Friends, they will Shine and so: make friends with mustard, baking soda and metal mesh for dishes. Live eco-friendly! Nature will tell You thank you for it!
Source: www.ecology.md