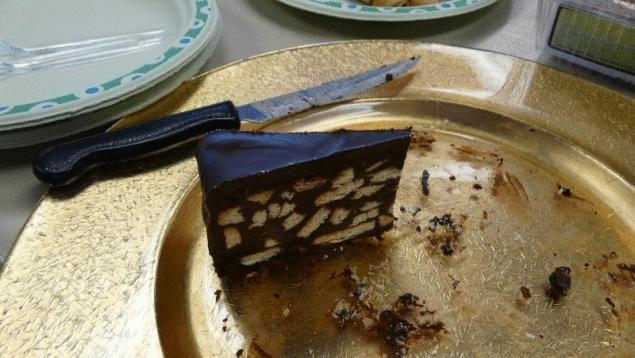 When you really want a delicious cake but no time to bake, you'll appreciate this recipe. Chocolate cake with biscuits cooked very simply and quickly. So why spend a lot of time at the stove?
Ingredients:
220 g biscuits
220 g dark chocolate
160 ml cream
2 tbsp. butter
For the glaze:
110 g dark chocolate
80 ml cream
1 tbsp. butter
Cover a baking pan with foil and grease it with butter. Cracked cookies. In a bowl put chocolate. In a separate container pour the cream and add butter, put on fire to heat and bring to a boil. Hot cream add the chocolate and mix until a homogeneous mass.
Add to the obtained mixture of chocolate broken biscuits, stir gently. Put the mass into the prepared form. Place the mold in the freezer for 3 hours until complete solidification of the chocolate.
The finished cake remove and place on plate out of shape. Remove foil and pour glaze. To prepare glaze, in a small saucepan heat the cream with butter and pour their chocolate. Ready glaze pour over cake, smooth the surface. Wait to cool glaze, then serve the cake to the table.
Source: koko.by  
Source: /users/1077