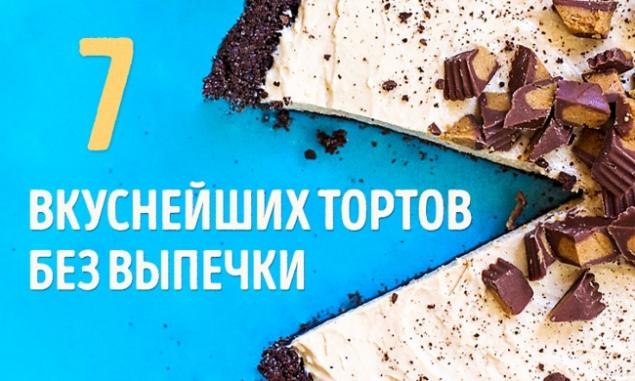 to impress friends and acquaintances with his culinary skills and enjoy a delicious dessert, is not necessarily a long time to knead the dough and stand at the stove.
From these cakes of your guests will be delighted!
Website is sure to spoil them will not work, even if you really try.




Chocolate Banana Cake h3>





You will need:

For the basics:


100-200 g pastry 50-100 g butter For the filling:


2-3 banana 400 ml of sour cream or yogurt 100 ml milk 6 tablespoons. l. sugar 3 tbsp. l. Cocoa or dark chocolate 80-100 g 10 g gelatin Preparation:

Gelatin pour 100 ml of water and leave to swell for the time specified on the package. Cookies break and put in a bowl of blender or food processor. Grind it into crumbs.

Melt butter, add to the crumbs of biscuits and mix well. Put weight on the bottom of the split shape, smooth and well compacted. Hide in the fridge for 30 minutes.

In a saucepan pour the milk, add sugar, and cocoa swollen gelatin. Heat, stirring constantly, until gelatin is completely dissolved. Do not boil. Remove from heat.

Add sour cream or yogurt. Stir.
Bananas peeled, cut in half and put it on the base. Carefully, slowly pour on top of chocolate mass.
Hide in the fridge for at least 3 hours for freezing.




Fruit and berry cake h3>