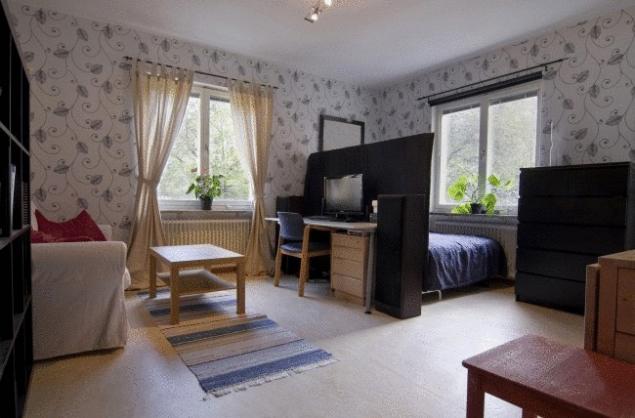 How to equip a small apartment. Photo: thinkstockphotos.com  
Small apartment is not very convenient for life. An example of such inconvenient apartments – one-room "Khrushchev". But if the possibility to extend the living space, you can make it as comfortable as possible.
We will give you 12 simple rules by which you will be able to create a cozy and comfortable apartment for living.
Rule 1. Do not clutter
. Do not put a massive furniture. One wardrobe is half the room, and tables and desks – will occupy the second half. Here is the case when the minimum of items, but comfortable, multi-functional, those that will be actively used. Don't hang on window surround, heavy, layered Drapes with a variety of "tuning". Not utjecaja apartment carpets, lots of pillows and huge murals and paintings.
Rule 2. Observe the correct proportions
. This means that the room may not be a huge sofa, because it takes all the room. The same applies to the variant with a mini-couch and a huge Desk. There are still "psychological" aspect ratio: for example, in a small Studio apartment to put the Palace furniture, albeit small, to hang a chandelier with pendants. In this case, it's tasteless, small palaces are not.
Rule 3. Create the illusion of zoning
. Or rather, a small apartment must be zoned as functional areas is an element of practicality. Light screen or baffle-compartment – that is necessary! But if this is not possible, be sure to create the illusion of zoning. It's easy to do – just in a different way to put a shelf or "play" with lighting, for example, instead of a chandelier to make a few spotlights above the work space, the original suspended lamp over the sofa and put a floor lamp beside the chair.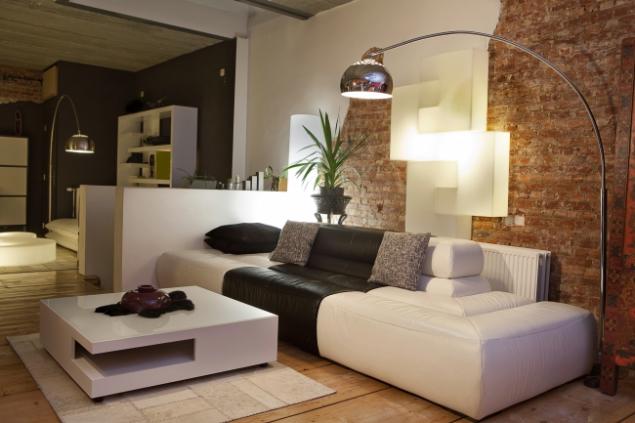 To visually enlarge the size of the room, install lights or lamps. Photo: thinkstockphotos.com  
Rule 4. Use multifunctional furniture.
Functionality is manifested in three ways. First – transforming furniture. For example, a chair-bed or sofa-bed, a dresser, a Desk, a table-chest panels-locker. The second option – angled furniture. The involvement of the corners frees up huge reserves in case of a small apartment, also corner sofas are usually almost imperceptible. The third option is a custom – made furniture. As a result, you can order and table, and wardrobe, and a sofa on the individual sizes, even if it does not meet any standards.
Rule 5. Use only bright colors
. This is one of the truths that I know, probably all. Small apartment need only bright colors, pastel, fuzzy, no dark Wallpaper and paint, and Wallpaper with complex, catchy, large figure. All you should be easy and light. But, this does not mean that unacceptable bright accents. The above applies, say, to most apartments, the largest of its surfaces. More specifically, light background color should be eighty percent of the volume. And the remaining twenty – at your discretion.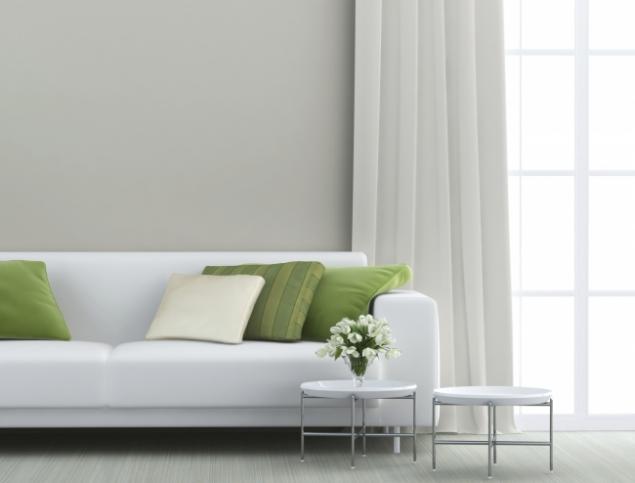 For a small room ideal bright Wallpaper and furniture. Bright accent can only become accessories in the form of pillows. Photo: thinkstockphotos.com  
Rule 6. Create the illusion of a high ceiling
. In small apartments and the ceilings are usually low. However, you need to create the illusion that they are higher than they actually are. It's not difficult. First, no need to clutter up the existing ceiling decoration, painting, stucco, etc. Color white only. The Wallpaper is better to stick to the ceiling. Not need to hang on long fixtures. Can be done on the perimeter of the small cornice with concealed lighting. At the very least effectively assist device glossy stretch ceiling.
Rule 7. No – anonymity
. Here, again, we will focus on the bright color and active accessories. Usually the owners of small apartments choose what is practical and win-win. Yes, bright colors, but it is everywhere: all light grey, light beige or cream. Accessories are the most understated. But it is faceless. The eye in this apartment not just for that "catch". A few bright spots, catchy, quirky accessories will transform a small apartment.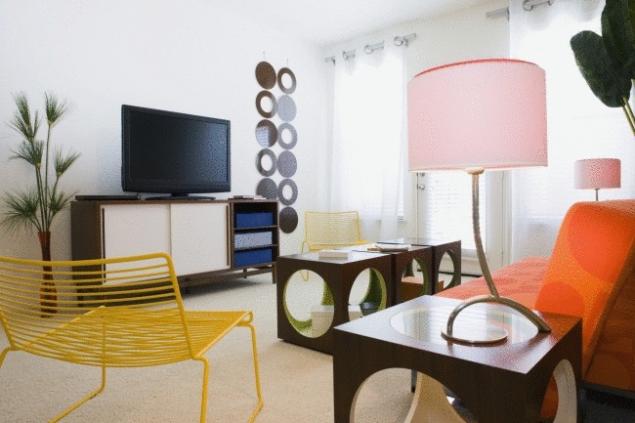 Decor of the room, choose bright accessories. It can be a floor lamp, a rug or decorative pillows. Photo: thinkstockphotos.com  
Rule 8. Use mirrors
. There is a mirror at all, but only in the hallway and the bathroom. But the mirror is perhaps the most powerful tool in visually enlarge a small apartment. There are numerous options the use of mirrors, from the mirrored doors of the wardrobe and ending with patterned mirror panels. But even if you just hang a mirror on the wall, but place it in a beautiful frame as a picture, it will look like the original panels.
Rule 9. Use the hanging furniture and equipment
. In a small apartment you need to make maximum use of the useful area of the walls. Consider all the options suspended furniture. And when purchasing pay attention to the Cabinet harness and not the floor, better shelves than the shelves, etc. Oh and technique try to hang the whole. For TV, music centre, microwave ovens and many other technical "stuff", there are special brackets. You will win extra meters, freeing yourself from having to buy for them little tables and stands.
Rule 10. Look for the old things a better place
. Do not accumulate old stuff. First, storage can accommodate a balcony or loggia, making it spacious wardrobe. Second, the personal "warehouse" you can equip in the garage or at the cottage in the form of special annexes. Well and, thirdly, for such things, you can rent a cell in the "city box".
Rule 11. Keep the order
. Clean apartment, where things are in their places, always looks more spacious. Try not to put anything under the furniture and not to put boxes and bags on racks. To arrange the order, it is best to lay out things in the special container and sign the container. Such containers stand up well to the cabinets, using every inch of volume.
12. Don't abuse small Souvenirs
. We have in mind is small in size objects – vases, figurines, frames and other stuff. When a lot of them, the impression of variegation, visual clutter, and the room seems cluttered. A small apartment should not be turned into the gift shop. Accessories for malogabaritki should be just large enough expressive, but there should be little.
Source: domashniy.ru/