Layout one-bedroom apartments, most often, is a rather complex task because, in a small area you need to place all necessary furniture, things that accumulate throughout life, and so on. Besides, it isn't easy to provide in the space of one main room area for your child, your work and leisure wardrobe.
Today, for example, four variants of planning solutions we will discuss the most effective ways competent and prudent consumption of living space.
Layout of Studio apartment-Stalinka №1 with combined kitchen and гостиной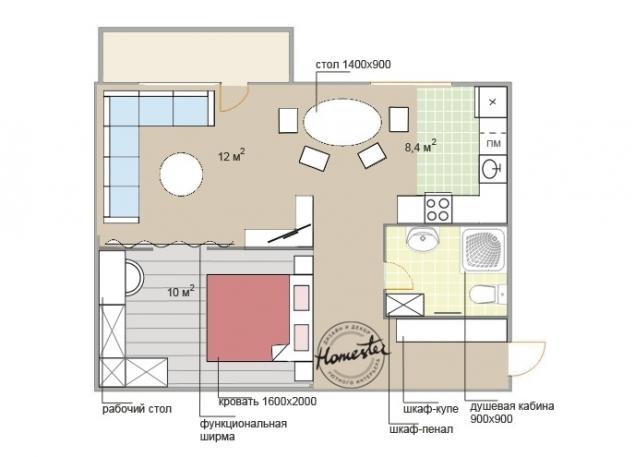 Advantages:
In the arrangement of this apartment is clearly heard the idea of unification, because all the main areas linked together, and thereby preserve the visual volume of space. The plan shows how the kitchen connects with the living, which, in turn, separated from sleeping area with a decorative room divider and screen. In the end, one bedroom apartment converted into one bedroom.
Formed by zoning the bedroom can accommodate a double bed with bedside tables, a wardrobe, a continuation of which is a wall Desk (or dressing table).
The living room has a large sofa, unfolded turns into a spacious bed. On the periphery of the kitchen and the living room is the dining room group.
In the bathroom, with full bath and closet-container for bathroom accessories. In the entrance hall there is a spacious wardrobe for storing coats, shoes and other things.
Disadvantages:
No such planning solution is quite clever, and certainly could be implemented in practice.
Please note:
Erecting a thin wall or partition between living and sleeping area, you can install a door that will help to retire. But still, light functional curtains at the entrance to the bedroom will help save visual space in the combined room.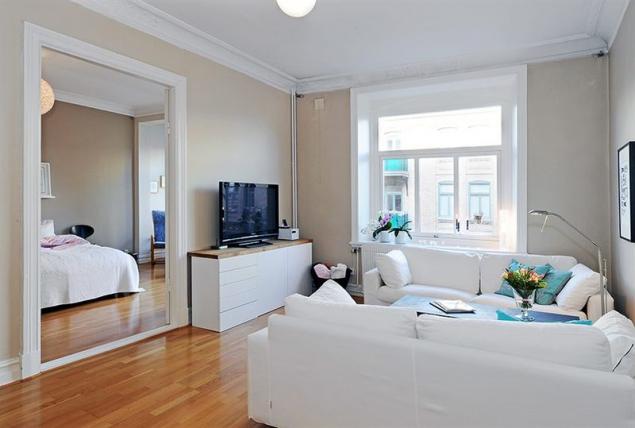 Layout of Studio apartment-Stalinka No. 2 with a children's area in спальне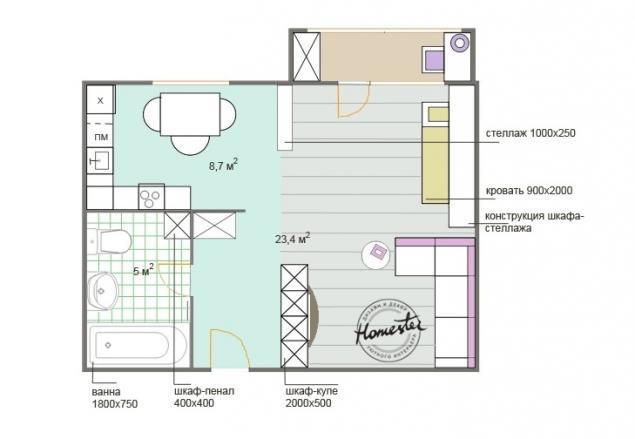 Advantages:
This planning decision is good because in the room besides the sofa "adult" area is provided and a single bed for a child, surrounded by a compact design with open and closed sections. Thus, even in a Studio apartment can provide the child with all necessary. Place to study, work, and creativity may be arranged on the balcony.
Room-living room with kitchen, but to highlight two different functional zones, you can install a shelf or partition on their periphery.
The dressing room is spacious wardrobe, which, moreover, separates the entrance hall from the living room.
Disadvantages:
Adult and children's areas undivided, even visually, therefore, to retire to the apartment you will be difficult.
Please note:
Part of your closet can also be stored in the cupboard opposite the Desk on the balcony.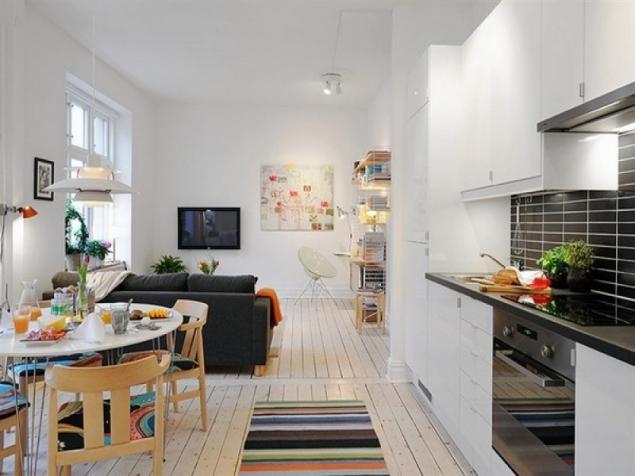 Layout of Studio apartment-Stalinka No. 3 with kitchen-столовой
Advantages:
Kitchen –dining room is located separate from the main room, so no odors or noise will not disturb you and your guests.
In the apartment there is a bathroom and separate toilet which is very convenient. The spacious entrance hall can be placed a large wardrobe, separate shelf for shoes and a bench for your convenience.
The main room is a large sofa bed, TV area, Desk and wardrobe-shelving.
Disadvantages:
For families with small children should include space for cots and baby furniture. It is possible to fit everything you need to replace the sofa bed.
Please note:
On the balcony you can install a dressing table and an additional shelf or Cabinet.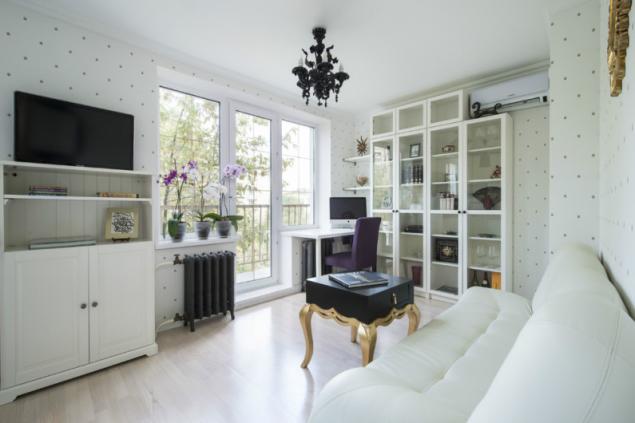 Layout of Studio apartment-Stalinka No. 4 the study on балконе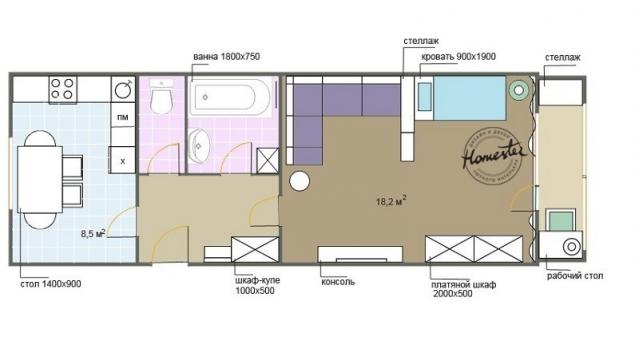 Advantages:
The apartment has a separate bathroom and toilet, kitchen with dining area and combined with a children's living room with exit to the balcony.
The layout of the room provides for the presence of two major (adult and child) and two additional (walk-in closet and TV). Placement of furniture around the room-the living room provides space in its Central part.
The couch area is separated from bed by installing the rack where you and your child can store books or decor.
Disadvantages:
Wardrobes in the living room may not be enough to accommodate all your clothes.
Please note:
Despite the fact that the hall is quite spacious, there's little meta to embed good wardrobe, hangers, and partitions for shoes. The balcony needs to be used wisely, and to install the additional wardrobe, WC (writing) table.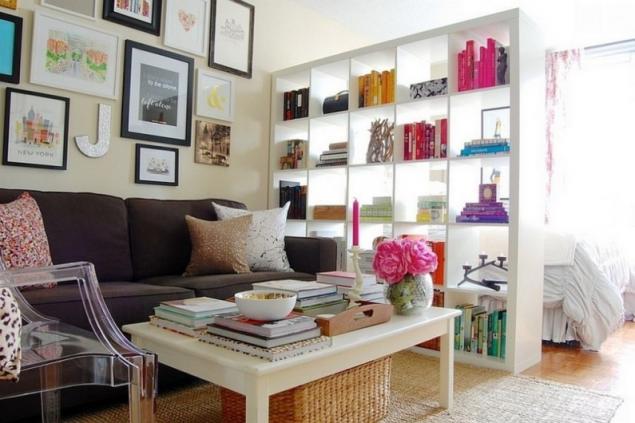 Take your time, making a space in which you are going to live a long time, because your lack of foresight can cause the emergence of many typical mistakes in the planning of housing.published
Author Irina Tsyganok  
P. S. And remember, only by changing their consumption — together we change the world! ©
Join us in Facebook , Vkontakte, Odnoklassniki
Source: homester.com.ua/design/apartments/odnokomnatnaya-stalinka/