You can easily turn a Studio apartment into a functional and aesthetically pleasing space to live a peaceful and relaxing stay. The main thing is to clearly define the purpose and to consider carefully the location of all interior items and solutions.
You live in a small Studio? I wish to create in the room cozy, serene and original atmosphere? You will not believe it, but this effect you can easily achieve with simple and straightforward in implementation.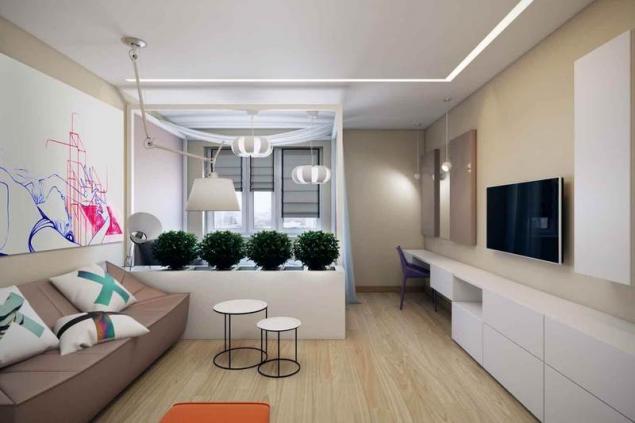 Today we will introduce to you the unique selection of ideas that will help you to transform your modest home into luxury one-bedroom apartment. You will now be able to modest area of 35 - 40 sq. m. to arrange guest lounge, kitchen, dining room, sleep room, office and large bathroom.
1. Bed in the closet
If the size of your apartment does not allow to build a separate boudoir, try to enclose the bed, sliding walls with translucent panels. A talented specialist Audrone Ambrosiana used for this finest mirror plane mounted on the guide rails.
This decision will not only decorate a room but also to equip a sensitive area for relaxation and restful sleep. Stylish, showy and very attractive!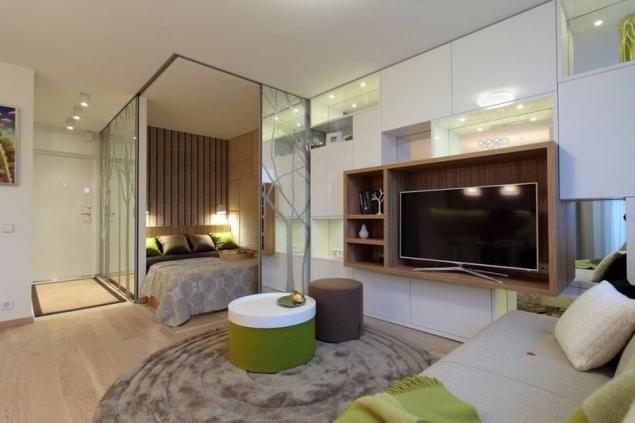 Design from Audrone Ambrosiana
2. Following the style of
a non-standard layout is a real gift for those homeowners who have decided to engage in the reconstruction of odnushki. In housing with a long hallway, brickwork on the walls and a huge window openings, the experts used the loft for decoration.
The master set the room partition with black wooden frame and glass inserts. Such designs are remarkably fit into the interior, superbly zoned premises and not interfere with distribution of sunlight.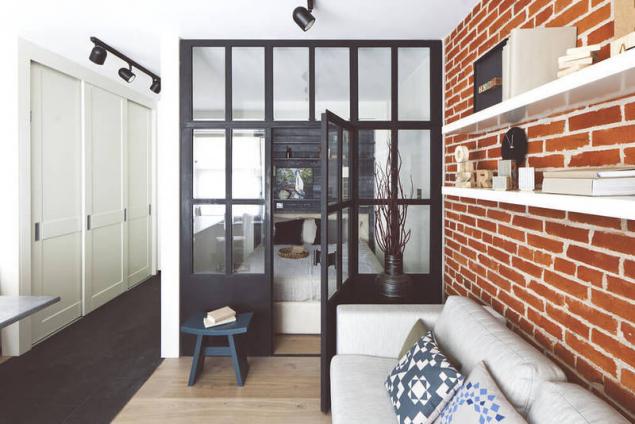 Decoration in loft style
3. Competent planning
Genius designer Mila Kolpakova has designed and brought to life a delightful area for couples. It has reduced the size of the hallway and bathroom, equipped kitchen area near the front door, and found a place to organize tiny bedrooms.
The remaining area was decorated with miniature soft sofa set near the window. Divides the space bar brings the atmosphere of airiness and lightness. It is also a area for wardrobes. For interior design small apartment were picked up the light palette.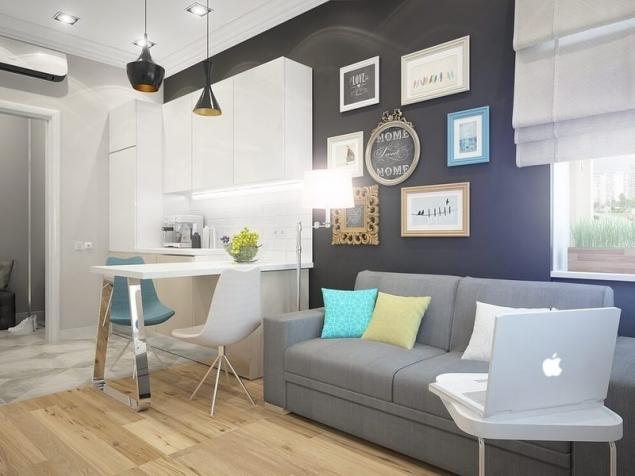 Artwork by Mila Kolpakova
4. Apartment with a secret
For stylish and modern girls talented specialist Irina Lavrenteva has developed in a small Studio with unusual layout with a spacious boudoir, where the two wardrobe.
A small nook near the two Windows took a little guest lounge and a practical kitchen area. Despite its modest size, the Studio is filled with vivid details and unexpected items headset.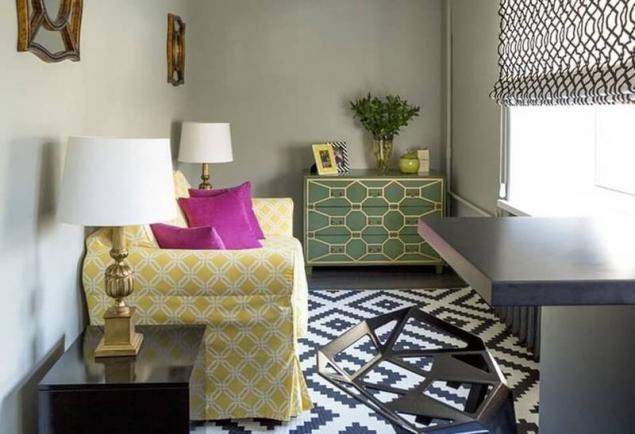 Design by Irina Lavrentieva
5. The ease and functionality of
a Large dressing room, spacious kitchen with island and area for table, and a bedroom located on a modest area of 33 sq. m. the accommodation looks very stylish, beautiful and functional. Bed hidden in a podium under a wardrobe, and Ironing Board in the kitchen table.
Thus, the specialists were able to form a multi-level space. Here all the items, and stylish furniture are in place.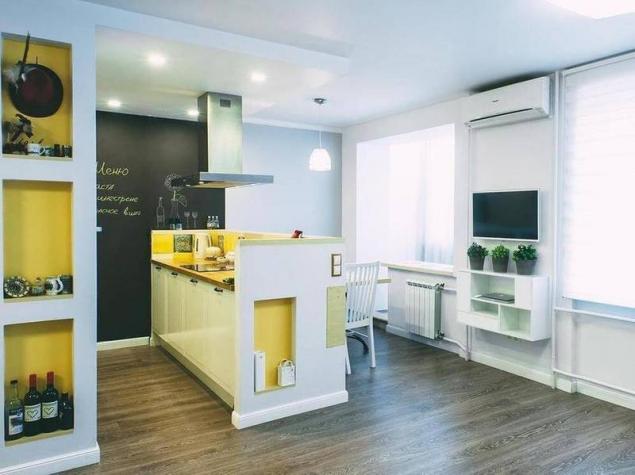 Multifunctional decoration
6. The light in cosketic to divide the Studio into two zones, if it only has one window opening. Room with long shape in this project was divided into bedroom and kitchen with dining room. The room for the meal was no natural light.
To create a cozy environment specialist Marina Sargsyan came up with an interesting system of illumination, the built-in upper cabinets with glass fronts. The result is an unusual effect. The decoration complements the neutral palette, practical multifunctional furniture and creative floor tile with floral ornament.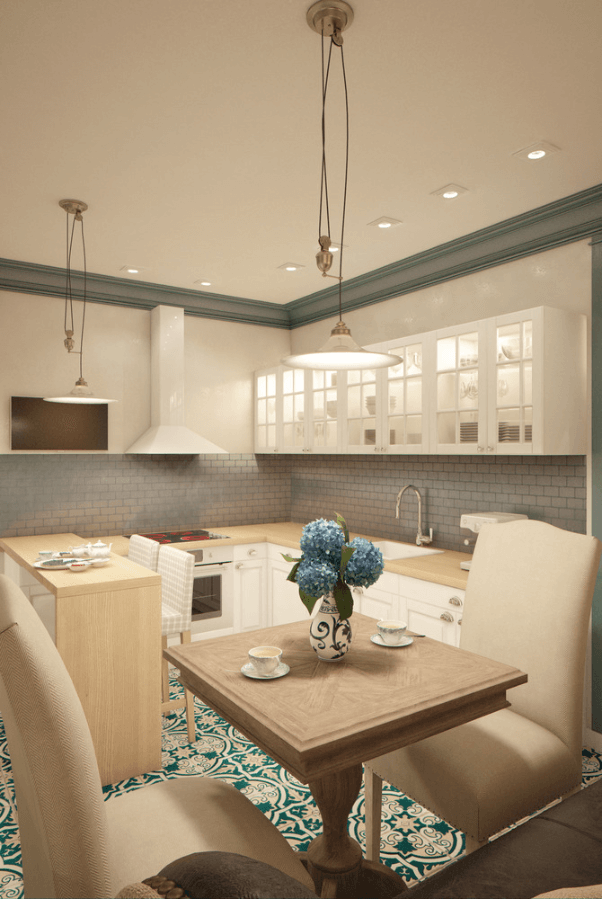 Design by Marina Sargsyan
7. Boudoir ceiling
If your Studio very high ceilings (over three metres), feel free to organize the second tier. This housing was designed by designers from St. Petersburg. They equipped the apartment with a total area of 40 sq. m. split-level space. On the top floor is a cozy bedroom and bathroom, and the bottom – living room, kitchen and dining room.
The salon is decorated with beautiful items for home decor and a stunning chandelier, which was made with metal circles and glass cones.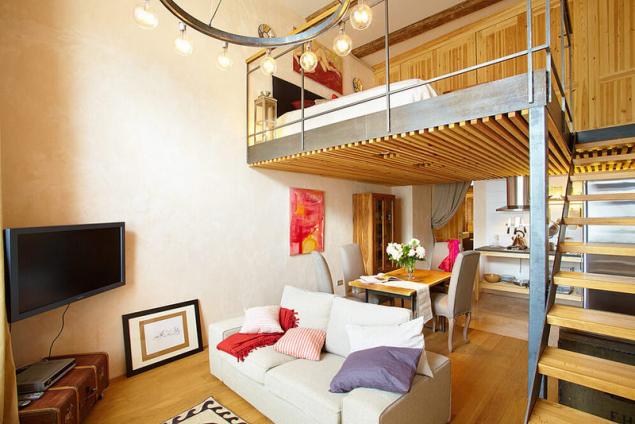 Design by Marina Sargsyan
8. When the partitions are not necessary
In a large one you can do without walls. For example, this apartment is an open space, which is isolated only bathroom. The boudoir was fenced high sliding doors with mirrored panels, visually increasing the surface area.
They also allow you to create a confidential area for recreation and a relaxing pastime.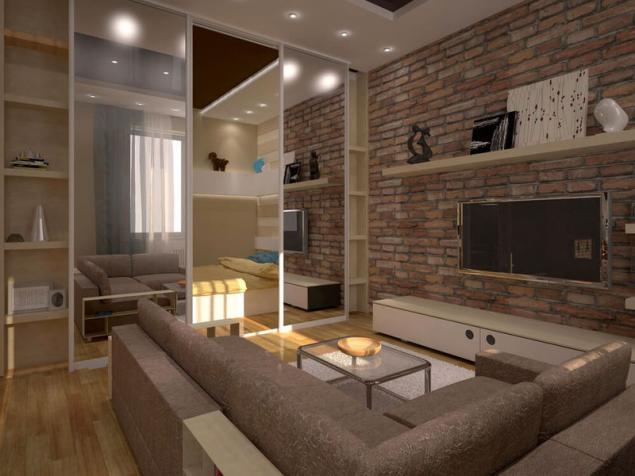 Industrial decor
9. Bedroom as a work of art
If the layout of your odnushki hotel provides dressing room, you can equip this room to the bedroom. Install bed platform, which can nicely accommodate a box of clothes and accessories.
Bright lighting allows you to accent this area as well as to create a comfortable and aesthetically appealing modern interior design. When this room is not in use, it closes with sliding partitions.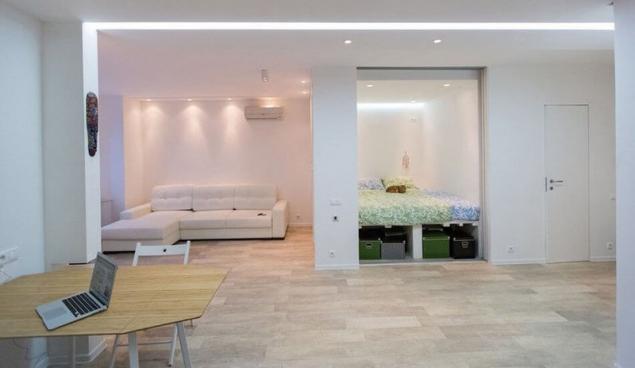 The spacious layout of the apartment
10. Island for a relaxing holiday
In this tiny one-room apartment experts have created for a young couple with a child of the original layout. Boudoir they separated from the main space via sliding partitions and translucent doors. In addition to kitchen, spacious lounge and bathroom masters also managed to fit in a tiny apartment office.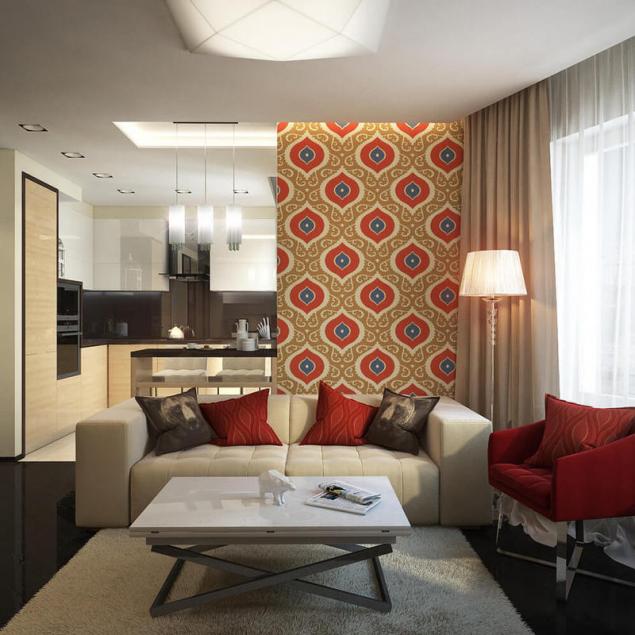 P. S. And remember, only by changing their consumption — together we change the world! © Join us at Facebook , Vkontakte, Odnoklassniki
Source: interiorsmall.ru/varianty-oformleniya-odnokomnatnoy-kvartiry/