Thinking about the new design? Don't know how to decorate the room on new year 2017 with his own hands?
It's time to start collecting interesting ideas! The brighter and more varied will be the design of your room, the better you will be able to convey the beauty of celebration new year's eve.
Christmas decoration of the house should not be spontaneous and thoughtless: in advance, prepare all the materials, design the layout, make sure that each accessory has found its place in the interior. To create a harmonious and pleasant design on the Christmas theme – it's easy, but this process requires preparation.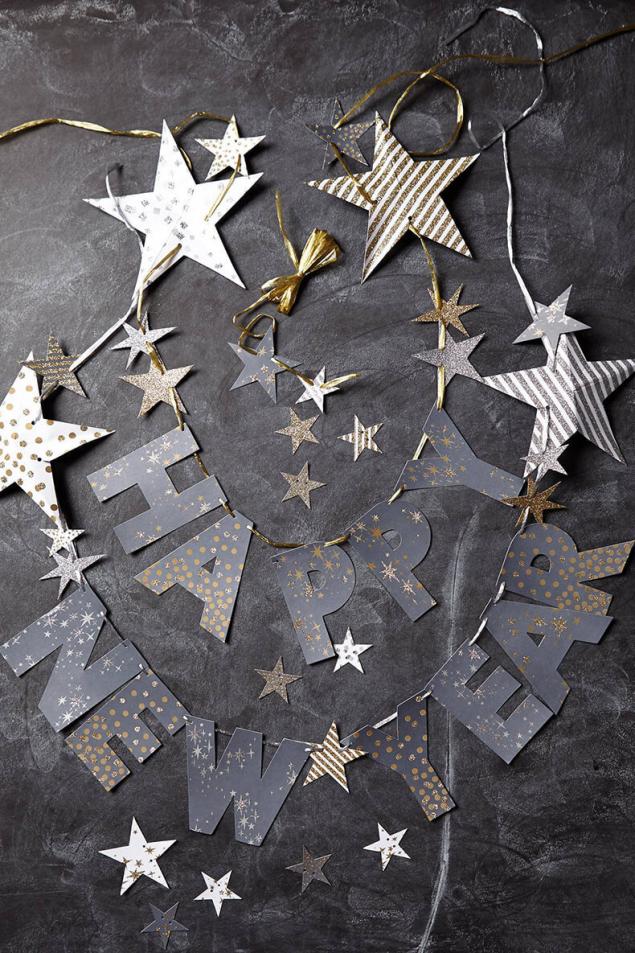 How to decorate a house on New Year 2017? The bright and stylish decoration you can buy in the store, but also to make their own hands using improvised materials. Let's create a fabulous scenery along!
The materials for Christmas decorations
Christmas decor of the apartment starts with the selection of materials suitable for creating a festive atmosphere. When it comes to decorating the Christmas tree, then comes up with the standard jewelry, which can be purchased in almost every store before the holiday: glass and plastic toys, garlands, rain, tinsel.
But is it possible to underline a stylish and colourful Christmas interior 2017 using other materials? You can even need!
For decorating you can use:
plastic bottles. Plastic is a practical and easy-to-use material for creating candleholders, items for garlands, small figures to decorate the Christmas tree and even a mini-Christmas trees to decorate the holiday table;
 


textiles. As the fabric may be deformed, take care of a solid base or use felt: of these materials can sew Christmas decorations or garland in Christmas theme. Made from soft fabric you can sew bulk toys;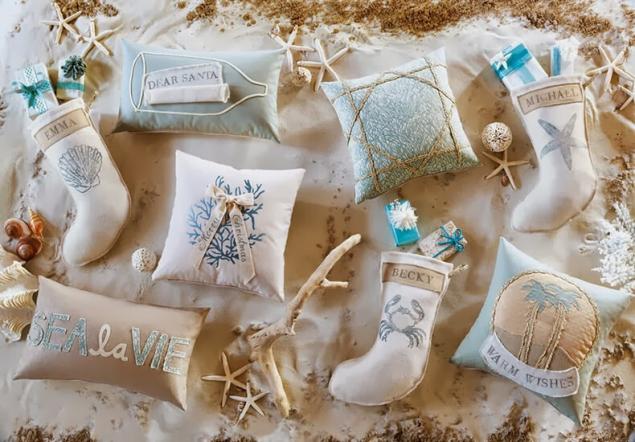 decoration. Who said that the conventional beads and the earrings cannot be used as a decor item? Small accessories are perfect for decorating small artificial Christmas trees, beads and junk jewelry can be applied in the design of candles, candle holders, figurines, Christmas wreaths;


bumps – a fairly common option for creating decorative accessories for the New year. Color them in bright or white color, sprinkle glitter or artificial snow to use as Christmas decorations or element Christmas composition on the table;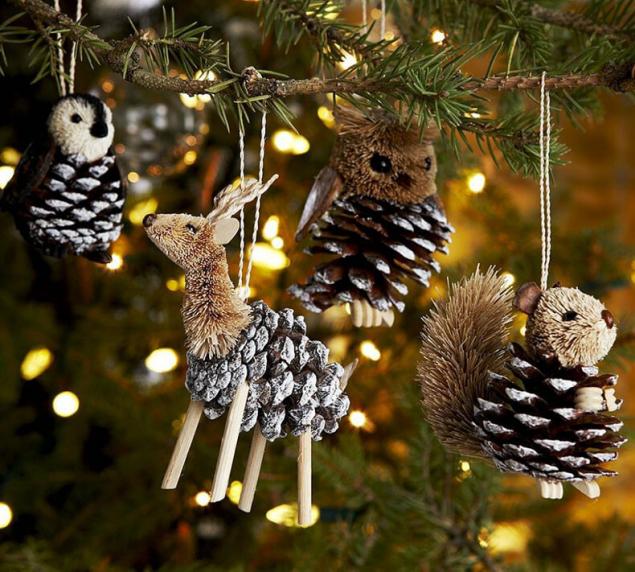 candy, cookies and fruit. Using edible gear, you can arrange a festive table or garland hung around the room.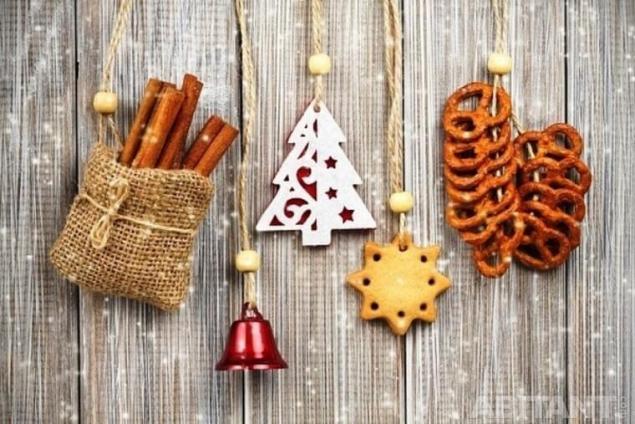 Any material can be use for decorative purposes. For example, from yarn and glue, you can create a three-dimensional composition in the form of stars or snowflakes and hang from the ceiling. And from regular paper or cardboard will make a great designs for walls and Windows.
Get creative and don't be afraid to realize the most daring ideas: inspiration will serve you a photo of the Christmas decor 2017.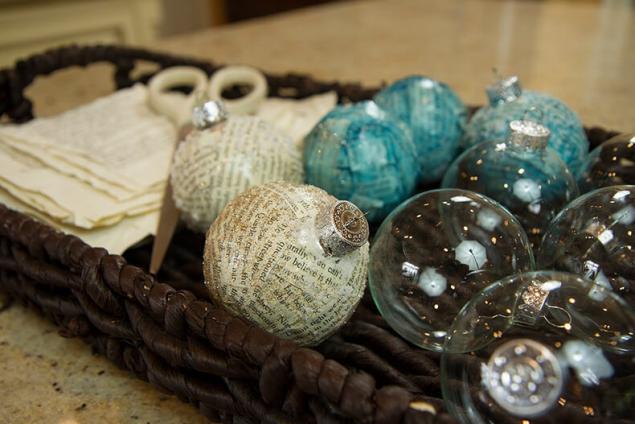 Tip: deciding how to decorate the house for New Year 2017 with their hands, do not forget about a harmonious arrangement of accessories.
The shade and shape of the ornaments also play an important role: all should be in moderation, so rassredotochit accessories around the room, stick to a single style in the design and try not to combine multiple eye-catching elements of design.
So you don't have to redo work several times, plan in advance where and how you will create the Christmas atmosphere. Make sure that not only furniture, but different surface in the house was decorated Christmas: this applies to walls, Windows, doors, ceilings, window sills, private niches and ledges, fireplace zones.
It is desirable that the home decoration for the New Year of 2017 was made in the same style and was not characterized by the excessive abundance of conflicting shades: the most successful in this design are considered to be white, red, gold and green.
Table setting
The place where you are going to visit the Central area of the holiday decor. Therefore, it is not worth saving, making the table only dishes and dishes. Given that many accessories can be done personally, you don't have to spend money on stylish serving.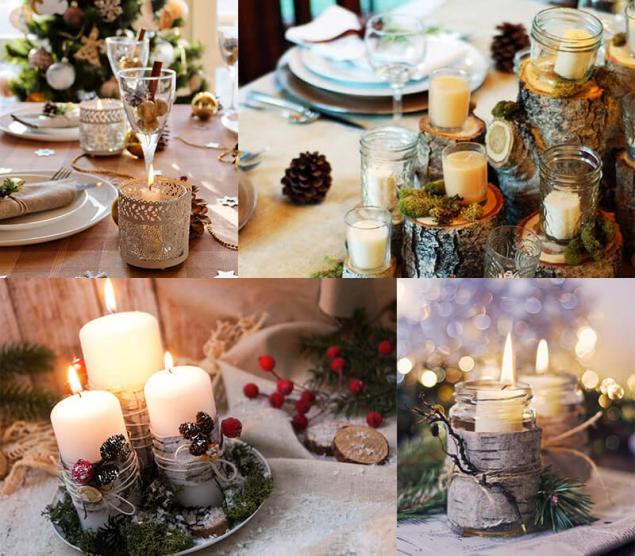 Accessories used to decorate the table must match the Christmas decor of the house. Not necessarily to make the table bright and flashy at the expense of appropriate shades even in white and light blue color serving will look stylish and elegant since the bright hues associated with the winter holiday.
How to decorate a house in the year of the Fire Rooster, it is easy to figure out, referring to the symbolism of the following year: the red color may be present in textile items, food, jewelry and toys; the theme of fire can be maintained with candles or garlands with distinctive lanterns, choose figurines, pictures and Christmas candles with symbols of the Fire Rooster 2017.
The most striking decoration of the table will be a candle: you can choose ready-made versions of a Christmas theme and even scented candles that will allow you to relax and enjoy the occasion.
If you want to draw the table and the interior in the same style, you can make candles for the new 2017 alone.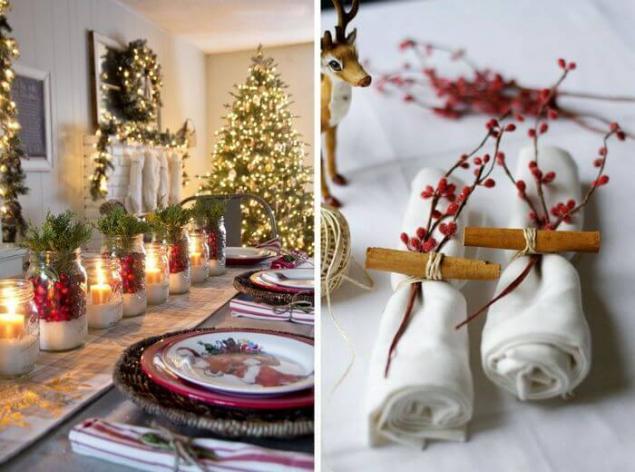 To do this, prepare the tins for future candles, melt the wax, pour and wait until it hardens. Do not forget to insert the wick. Ready-made figurines from wax decorated with varnish, paint, sequins, beads, napkins (decoupage technique), tenderloin, ribbons and many other matching accessories.
Candle holders in Christmas table setting 2017 will play an important role. It is believed that the rooster loves everything bright and shiny, so why not pick up metal or clear candlesticks, shimmering under the fiery glare.
Glass candle holders on the long leg will be a stylish addition to the classic decorations you can make with glass and place in the center of the table.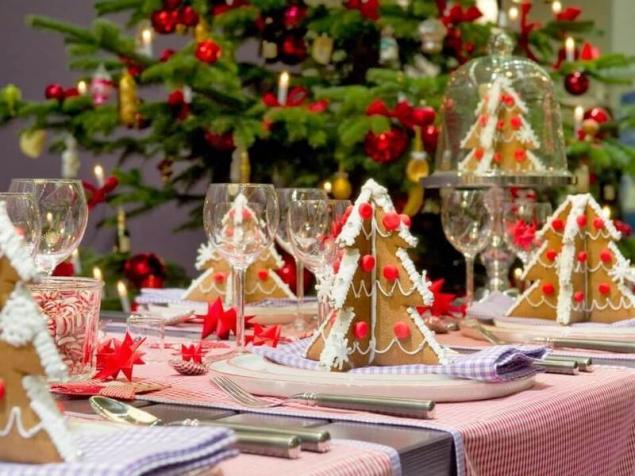 Table decorations would not be complete if you don't pick up the textiles. The tablecloth may be white or have bright hue, but it is better to use plain with no patterns.
If you are planning to decorate the table cloth, take care of the presence of tissue: they can have a standard square shape, may be laced or embroidered.
Simple swipe of a fabric can be decorated with stylish grabs, or bright ribbons. Do not forget that even food laid out in an unusual way (e.g. as trees) can become a spectacular decoration for the Christmas table.
Decorate your Windows
Let's find out how to decorate the house in the year of the Fire Rooster if you are planning to stay for only one serving. Even the window area can become a space for creativity: you can apply some bright and interesting ideas.
The most popular option of window dressing is a sticky cut-out paper scenes on the glass. To emphasize the Christmas window decor, search the Internet for interesting pictures on this subject, print it on white paper and cut out the contour. It can be a reindeer with sleigh, Santa Claus, snow maiden, Christmas trees, houses, snow, gifts, Christmas toys, and more.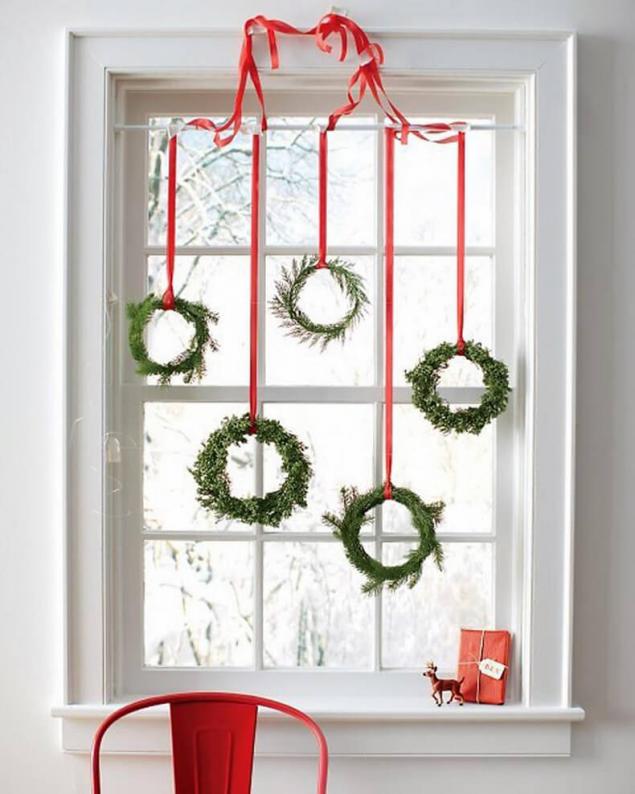 Tip: you can get creative and cut out different snowflakes: this process is very popular with the children, so connect them to the work. To snowflakes shimmered under the glare from the candles and garlands, glue them with a glossy film or insert the usual file, cut along the contour.
If you don't want to spend time carving figurines, make a stencil, lay against the glass and over the slot toothpaste. As a result, your window will remain slightly blurred pictures that look pretty realistic.
For decorating Windows, you can use plain Christmas balls, fruits, toys. Simply screw them into long strips and tied to the eaves. Such decoration will fit in the case if your window is not closed curtains.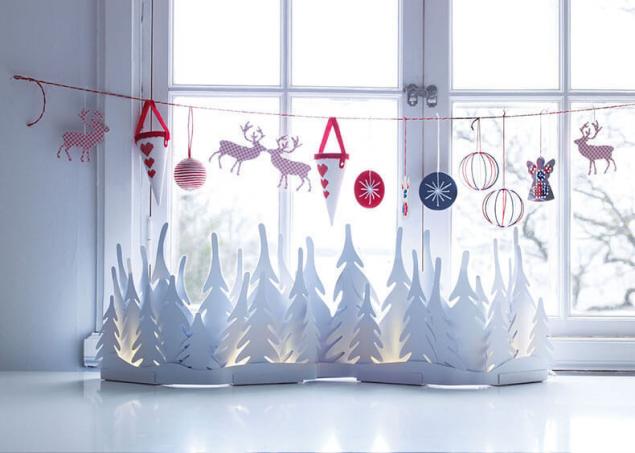 For decorating the window sill is also possible to implement some interesting ideas. For example, to furnish the surface of toys and figurines on the Christmas theme.
Using a sturdy paper or cardboard, you can create realistic compositions across the width of the window: cut Christmas trees, houses, clouds, among which are riding sleigh with reindeer – arrange in multiple layers around the window sill and divide garlands that evening will create a flickering light.
For realism, create Christmas decor Styrofoam: it will simulate snow. With this material you can also create some elements of fairy tale songs or toys for cornice, garlands, curtains or Christmas trees.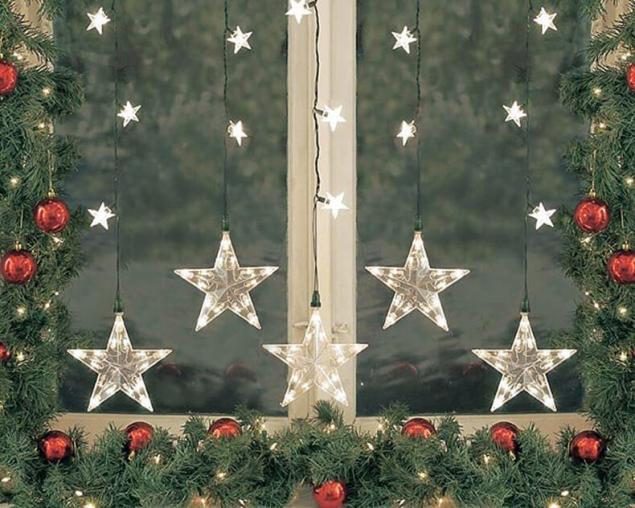 Interior decoration for new year 2017 may be supplemented by even decorating the curtains. Attach to fabric bows, pine cones, Christmas decorations, hang rain or garland – and your room will be perceived more festive.
Other areas of the room
Where else can you show your skills? Of course, other available materials useful for decorating Christmas trees, because without it, new year's eve not to do. In addition to the standard purchase jewelry, decorate it with candies, tangerines, homemade toys, ribbons, and even themed cookies. And don't forget the presents!
Increasingly, experts recommend to decorate the Christmas tree in a single color. Even monochrome the tree will look very stylish and attractive. In 2017 the main colors of Christmas decorations are red and white.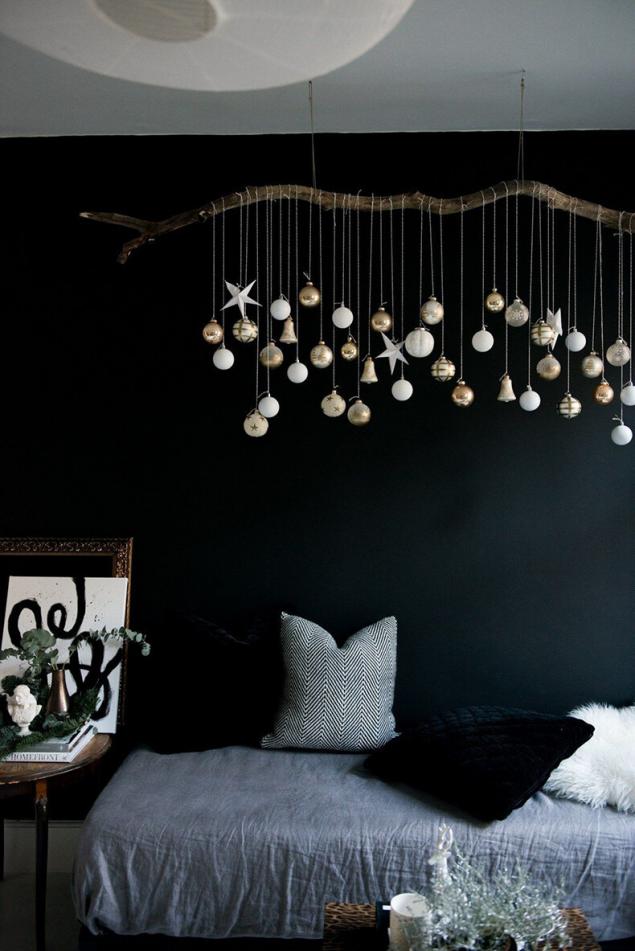 For those who like regularity and restraint in design, attractive seems the idea of decorating Christmas trees with garlands. Bright lanterns will replace the colored balls, and in the evening this area of the room will be the most fabulous and mysterious.
As a material for hand-made you can use light bulbs, paper clips, puff pastry, cones and tangerines, fabric, plastic caps, berries, nuts, and other items. You can create Christmas decorations from existing, but outdated: for example, to beat a few bright balls and prepare powder for shiny new jewelry.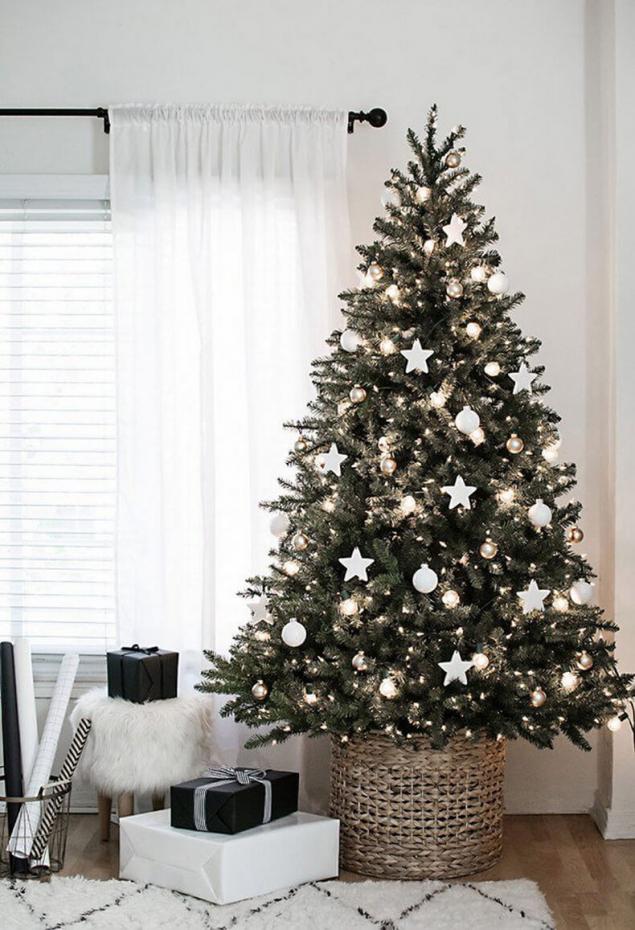 Another area requiring decoration is a door. Even if it is not the main in your home, you can apply several common options for decor: hanging rain and a tinsel, to draw a Christmas tree (or stick figures of paper), create a festive wreath.
Attention! What wreaths are considered to be trend over the last several Christmas holidays. They can be made of fir branches, small Christmas balls, berries, tangerines, pine cones, toys, candy, beads and other accessories. The parameters define the wreath, focusing on the size of the door.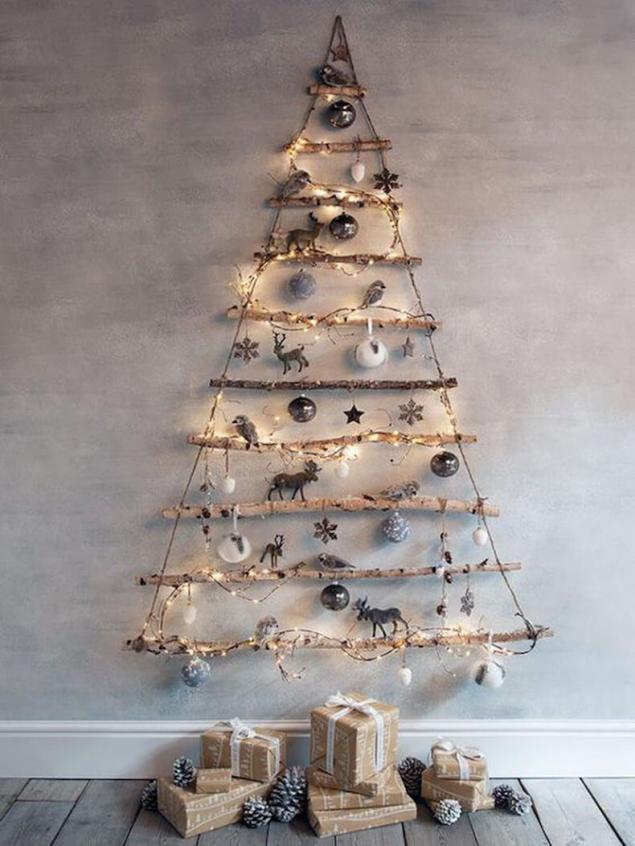 In the presence of the fireplace in the apartment or house do not forget to prepare Christmas socks or caps: they can invest a small gift for guests. A fireplace can decorate with candles, garlands, rain, toys, fir branches. It is advisable to fireplace decor match the decor of the Christmas tree.
Christmas decor 2017 can assume and the corresponding design of furniture. It is possible to stick the pictures (like on Windows), attach the garland or beads.
In the presence of chairs with backs be sure to create a stylish slipcovers: they can pretend to be Santa clauses, reindeer, snowmen. The best shades for chair covers – red, white, green and gold.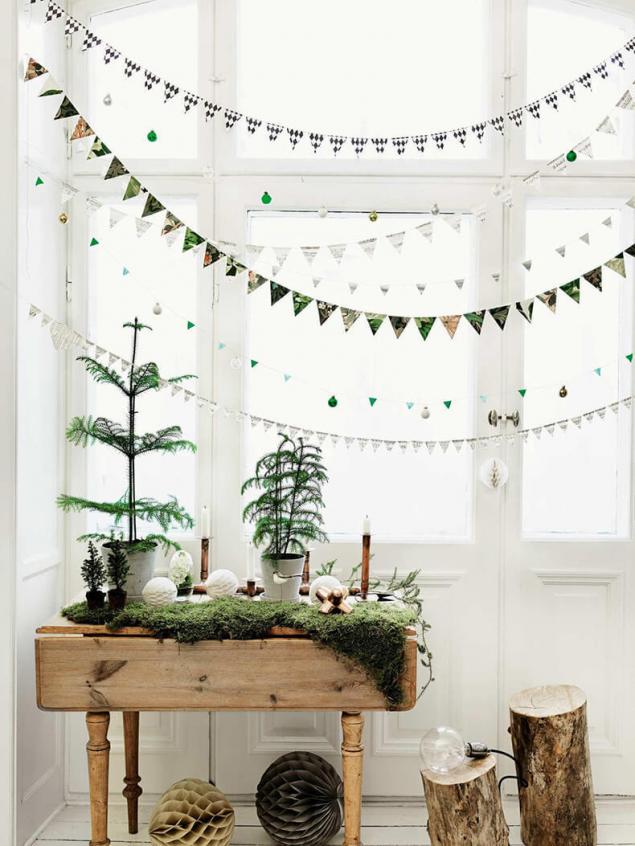 For decorating the ceiling and walls, use beads, rain, electric lights. Christmas decorations with their hands 2017 can include homemade garlands-chain composition of Christmas balls, ribbons, toys, decorative snowflakes, bulk lanterns. The easiest way of decorating using ready images on adhesive basis.
With this New decor in 2017 will definitely be remembered! In your room will be at home warm and cozy, and bright accessories and jewelry, shimmering and sparkling under the highlights, emphasize the solemnity of your interior.m published  
Small Christmas trees for small interiorsRemodeling your kitchen: do's and don'ts
Source: dom-mechti.com/pomeshheniya/prazdnichnyj-dekor/novogodnij-2017.html