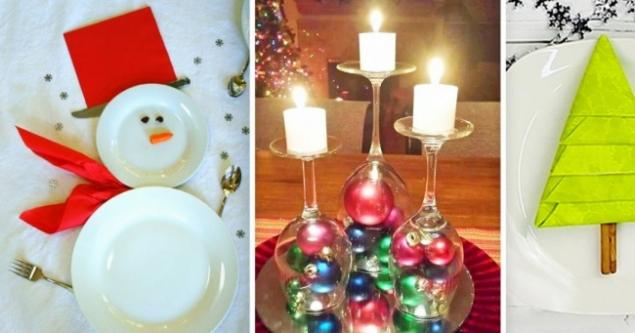 What is important in the Christmas holidays? No gifts and no tree. And not even the champagne. Most important is the mood of wonder and magic. Best of all, it "caught" in the preparations, which are themselves already part of the holiday and Christmas magic.
We in
the Website
have gathered for you the simple and cute ideas that will help and mood to create, and to turn the New year into a real holiday for the family and guests.
Napkins-Christmas tree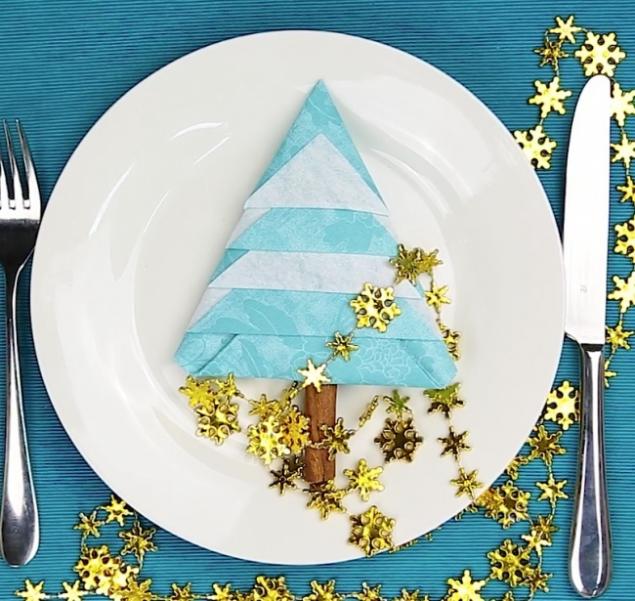 To create a new year mood during the gala dinner, you can fold napkins in the form of Christmas trees. Any suitable textile or a large paper napkin, bright colors better. Very easy to do — watch our video.
Delicate herbs and garlands of light bulbs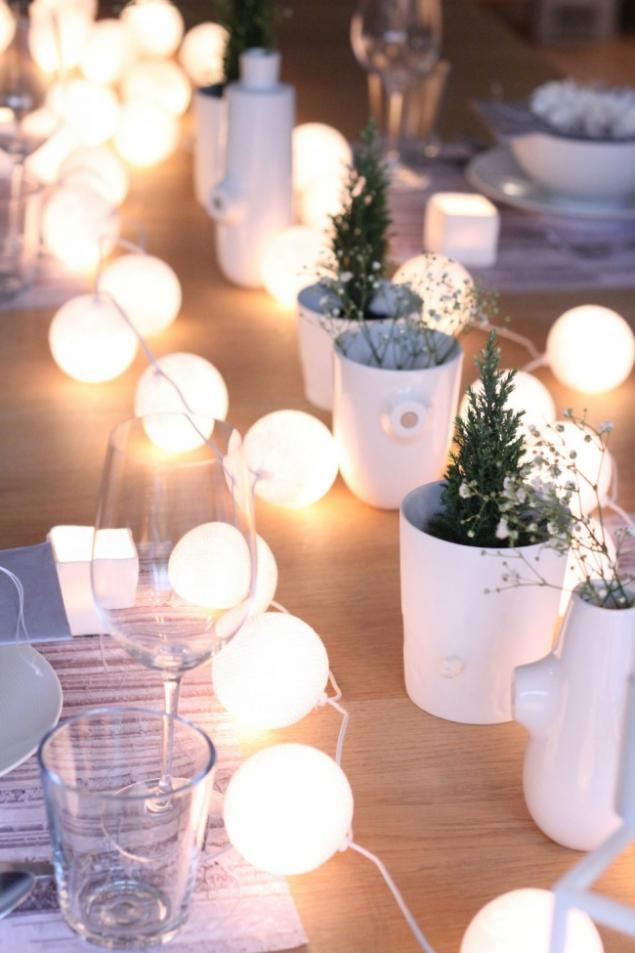 Gentle and romantic mood will be created by conifers in small pots or sprigs of baby's breath (inexpensive to buy at the flower shop) and a garland of large bulbs.
Serving in the form of snowmen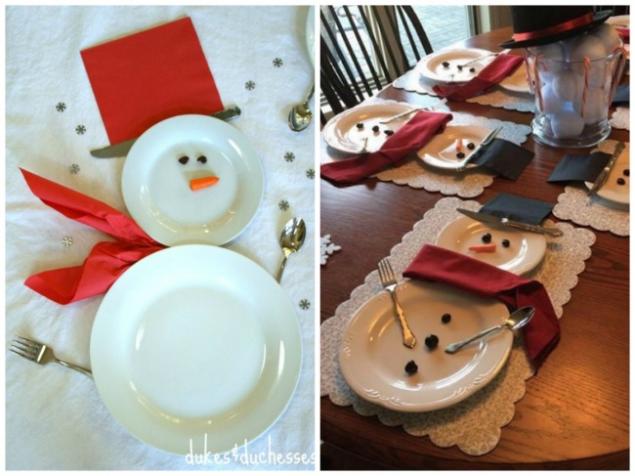 With plates, appliances, piece of carrot, olives and colored napkins can be built in front of each guest a cute snowman.
Spruce branches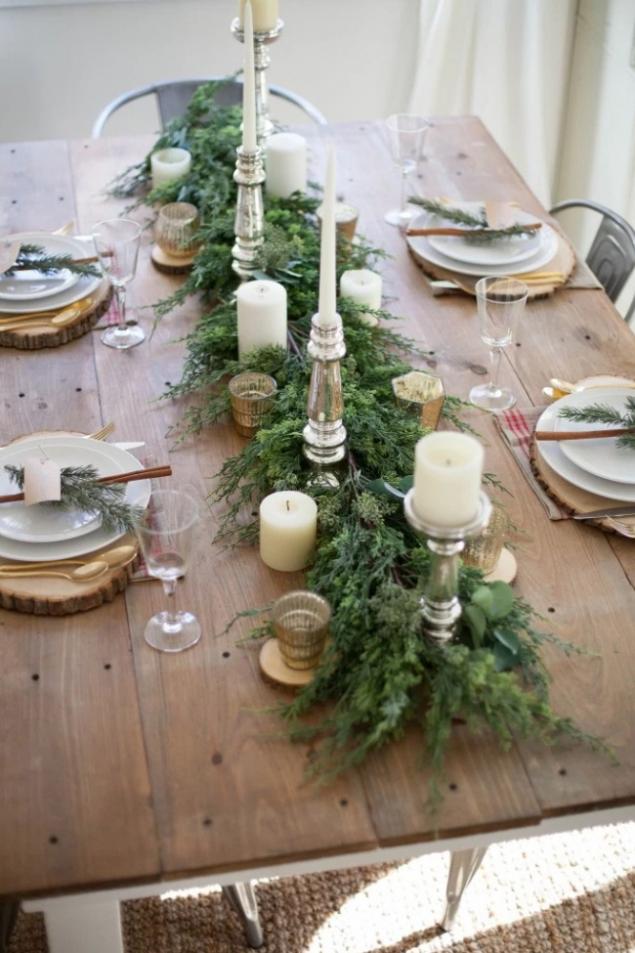 Spruce, fir or juniper branches laid in the center of the table and decorated with candles, this stylish and fragrant. By the way, as an alternative to candles can be Pereval spruce branches glowing Christmas lights.
Apple candles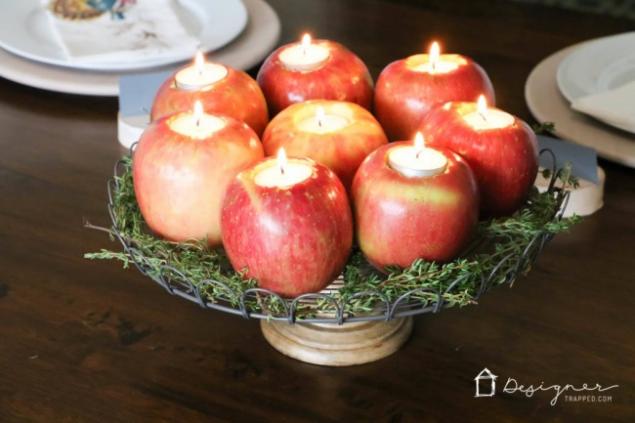 Red apples, candles and tea lights — interesting and unusual ornament for the Christmas table. Need a knife or other improvised tool to clean the hole according to the diameter of the candle where the stem. And... actually, everything. Read more here.

Paper snowflakes and candles in the snow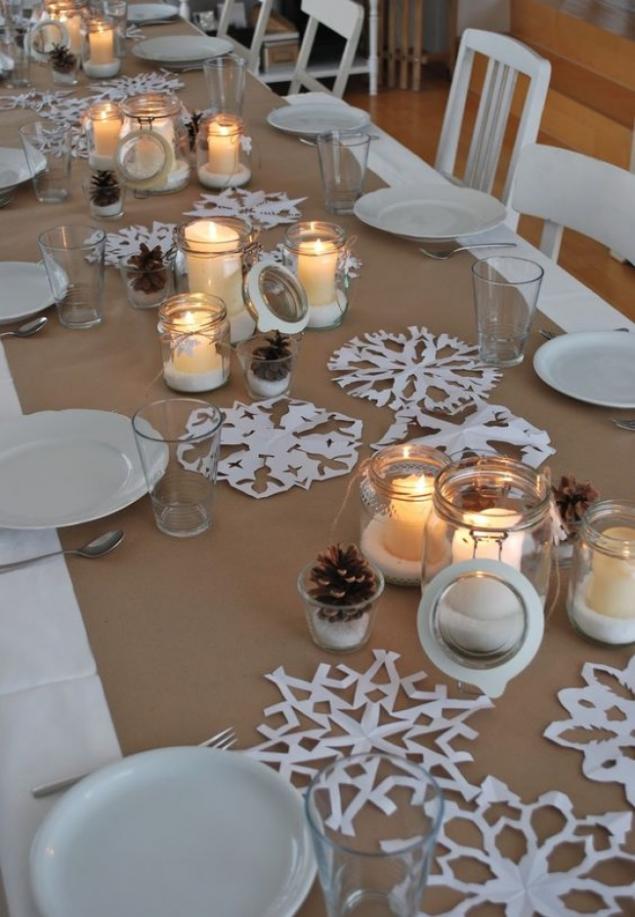 Another great idea is to lay on the table, paper snowflakes, supplementing them with candles and pine cones. Please note: candles and the buds are in jars with coarse salt, like snow. By the way, you can go even further and make the tablecloth from the snowflakes, cementing them together with small pieces of Scotch tape. Not very practical, but on one evening to create a snow-magical mood.
Personalized glass Christmas balls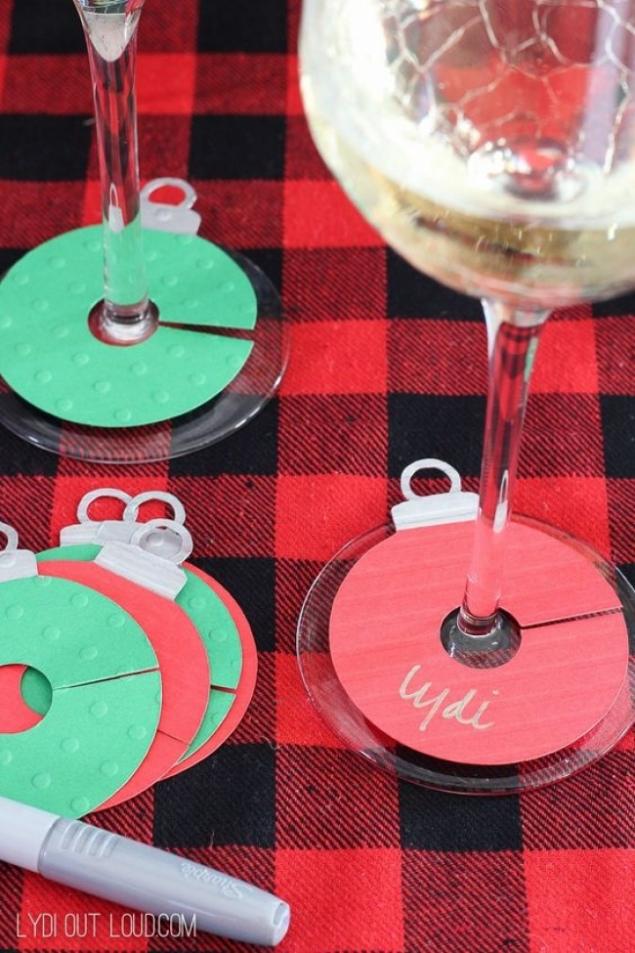 If you are coming for dinner guests, something nice to make their holiday personalized glasses like a trifle, but nice. For this you need to cut out of cardboard colored Christmas balls with a slot and to write each guest's name.
The list of new year's entertainment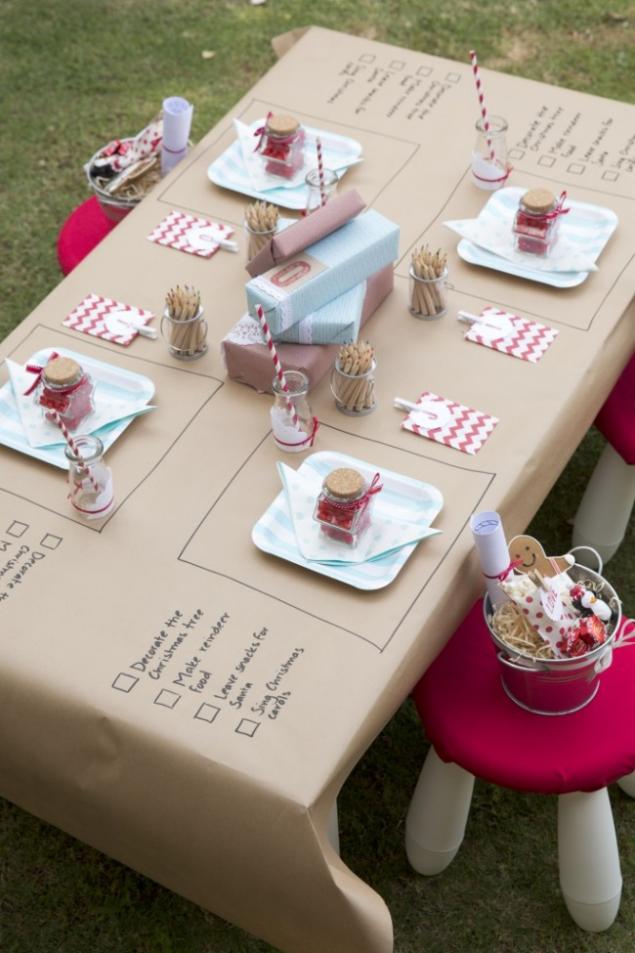 The photo — idea for a children's party, but it is possible to transfer her to an adult party by drawing before each of the guests a list: write on paper a wish and eat it under the chiming clock, to dance on the table or to tell Santa Claus anecdote from the stool.
Glasses and balls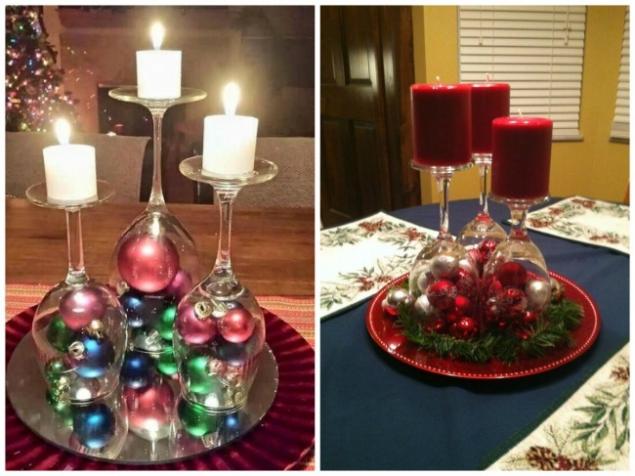 Why not gather together the symbols of the New year — candles, balls and glasses, of course — and not to make a bright, sparkling and shimmering candlesticks? Besides working here for approximately 2 minutes. And as will be comfortable to sit in this circle flickering warm, if muted in the room overhead light.
Candles and candlesticks of all shapes and sizes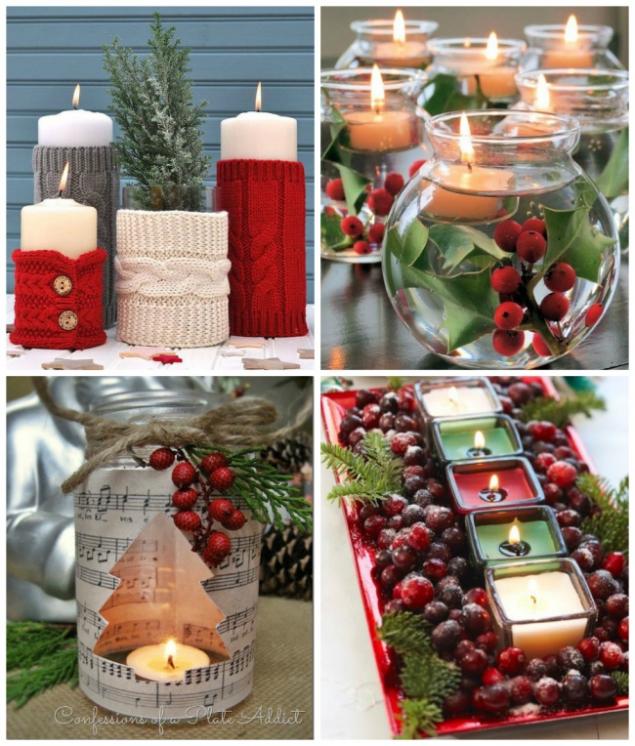 What better cope with the creation of the Christmas cheer than making candle holders for the festive table with your own hands?
"Clothes" for candles on the top left photo you can make out of old sweaters (or specifically bind).
Floating candles are incredibly showy in a dark room, frozen cranberries and sprigs of a flower shop to help you.
Candle on the bottom left used sheet music book, but you can take a beautiful journal page, or cardboard pattern, and paste them to the Bank.
Red and green — the colors of the New year and Christmas, and cranberry with fir branches will look very elegant.
Christmas trees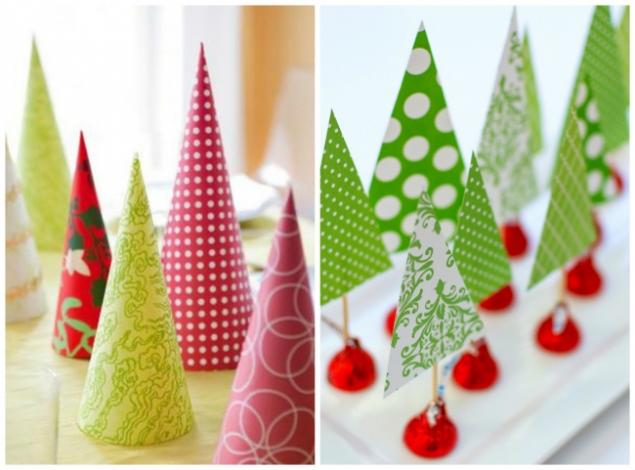 Colorful Christmas trees — a fun and elegant idea for a table decoration. This grove can be made from cones of wrapping paper or collect from truffle candies and toothpicks to which tape is attached triangles of cardboard or colored paper with a pattern (green).
Cookies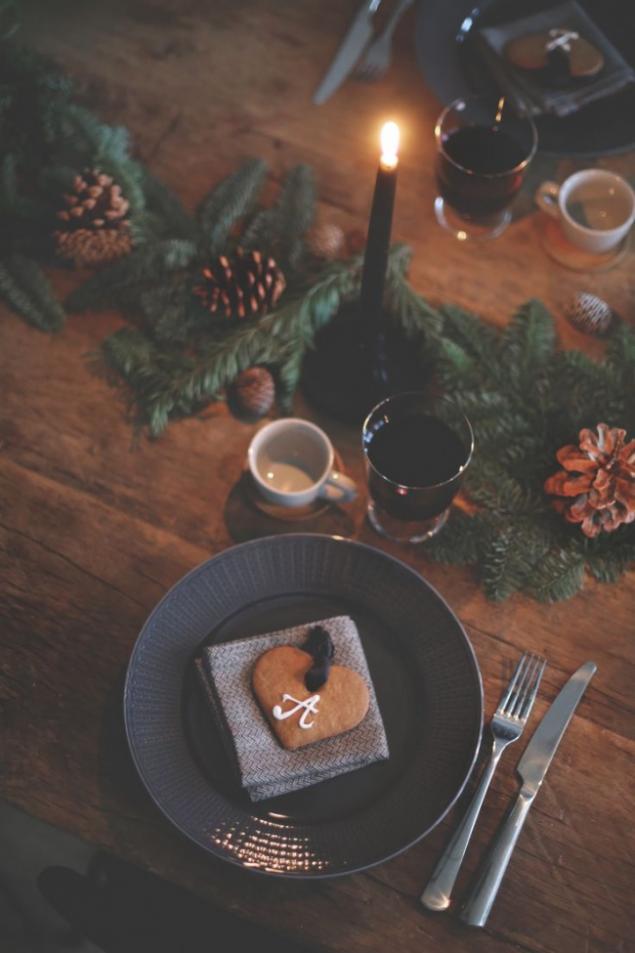 For table decorations you can put on the plate of each guest a personalized cookie in the shape of a heart, Christmas tree and Christmas ball with the initial letter of his name.
Cute things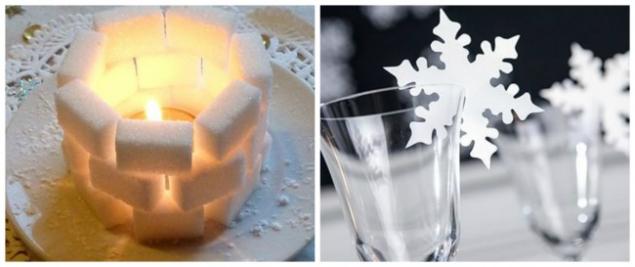 Sometimes it is enough detail to set the mood. For example, paper snowflakes on the edge of the glass or an ice castle made of sugar cubes.
Decorations from oranges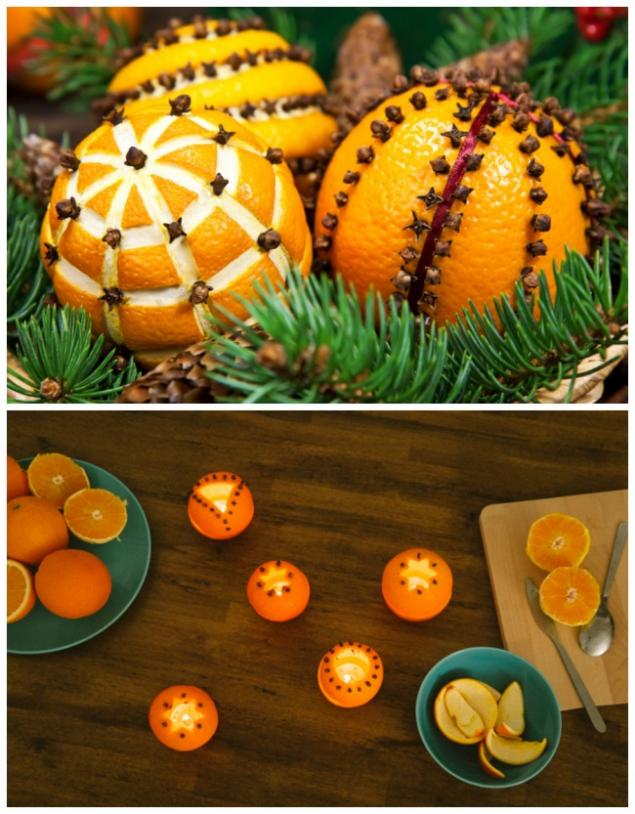 Oranges and cloves will fill your home with the fresh and spicy aroma, and the combination of orange and brown looks very nice. You can simply decorate oranges with cloves asterisks, which are easily stuck into the skin. And you can make candle holders like the lower photo. To do them is easy — first you need to cut the orange peel in half and carefully remove both halves with a spoon. A detailed guide with pictures, see this blog.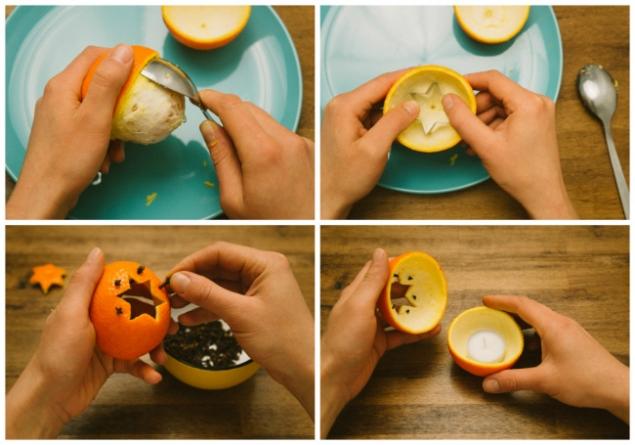 Christmas snacks We do not offer to sculpt a colorful rooster from mayonnaise salad — it's difficult, long and, frankly, often ridiculous. But we found elegant ideas Christmas snacks, over which, first, no need to sweat; and secondly, they work at all; third, they are really cute.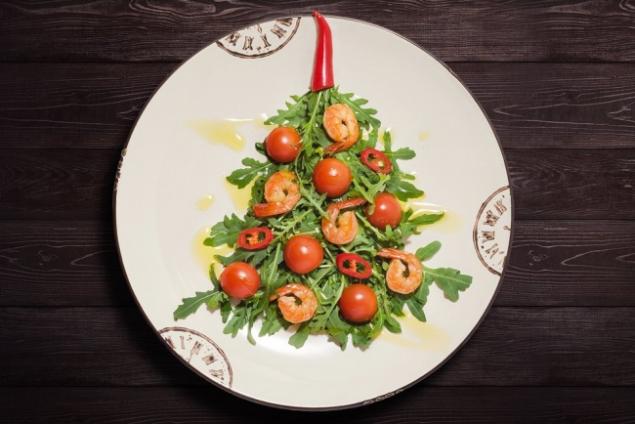 Light salad of arugula, cherry tomatoes, sweet pepper, shrimp and honey mustard dressing in the form of Christmas trees. Such portioned salad can be put before each guest.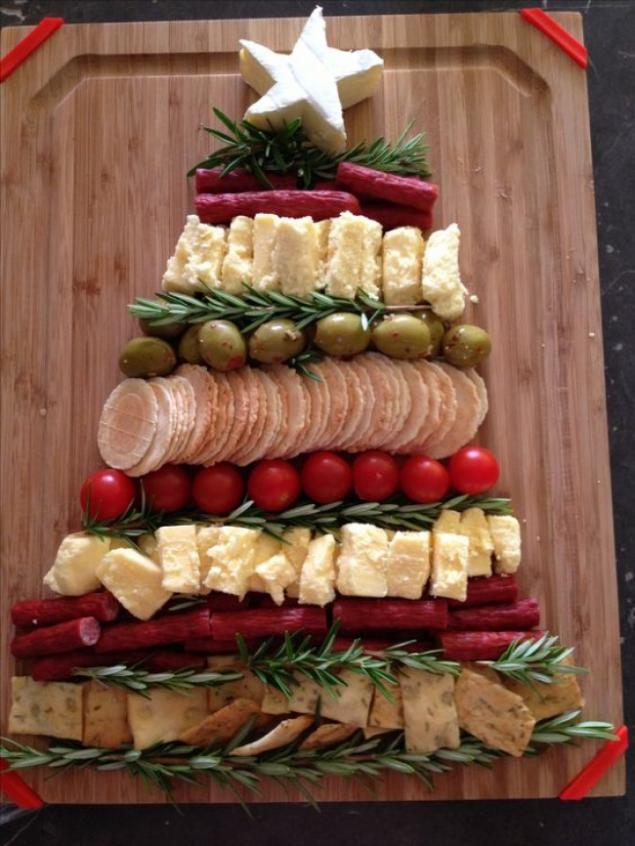 Or, you can serve a cheese plate (or cold cuts), paving it with pine twigs, or juniper and cut a star out of cheese.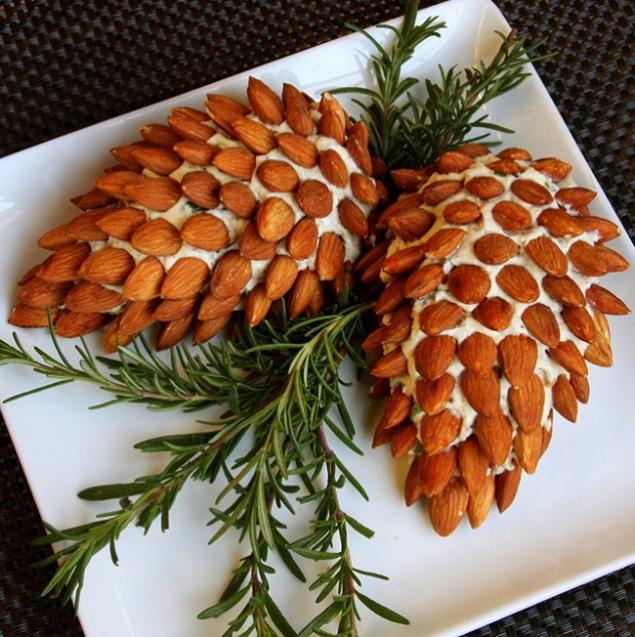 A very good idea feed cheese salad with almonds. He certainly won't be the main dish, but the variety of snacks. While the look will make him the highlight of the table.
How to cook cheese salad
You will need:
Cream cheese (or hard cheese, grated) — 250 g
Light mayonnaise — 3-4 tablespoons
Some fresh green onions and dill
Fried bacon or ham (nazarenos) — 5-6 slices
Salt (if necessary), spices, garlic (last optional)
Dried almonds — 1 Cup
Preparation:
Mix cheese and mayonnaise, add finely chopped greens, bacon or ham, and spices. Optional — crushed garlic. Place cheese mixture on a plate in the form of cones, pointed towards the end, starting from the bottom and garnish with almonds, inserting it slightly at an angle. Twigs of rosemary or real pine branches.
Serve with small croutons or crackers.
See also
20 Christmas decorations that can be done in half an hour
40 wonderful Christmas cards that can be made from what is at hand
via www.adme.ru/svoboda-sdelaj-sam/40-chudesnyh-novogodnih-otkrytok-kotorye-mozhno-sdelat-iz-togo-chto-pod-rukoj-1413465/