Viewing fashion blogs someone else's life is addictive and takes a lot of time that you can spend much more productive. Perhaps one of the solutions of the year, which I think is closer to the day of my birth, will be a permanent ban a couple of sites (well, or more:) I am viewing not the most intelligent expression and of which, to be honest, I can't stand any useful information. Rumi is a Japanese woman living in California. She called one of the most stylish girls of our time and her blog called "FashionToas" — proof. She is very spontaneous, one day she was gentle, the other brutal. She loves to experiment and adhere to a healthy diet.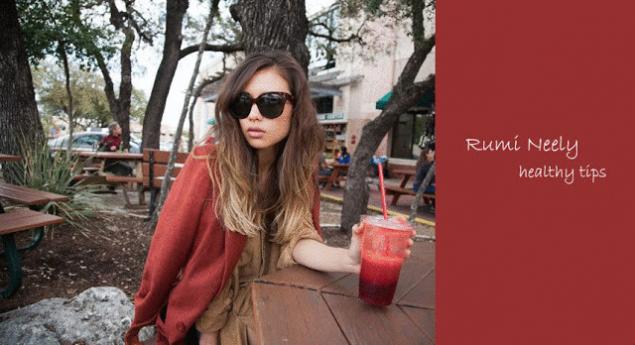 4 tips on healthy eating from Rumi Neely
Prepare the sauces yourself - the ones that are sold in stores contain all kinds of creepy ingredients, especially since they are so easy to cook using "good" fats instead of "bad." The recipe is one of my favorites this week — olive oil, garlic, onion powder, sea salt, maple syrup and Apple cider vinegar
Add flax seeds to your Breakfast (smoothies, cereals, etc.) for daily requirement of omega 3.
Eat quinoa instead of rice or pasta is the nutritional value of this grain is much higher, and it is a good source of protein and fiber.
Drink filtered water instead of bottled. If you're paranoid like me, set a filter on the tap and then filter again using, for example, кувшинBrita. Watch the movie Tapped, in order to learn what the industry of bottled water is so flawed.
My note
: Watch the movie Tapped about the bottled water industry and its effects on health, climate change, pollution and our dependence on the oil resources here (sorry, only available in English). published
Source: purefoodsandme.blogspot.com/2012/08/blog-post_25.html