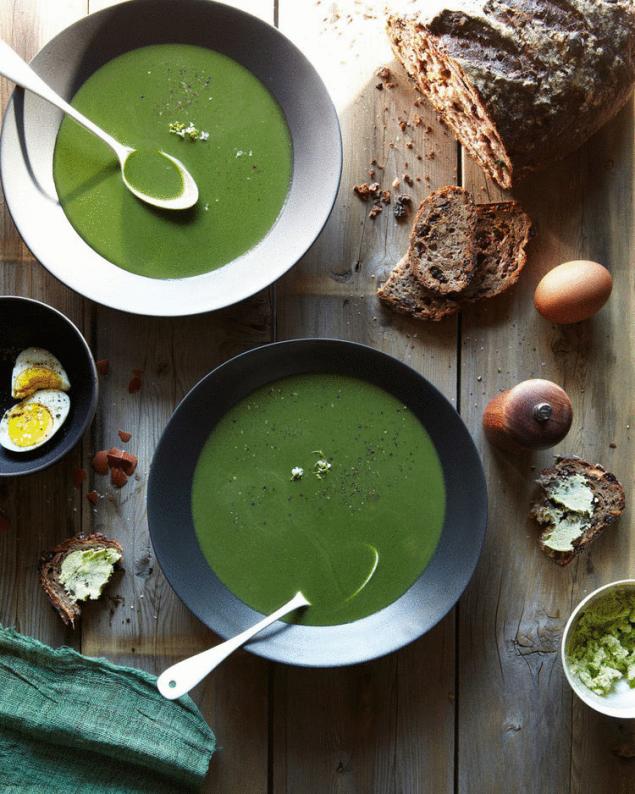 Cream-soup with young nettles
Nettle 500g
Flour 8 tablespoons
Butter 120 g
Manual
1. Enumerated and washed nettles lay in salted boiling water and cook until soft. Then passed through a meat grinder or wipe through a sieve.
2. The flour are sauteed with butter and diluted with a decoction of nettles to the consistency of sour cream. Then mixed with pureed nettles and boil the mass for 5-10 minutes.
3. Before serving the soup is seasoned with butter. Separately, you can submit croutons.
Cream soup of green peas
frozen green peas 500g
Flour 2 tablespoons
Butter 3 tablespoons
Milk 4 cups
Salt to taste
Manual
cooking time 30 minutes
1.Cooked green peas to wipe through a sieve and mix with milk sauce. 2. For making milk sauce flour lightly fry with butter, pour the hot milk and boil for 10-15 minutes. 3. RUB through a sieve the peas with butter sauce, dilute with hot water and salt to taste. Before serving, fill with oil. Croutons served separately. published
Source: eda.ru/soups/recipe14677/sup-pjure-iz-sparzhi