Beautiful hair always attracts admiring glances. But how to keep your hair thick, no gray? It turns out that this can help common nettle. How to use a weed like nettles for beauty of hair? This was in today's article.
A negative impact on our hair and health have an unbalanced diet, a small amount of sleep, work in stressful conditions, bad environment, a sedentary lifestyle and bad habits. All of this makes the hair dull, weak, rare.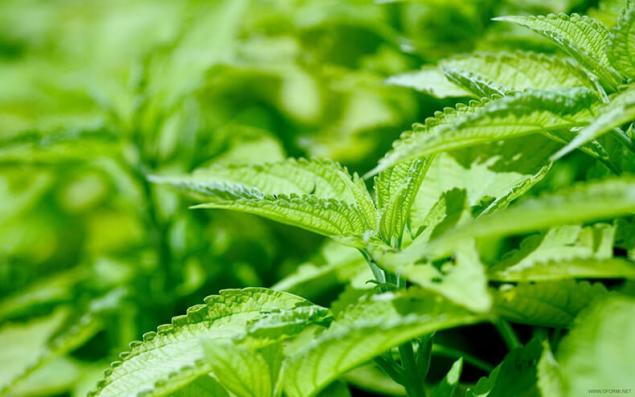 Researchers in the field of beauty has developed and created various funds to ensure the hair "health" and care. It is possible to buy in any store cosmetics.
The positive qualities of the tools from the store, of course, are quick to apply and use, but not everyone likes to put "chemistry" on the head, is often allergic to a ready-made shampoos, masks and balms for the hair, and relatively high cost.
Fortunately, in addition to marketers of the industry of beauty, of female beauty care nature, creating a huge number of various herbs and plants that promote healing and strengthen the entire body, including hair.
Hair always judge the state of the organism as a whole. So do not think that all problems can be solved only by caring for them. It is important to maintain a healthy entire body.
And this will help us a
nettle
.
Young shoots of nettle can be used both for food and for hair care.
You can make nettle shoots great vitamin salad.
Salad of nettle
To do this, use young nettle stalks with tender leaves, with a purple tint. Scald them with boiling water and finely chop (use gloves to avoid burns).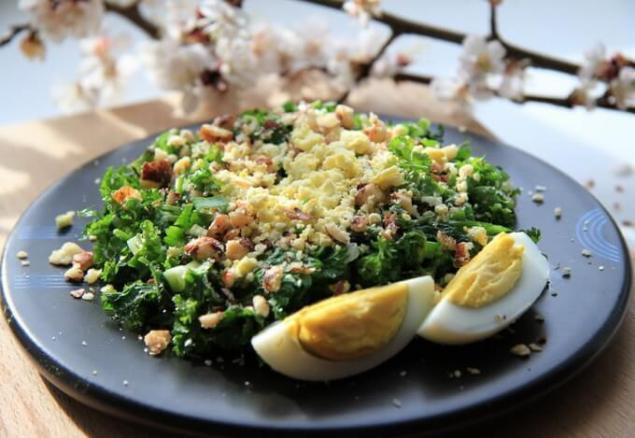 Add any other greens to your taste, you can add a boiled egg. Fill good vegetable cold pressed oil and sprinkle with lemon juice. Vitamin salad to saturate the body with vitamins and strengthen the hair ready!
Young stems can be dry for future use for making masks, vitamin tea or tincture with nettle.
Just lay the sprouts on paper and dry in a ventilated area in the shade. Then fold them for storage in paper bags or bags made of natural fabrics.
How else can you use nettle?
This plant saves from dandruff helps make hair stronger, more voluminous and Shine, .
A decoction of nettle
To make the broth, you need to pick young stinging leaves of the plant, fill them with water and boil in an enamel saucepan. Do not boil the solution for a long time, otherwise its most useful properties will weaken considerably.
Also for this decoction will fit earlier dried leaves.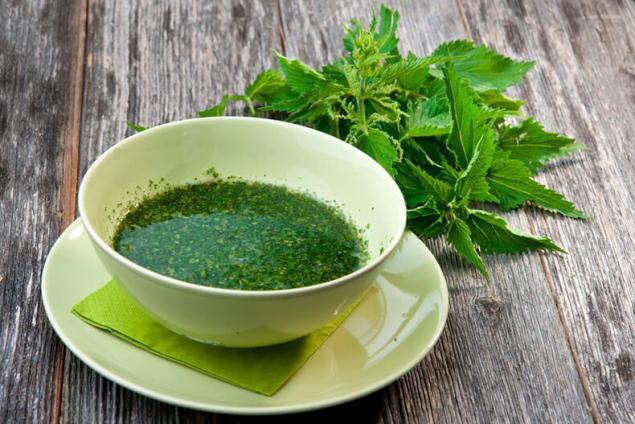 Allow broth to cool slightly, strain and opasnite their hair.
Giving the hair a rinse with nettle?
Is to normal fat metabolism that allows you to get rid of excessive oiliness of hair and scalp. So hair can be washed less often!


Helps to give strands a force to eliminate hair breakage.Hair structure is compacted, it becomes more elastic.


Disappear itching of the skin.


You will forget what dandruff.


Over time you will notice that the amount of hair has decreased significantly. And to the credit of rinsing, which strengthens the roots.


Hair will gain thickness, will begin to grow faster.


The hair is more silky and smooth.


To all of these miraculous properties of nettle for hair loss has been implemented, it is necessary on a regular basis to use the broth several times per week.
Start with four times, making a break through the day.
Gradually it will become for you just a prophylactic.
Then rinsing it is advisable to apply courses to maintain the good condition of the strands.
An infusion of nettle
Also very useful is the infusion from this plant. In order to do that, fine and dry leaves of plants pour boiling water (400-500 ml), allowed to settle for up to seven hours and rubbed into the head three to five times in seven days.You can prepare an infusion and in the fresh leaves, then the steeping time will be much less.
Due to this process, the hair will look healthier and thicker.
I do not infusion for rubbing in the head, and rinse after washing.
The branches of a nettle I'm a little scalded and applied to the birch broom, which soared in the bath. After using the steam room put the branches of a nettle in a bowl, pour boiling water and infuse for as long as you do not want to rinse your head (usually about an hour).
Hair after infusion shiny, smooth and beautiful. And my feeling is, they become thicker.
In General, the use of infusion for rinsing you will receive the same bonuses for the hair, as when you use the broth from nettles.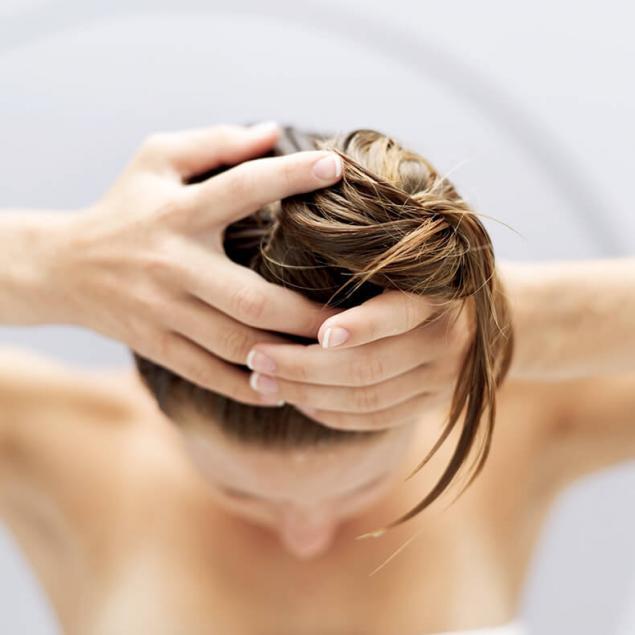 Mask of nettle against gray hair
Also very useful and effective face mask with nettle and henna for grey coverage (not for blondes. Read more about the use of nettle blondes, see video).
For the mask take equal parts of henna and colorless powder of dried nettle. Pour boiling water to get the consistency of thick cream. Steep for 15 minutes.
In this composition you can add good cold pressed oil (olive, sesame, wheat germ, etc.). But it is possible and without oil.
Massage into scalp, then apply to hair. Wear a shower cap, and wrap the top with a towel. Keep in mind the hour, then rinse with shampoo.
The effect of this mask is cumulative. After a few applications hair becomes dark blonde color.
Use 1 time a week.
Alcohol tincture of nettle
Young stems of nettles, chop, put them into a glass container and pour in rubbing alcohol (or vodka). A ratio of about 1:5. Let stand 2 weeks in a dark place, shaking occasionally capacity.
Used against hair loss: 1 tablespoon of liqueur mixed with 1 raw egg yolk. Applied to the skin and hair, wrap and hold for 30 minutes.
Thoroughly rinse with water.
Apply a tincture to strengthen the hair is not advised, as the alcohol dries the scalp.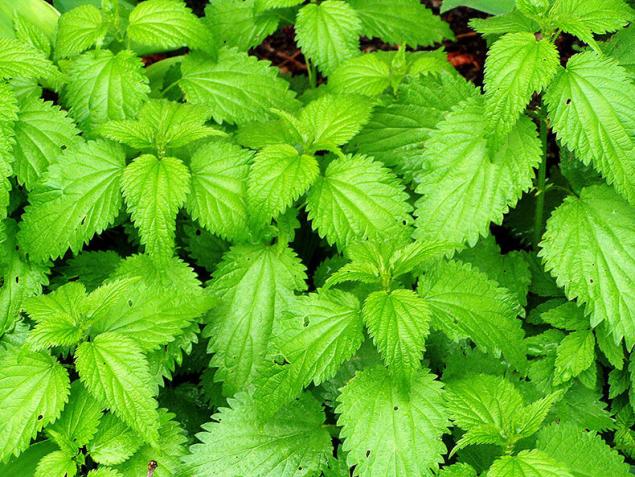 Infusions, masks, broth that was made from nettles alone at home is very easy to use. Mixing, preparation and application of these tools will take a little time, and the effect is better than the expensive purchased funds.
Nettles are also good because it can be easily purchased at any pharmacy or pick free in the country or near the woods.
All The Best To You!
Author: Galina Apolonskaya  
P. S. And remember, only by changing their consumption — together we change the world! ©
Source: mastermolodosti.ru/krapiva-dlya-krasoty-volos/