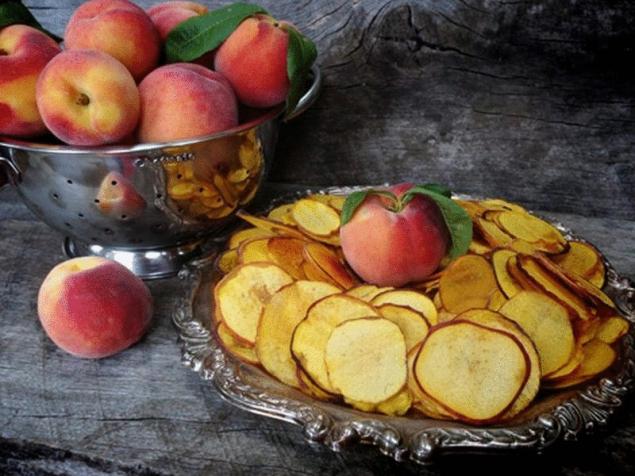 It is interesting that the usual potato chips on the light they appear absolutely completely random. Once one of visitors of restaurant facilities stated that refusing to eat a prepared dish due to the fact that fried potatoes sliced too thick the Cook decided to take revenge on the finicky customer: cut the potatoes so thin slices as possible, and traditionally roast it, solemnly filed a capricious client. No one even could not imagine that in a short time this exquisite "revenge" will become a specialty not only in this restaurant!
For a long time it was assumed that the chips are just potato. Over time, however, the question arose: can the beloved snack to make less calories and more useful and varied? It turned out — can.
A revolution in the world of snacks now in stores in Europe and America you can find a variety of fruit crisps, which are in great demand: they nizkokalorina and useful even for children. As a rule, they are made by sublimation — that is, the fruit dried by freezing at very low temperatures, and then fall into the vacuum drying chamber. In this way, the manufacturers of fruit chips to achieve maximum evaporation of moisture from the fruit and the preservation of vitamins.
However, these tasty snacks is easy enough and simple to prepare at home.
Homemade chips For making fruit chips will fit almost any fruit: apples, oranges, bananas, lime, carom, kiwi. But it should be borne in mind that the juicier the fruit, the more time you need for cooking.
Some mistakenly compare fruit chips with dried fruit, but the main difference any chips — they have to crunch. So to cook them you'll need a slicer or grater to slice. With their help it will be easier to cut into thin platelets.
It's that simple. Finely chop the fruit slices with the peel peel. If, for example, orange or lemon, don't forget to remove the bones.  
Anyone can make chips under their own individual taste. For example, you can spread chopped slices with honey, sprinkle cinnamon, cloves, powdered sugar, vanilla or any other flavoring.
Now you need to cover the baking sheet with parchment, lay on it slices and send in the oven with temperature of 60 degrees. Moreover, during cooking the oven door must remain slightly ajar. This will allow air to circulate in the oven and to dry the fruits from moisture.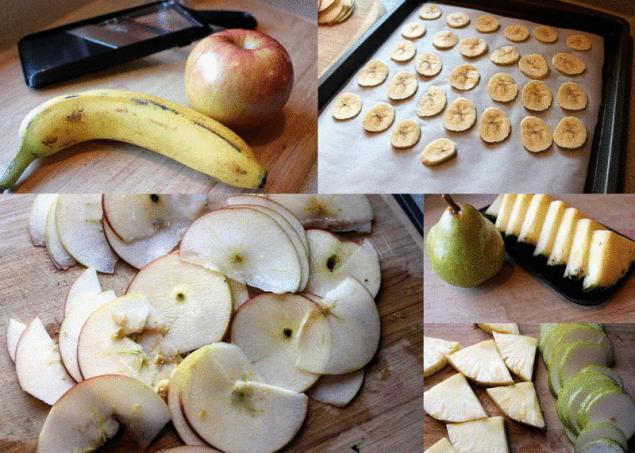 Tips does Not stand in one pan to mix future chips from different species are dissimilar in their structure fruit as they have different drying time. Otherwise, you have one burn and the other will not dried, there will not be crispy.
You should also watch that your chips don't burn, especially if you use honey or sugar.
Time baking fruit chips depends on the type of fruit, thickness of slices and the seasonings. The process of baking can take up to 7-8 hours. The end result is the chips should be crispy and brittle. Believe me, the result is worth it!
Store these chips better in a glass jar with a lid, so they are not damp and as long as possible retained its crunchy structure.
On the same principle you can make chips not only from fruit but also from vegetables. Wonderful chips could, for example, pumpkin and carrots.
Don't be afraid to experiment! Fruit and vegetable chips are a great substitute for high-calorie sweets, as well as suited as a light snack.published  
Source: fitfixed.com