Summer, fresh cabbage and carrots, lots of greenery. It's time to cook a delicious cabbage pie. If you cook it from regular flour, you get a more airy dough that we made from whole wheat flour. The dough came out more dense, but useful.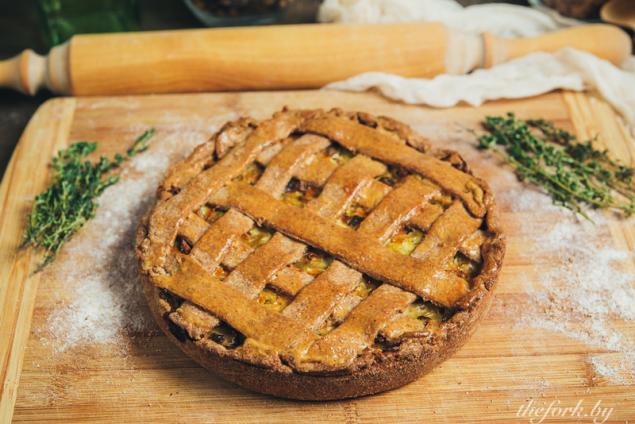 Products:
100 grams of sour cream
300 gr flour ( you can take a 50 50 regular and whole wheat)
3 egg ( 1 for the dough and 2 in the filling)
150 g butter
a pinch of salt and pinch of sugar
500 g fresh cabbage
carrots
100-200 g of mushroom to taste
Break the egg into mixing bowl. Cold butter cut into cubes. Add the flour, a pinch of salt, sugar and sour cream. Knead by hand. Roll into a ball. Wrap in plastic wrap and place in refrigerator for 1 hour. After the fridge the dough will be easier to roll out.
During this time, prepare the filling: cut cabbage, carrots, beet RUB on a grater, shred the mushrooms. Simmer the cabbage until soft, add the mushrooms, after 5 minutes, the carrots, salt to taste. You can add cumin or thyme, fresh herbs. Ready cabbage cools, add 2 eggs, stir. The egg will stick the stuffing.
Divide the dough into 2 pieces, one slightly larger than the other. A large part of the test roll out. Move to the form and make the bumpers. Less roll out and cut into strips. Now we need to spread the filling and strips of dough to make a little lattice.
Bake in a preheated 180 degree oven for 35-45 minutes.published  
P. S. And remember, only by changing their consumption — together we change the world! ©
Source: thefork.by/bystryj-pirog-iz-kapusty