Try delicious dishes according to our recipes with new combinations of familiar products.
Tuscan salad of red beans with curd сыром
For 10 servings
Ingredients:
Ricotta cheese – 750 g
Red beans – 400 g
Arugula – 400 g
Red onion – 200 g
Lemons – 4 pieces
Garlic – 6 cloves
Olive oil – 200 g
Ground black pepper
Salt
Preparation:
Open a can of beans, drain juice and rinse it with cold water. When using canned and boiled beans, you need to think about the preparations the night before.
The finished beans mixed with finely chopped red onions, arugula leaves, crushed garlic, olive oil, lemon juice and cottage cheese ricotta cheese. The salad need to pre-tear hands.
Season with salt and pepper, to give products a 2 minute soak and serve.
German pancakes with Apple соусом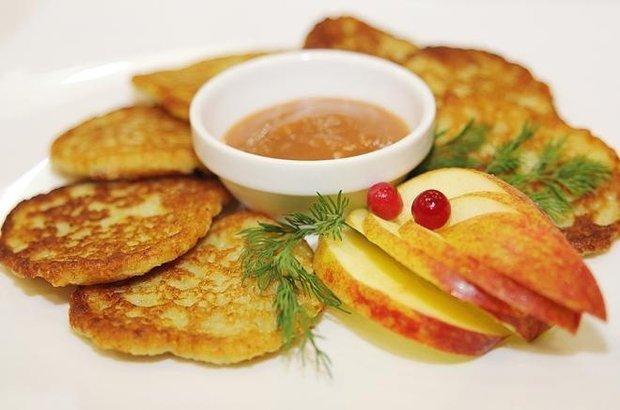 Ingredients:
Potatoes – 400 g
Onion – 100 g
Egg – 1 PC.
Flour – 100 g
Nutmeg – 1 g
Salt
Vegetable oil for frying
Sauce:
Apple sauce – 100 g
Salt, freshly ground black pepper.
Preparation:
Potatoes RUB on a fine grater together with the onion, add the egg, flour, nutmeg and salt.
Fry in vegetable oil until Golden brown.
Apple sauce: Apple sauce mixed with salt and pepper.
Buckwheat pancakes with blueberry кулагой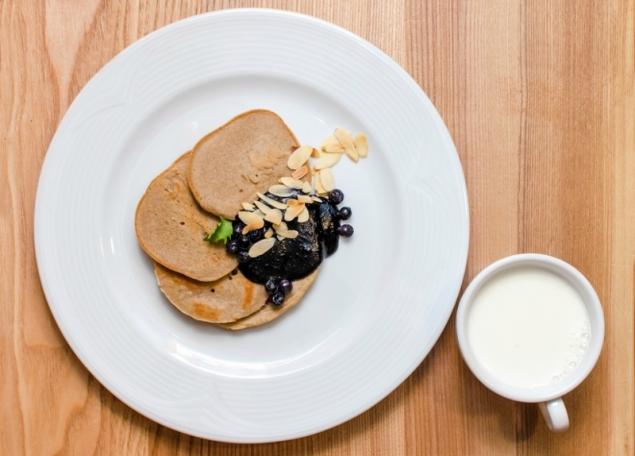 Ingredients:
Buckwheat pancakes:
Wheat flour – 400 g
Buckwheat flour – 400 g
Dry yeast-10g
Salt – ½ tsp
Sugar -1 tsp.
Water – 3 cups
Blueberry Kulaga:
Blueberries frozen – 400 g
Honey – 70 g
Rye flour – 2-3 tbsp
Preparation:
Put in a warm place, the dough made from wheat flour, dry yeast and 3 cups of warm water. When rise, knock the dough with a wooden spatula, add salt, sugar and buckwheat flour, again to give up.
Bake on preheated, greased griddle or a portable grill.
These pancakes are especially tasty with eggs, mushrooms, honey or Kulaga.
Blueberries (cranberries, blueberries, raspberries) to sort, wash, put on fire. If the berries seethe, add the rye flour diluted in a little water, honey (or sugar), stir and cook on low heat until the dish does not acquire the consistency of jelly. Kulaga served with pancakes and milk. Decorate the dish with flaked almonds.published  
P. S. And remember, only by changing their consumption — together we change the world! © Join us at Facebook , Vkontakte, Odnoklassniki
Source: lady.tut.by/news/food/447657.html