When it is not called... Victorian romance, Granny chic, chic, junk... It's all about him, one of the youngest and most in-demand styles of art. It's about shabby chic (shabby chick).
It was at the end of 80-ies of XX century. Once an obscure young Englishwoman moved to the United States. She was a designer, I love to wander around flea markets and couldn't resist buying old dressers, chairs, cabinets and stools. But an excuse was an empty house, formed after the move.
New furniture not too expensive, so she uses this old. Rickety and frayed creating a Wake in her designer imagination. It's full of Baroque curls, a mysterious curves of the Rococo, classic sophistication.
The girl challenged the old things and conjuring over them, turned them into elegant pieces of furniture, intentionally leaving them fading, thereby not only keeping the "patina of time", but also adding mystery. Thus was born the shabby chic (literally "shabby chic"), so the designer Rachel Asheville (Rachel Ashwell) called his own style of changing things, and then the overall transformation of the interior.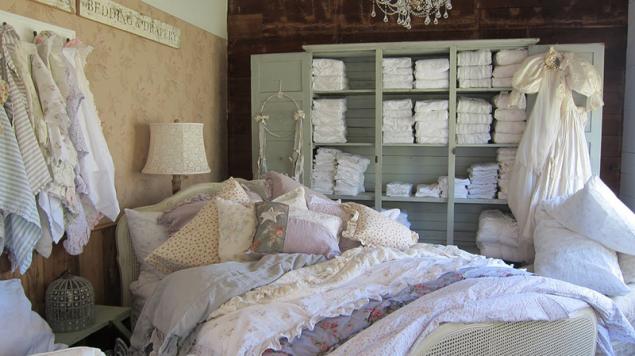 Designers, especially those who have their own style not yet invented, there is no unity of opinions, many do not recognize the shabby chic as an independent style, they called him hurtful words and allude to the fact that it is just an imitation and interpretation of existing styles: Rococo, Baroque, Provence, vintage, etc. But Asheville, meanwhile, has gone from rare orders on the Internet, writing books, opening her namesake invented the style of stores in different countries.
Rachel Asheville has made a name for himself and shabby chic. The style was a whole army of fans, and it seems that this style has always existed. This is partly true.
Without which it can not become a successful pioneer? The desired resistance, allowing the founder of shabby chic to defend mnohopocetny romanticism in the era of winning from time to time instructive minimalism.
Where a woman draws vitality? In love and devotion to his family. In the case of Rachel Asheville is not just beautiful words. These values are the basis of her attitude to life and work. My mom used to restore dolls and Teddy bears, my father sold old books. Cozy home, good relationships, continuity of generations, respect for honored things, love children and animals — these are the fundamentals of life and design philosophy Rachel Asheville. Understanding simple human happiness makes it a bold design moves independent and popular style.
And if you look closely, the style is not the cutest. Obviously, the key word in the phrase shabby chic — chic. And this multi-layered concept. And here rises from beneath layers of paint bending once magnificent chest is not a faceless son ikeevskoy of mass production, and the brainchild of solid cabinetry, transmitting the secrets of their craft from generation to generation. And this dresser has been passed in some respectable family, who kept their traditions, their home and their "junk" (in the first sense of the word, by the way — "personal property").
Don't want to, but have to retreat a little to the side. In our country, unfortunately, with its revolutionary vortex twists the expropriation, dispossession, the terrible years of the occupation, evacuation, etc., a few left the family nest, the crown is filled with junk. You know a lot of families living in the same house, carefully preserving the environment of the ancestors? That's what it is... And the word "chic" takes on another meaning — it is not only something expensive for their material value, but something intimate, why not buy for any money. It is the memory of the ancestors, understanding where you...
Now many sources where you can read about the main features of this style, but I want to highlight a few of its secrets. For shabby chic fundamentally, the furniture was expensive and even luxurious (though once upon a time), this furnished, renovated, painted, re-worn, perhaps painted, will give the impression of the internal quality factor. Rachel Asheville says about such things: "Old, but strong on the inside, light, romantic, lovingly brought back to life". Obvious kudos of some elements of the interior features shabby chic, for example, from retro or country. Retro style involves the use of old things, but nicely renovated and shabby chic prefers attrition. "Country" (country style, Provence — albeit French, but still rustic) uses coarse furniture, but shabby chic is fine.
The depth can be seen in the colors and fabrics. If you have inherited something rather worn and frayed, but still strong, what a pity to throw away. Oatstraw, otter all the brush, you get the colors of shabby chic — pale pink, a shade of old rose, light blue, light turquoise, cream, creme brulee, vanilla, milk chocolate, color old lace, color pastes of different berries and fruits. But special priority white. It is the squeak — so you managed to "whiten" the old one, you did it! And then it becomes clear that faded sitchikov in the roses is from repeated washings, crumpled linen — from hard it whitening.
But shabby chic is still a secret: along with the cheap and "old" fabrics used and expensive, usually have made curtains or bedspreads. Is it silk, lace, velvet, Muscat, taffeta... Utensils and all sorts of things-dryuchki also can be deceiving. Some normal, albeit vintage, white sugar bowl can pull in a fortune.
A few words about geometric pattern, which prohibit hot designers. Barely visible strip of the cell is the background, setting the rhythm to the interior, making it non-trivial.
The shabby chic there is no randomness and incompleteness. Cozy lived-in clutter is an illusion, every thing in its place. Each of the gadgets — its purpose. Based on purity, freshness and order. And these three simple components are expensive and in the literal and figurative sense. Dust, dog hair, crumbs, dirty dishes, junk — all is completely not fit in with shabby chic, so I'll have to try to fit themselves and the inhabitants of such a house too. Grooming — that's what distinguishes the adherents of this style. And yet... they seem to know how to live happily.
If you browse the blog, Rachel Asheville, you will clearly show through her inspiring images. About family values we have already mentioned, and also flowers, water colors, different fabrics, cakes, dogs, sea, tenderness, travel, virgin Mary (Yes!), children, sky, vintage, Rococo and Baroque...
I must admit that shabby chic is not just a design style, rather, it is a lifestyle. If you have your house where you store things grandparents, if you have your own garden where you can grow flowers if you have favorite people that make up your family, favorite Pets, if you have the desire to keep the hearth — so you shabby chic way.
If the interior style of shabby chic hearts and understanding, he does not seem to be a costly and pointless flea market, there will be the sound of a Palace boudoir of the time of Marie Antoinette, the famous ladies and resocialize. With this approach, men will not feel strangers on this holiday of life will not be smothered in syrup and would be happy to make shabby chic as part of your life, will happily sit in a comfortable chair, even with rim of roses or angels, to enjoy aromatic coffee, albeit on a tray with the same roses and angels, to be touched, looking at the bent heads of the children, considering the pretentious book under a lamp. Because few people do not like what they like.
In the end, there were more adaptations of this style. For example, the Swedish shabby chic, calling himself a sober look at the true beauty of the main qualities of which is naturalness and tradition. Compared with the original shabby chic Swedish looks more brutal and simple and really not so much intoxicated by the abundance of details.
And if not home, garden, family? Then you can start with the master class — how to decorate a jewelry box in the style of shabby chic. And that's not nothing. You have to be prepared for the fact that, when the time comes, this box took the coveted interior place, because shabby chic no trifles. And that will be inherited, you have to know where to start!  
Author: Tatyana Demchenko  
P. S. And remember, only by changing their consumption — together we change the world! ©
Join us in Facebook , Vkontakte, Odnoklassniki
Source: www.cablook.com/design-art/mimimishnyj-stil/