Have long been interested in the idea of colouring the pancakes. Green is done, orange too. But with the red — had doubts. Berry juice gives a bluish color to the test. Well, the solution is found). Beets!
Found the recipe for pancakes with flour from quinoa and beet puree. Well, since quinoa is very good, but not too common, decided to make a version with normal flour. And have not regretted.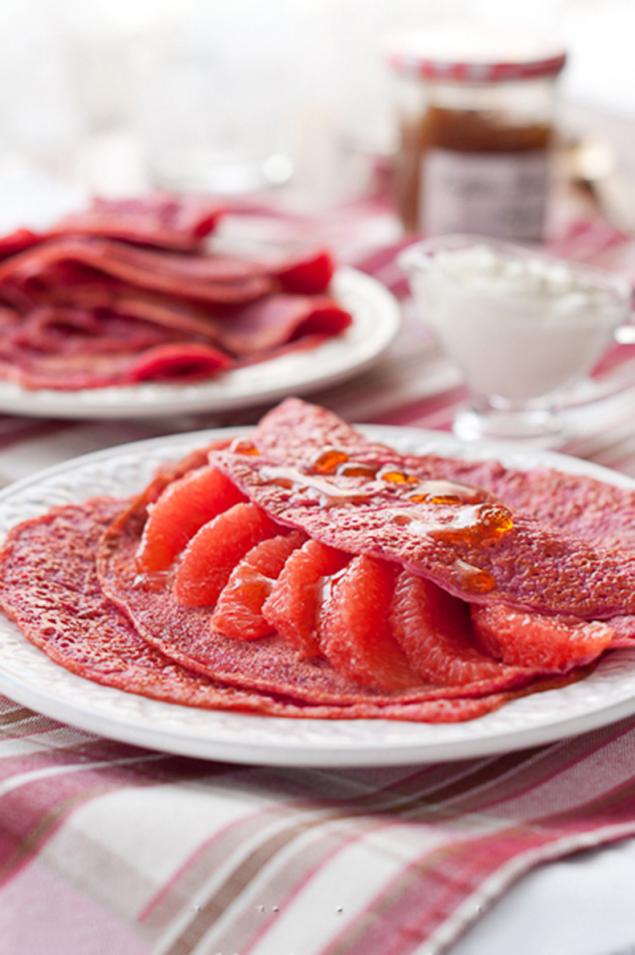 It took us
(Cup 250 ml)
:
1 medium beet, baked in the oven
2 1/2 cups whole wheat flour
3 tbsp fine brown sugar (muscovado)
1 teaspoon baking powder (baking powder)
1/2 tsp salt
1 1/2 cups milk
1/3 Cup natural yoghurt
1 large egg
How to cook:
And then — as usual.))
You first need to bake the beets, peel it and grind in a blender to smooth puree. Should have 1/2 Cup puree.
Milk slightly warmed, dissolve in it the salt and sugar.
Sift flour, mix with baking powder, beat the egg, put the beetroot puree, yogurt, and pour the milk in a thin stream, gently vymeshivaem dough.
The consistency should be like liquid sour cream. Yogurt and beets can be different, so the dough thickness adjusting by eye.
As my Nana used to say — "Malicki, some water"...
Let the dough stand for 20 minutes.
Fry on a hot pan, greasing its vegetable oil.
Good work! The beet taste is not dominant, it is almost inaudible.
And recommend fruit pancakes. We have a grapefruit, sprinkled with powdered sugar and doused in fragrant rum. Top pancakes drizzled with honey.
Cold was too much. published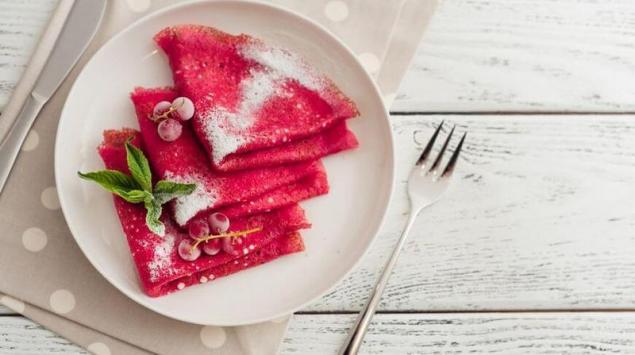 P. S. And remember, only by changing their consumption — together we change the world! ©
Join us in Facebook , Vkontakte, Odnoklassniki
Source: zveruska.livejournal.com/67310.html