Initial investment: 50 thousand.
Monthly income from 70 thousand rubles.
Payback period: 1 month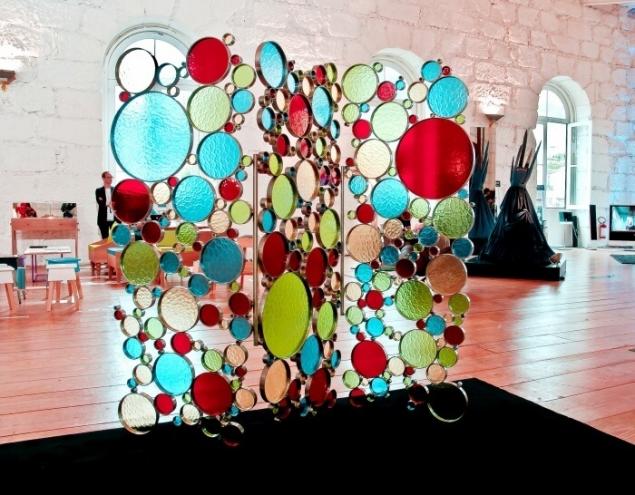 The word "smokescreen" comes from the German "schirm" means a barrier, protection.
There was this unusual piece of furniture in China many centuries ago. Chinese screens were a real works of art, as they were drawn beautiful landscapes or depicted scenes from everyday life. From China screen came to Japan and became a popular piece of furniture. Even in the Palace of the Emperor of the screen have been around. Japanese screens had more folds than the Chinese and so masterfully painted. Oriental screens were made of paper, fabric, mica, leather or wood. In the middle Ages a screen was hit with travellers in Europe and quickly gained a strong position in the houses of wealthy people. European masters covered the screen with a cloth, adorned with paintings and embroidered tapestries. The most expensive items made of wood, carved patterns on them, used for the decoration of ivory, mother of pearl and semi-precious stones. The variety of types of screens used in modern premises, will impress everyone. We should not forget that the screen is not only a stylish decoration, but very functional wall that may and may not provide sound insulation, but mobile and gives one a feeling of visual and psychological intimacy.
There are three types of designs of screens.
Folding screen – classic option, known since ancient times. Screen screen – shield on steady legs, often with wheels, it can be quite an unusual shape, such as round. These screens are from the beginning of the XX century and are often found in offices where used for the separation of working space. Flexible screen appeared recently, is a strap fastened flexible materials. A flexible screen can be rolled up into a roll and to remove, it is very easy to move and takes up little space when storing.
We consider the production of folding screens, as this is the most popular buyers.
One of the possible options for the production of screens – screens fabrication of Plexiglas, acrylic or plastic. You just need to choose beautiful material, cut it and staple it. You can buy sheets of patterned glass with the size 1,5x2 meters at a price of 1500 rubles. Single sheet coloured polycarbonate size 2,1x6 meters and a thickness 8 mm of 3700 rubles. To work with glass, you will need different equipment. Since industrial tools are quite expensive, we will first explain about manual processing of glass. To carry glass, used
pen-suckers.
They can withstand loads up to 150 kg. The pens cost from 2500 rubles.
Hand glass cutter
for thick glass is worth 1500 rubles. The glass cutter should choose to work with a thick glass. To separate one part from another cut glass, used
the tongs
for cleavage. It is better to buy tongs of milled metal that is able to cope with even the thickest material. Price tongs – 12 thousand rubles. To ensure steady and uniform maintenance glass cutter and a good push, a special
carriage
, which can be bought for 18 thousand rubles. The holes in the glass are a normal
drill
with a diamond drill. The cost of drill – about 10 rubles per millimeter, that is, the drill bit 26 millimeters will cost 260 rubles. The drill is worth 3 thousand rubles. All the tools you can buy in specialized stores or ordered via the Internet.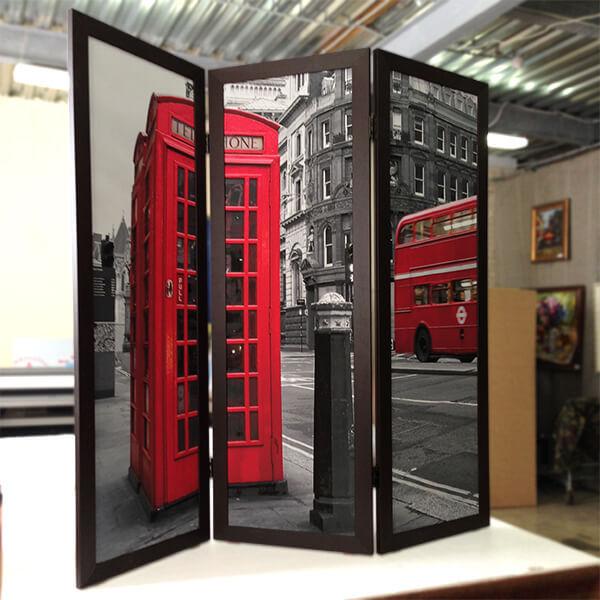 Machines for glass processing allows to greatly increase the productivity of the enterprise, but their cost starts from 250 thousand rubles, although used models can be purchased for 100 thousand rubles.  
To decorate the glass screen, it is applied to the image by using UV-flatbed printer,
special computer-controlled machines. The printer is designed for applying permanent pattern on glass, plastic, wood, concrete, fabric. Ink consumption is about 50 rubles per square meter. New UV printer cost more than a million rubles.  
Much cheaper option of decorating glass screens – hand-painted through a stencil
. This method takes more time, but does not require such investments. Stencils can be purchased in stores for artists or for repair. On the screens are any drawings: flowers, leaves, abstract or ethnic patterns, images of people, animals, buildings. Stencils cost from 100 rubles. One stencil can be used repeatedly.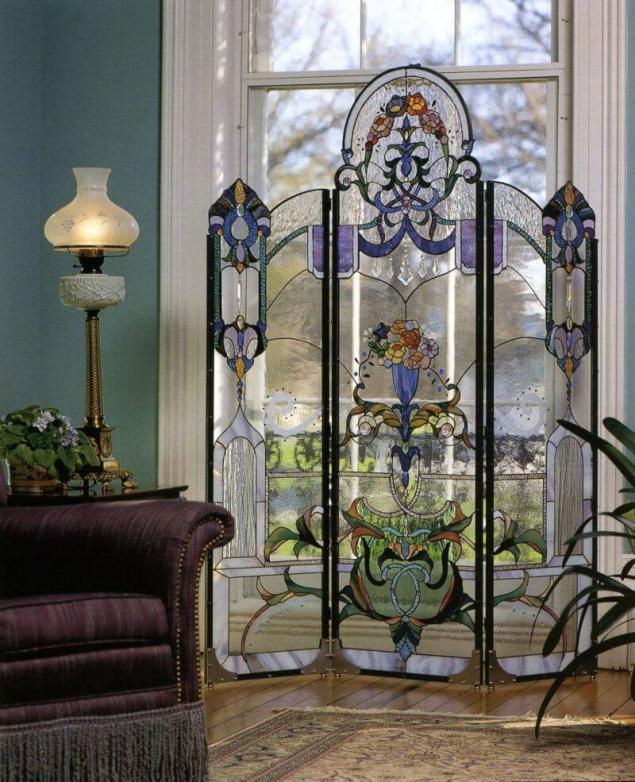 Paints for glass are divided into opaque and stained glass.
Coating of opaque paint, often made from acrylic. Unlike conventional acrylic paints, they wash off with water. Cost of vial of 50 ml – 100 roubles. Stained glass paint for the "cold" stained glass does not require heat treatment of the product. They are based on different resins or alcohol-based, dissolved with white spirit. Paint waterproof, can handle the sink, even with the use of cleaning products. Vial of 60 ml costs from 150 roubles. Glass screen is a wooden frame, which is varnished or painted. Cubic meter of timber costs an average of 4,500 rubles, although more rare kinds of wood the price can be much higher. Cutting of timber is done using an electric jigsaw (price from 3 to 15 thousand rubles). For the manufacturing of one screen you will need 6 bars with a length of about 2 meters each.
To quickly clean and Polish a wooden surface, you can use a grinder, which is worth 3 thousand rubles.
The sash are fastened together the door hinges. For the screen in three parts will need 4 loops. The cost of one loop – from 150 rubles. Hinges in bronze or brass, antiqued, cost from 600 rubles. Carved loop motif, are from 1000 rubles.  
The glass screen of the three sections is from 15 to 30 thousand rubles.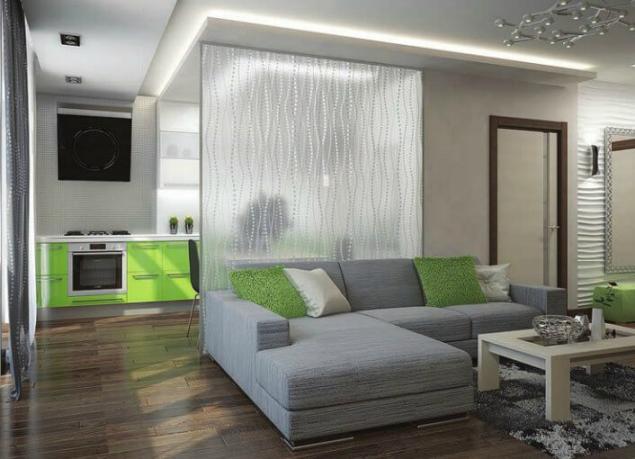 For the frame you can use different breeds of wood. Pine, fir, Linden, aspen, willow, chestnut belong to soft rock, and larch, birch, beech, ash, Apple to hard. Box, hornbeam, yew, black locust wood to give increased hardness.
Very beautiful cut birch wood, and its wood has a color from pinkish-gray to yellow-brown and light brown. Birch has a pleasant smell because it contains aromatic substance betulin. Handle Karelian birch is difficult, but the products obtained from it are very spectacular, especially when combined with metal, which accentuates the natural beauty of wood. Price – 55 thousand rubles per square meter.
Most popular in Russia, wood – oak. It is a universal material for making furniture, window frames, floors, etc. the Color of young oak is pale yellow, Mature grained wood has shades from light brown to yellowish brown with a beautiful texture on the cut. Over time, the oak a little darker, which gives it a shade of noble antiquity. The oak are of extraordinary strength. The cost is 4700 rubles per cubic meter. Colour to the oak tree close ash tree, whose wood is also light, slightly yellowish, has a typical pattern on the cut. Ash on hardness greater than oak, but very flexible, responds well to treatment. The disadvantage of this kind of wood is that it can cause in some people an allergic reaction. In addition, ash is prone to cracking, it cannot be treated with varnishes and water-based priming. Hazelnut wood is resistant to warping and cracking during drying, it is relatively hard, but easy to deal with. To process this tree is not recommended varnishes, glues and coatings, water-based. Walnut is a popular wood for creation of exclusive interiors with its refined appearance.
Apple has a reddish-brown color, sometimes spots jadrovoj decay. Wood is easy to cut, thick and strong. Best Apple tree looks like during polishing.
Wood young cherry has a yellowish color, and the Mature wood is pinkish-brown. The structure is uniform. Processed cherries easily.
Maple gives a white wood that turns yellow over time. The texture is weak.
Fir is a versatile wood that is used for all types of finishes. The color is yellowish brown, annual rings are clearly visible. The wood is soft and light, elementary processed, polished and covered with varnish. Cost about 30,000 rubles per cubic meter.
Fabric for making screens using dense, furniture, for example, jacquard, tapestry, flock, microfiber, velour, suede, leather etc. Fabric can be decorated with bold patterns and look great with the right kind of wooden frame, so no additional decoration is not required. Also on the screen, you can perform a variety of applique, paint the fabric in the batik technique, etc. the Cost per meter of upholstery fabrics – from 500 rubles.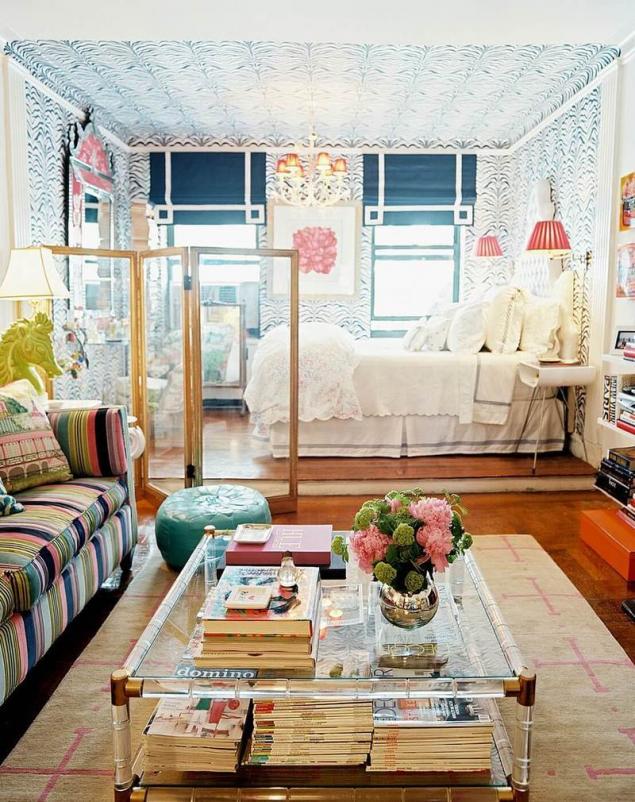 In furniture stores screen made of valuable types of wood, sold at a price of 10 to 30 thousand rubles. The profitability of the production of a screen, therefore, is more than 100 percent. For the manufacture of the product takes about a day, but because such a screen because of the high price is a luxury item, selling it is not so easy.
To the income from production was stable and the screen is not standing for months in a furniture store waiting for a buyer, you can try to do more than cheap options that are available to most who want to decorate your interior unusual wall. For example, to use inexpensive wood and textured fabric with a bright pattern. The cost of such screens is about 2000 rubles, due to ease of fabrication made it a much faster and sell them much easier.published
Author: Natalia Merkulova  
P. S. And remember, only by changing their consumption — together we change the world! ©
Join us in Facebook , Vkontakte, Odnoklassniki
Source: www.openbusiness.ru/biz/business/kak-zarabotat-na-izgotovlenii-shirm/