No matter how the vegetable garden was the size – large or small, every hostess strives to break up the beds with fragrant herbs and fresh salads. Many now will confirm what it is a special pleasure to pick fresh lettuce, your favorite parsley or dill under the window.
Even people far from the garden cares one way or another, spoil yourself useful herbs grown with your own hands, even on the same windowsill. This bed is me. You will not believe, but to me it brings not only useful vitamin Goodies, but also a kind of joy and inspiration. My useful bed constantly in the process of updating, that is, the life in it boils, plants are constantly updated because of its high demand.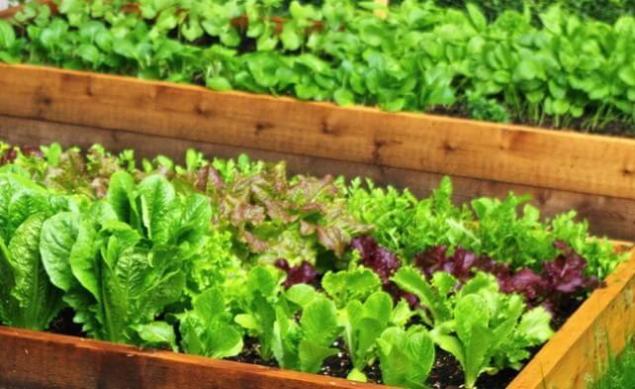 green vitamins  
What you need to know about salad a bed?
The useful bed of greens life takes place in three stages: some salads will be ready as go to dining table, second gain strength and grow, others are sown after the others.
Combine salads for maturing varieties (early maturing with late maturing) and then a fresh crunchy salad will be on your Desk from may until the first frost.
Growing different varieties of salads, you will always have on the table a variety of taste and the vitamin qualities of a range of healthy greens.
In the chemical composition of the salad includes the best and most of the periodic table, these are important for our body elements, as magnesium, iron, phosphorus, potassium, calcium, magnesium, zinc, chromium, folic acid, and countless vitamins. The main ones are C, B1, B2, B5, B6, PP, E, A, and this is not the limit.
Bitter taste, some salads, causes mineral substance – alkaloids lactucin, which positively affects the nervous and digestive system, normalizes blood pressure, sleep and metabolism.
If you decide to go on a diet, it is useful bed is the first assistant in this matter. All salads are low-calorie and dietetic products. They have a large amount of fiber and dietary fibers that helps to cleanse the body like a broom.
So, what to choose and put on our useful flower bed?
Modern breeders have brought a great many different varieties of salads. I combined them all in large groups by several varieties.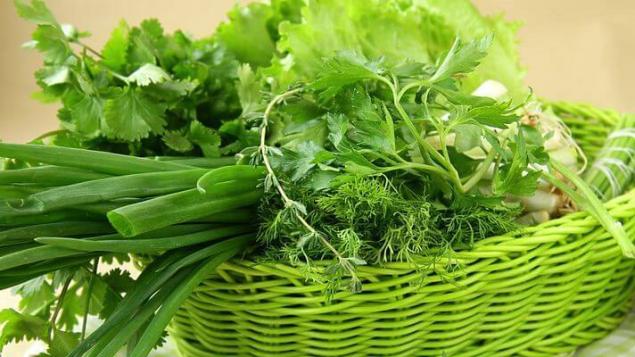 In the chemical composition of the herbs included the best and most of the periodic table 
Top 14 useful green1. Iceberg
lettuce with tender, crispy leaves, neutral, very fresh taste. Forms loose heads that are 10-20 cm in diameter are drilled at intervals of 2 weeks all season, starting with the period when the soil thawed at 4 cm and last time at the end of August.
2. Lettuce leaf and iceberg
– presents a very large number of varieties with different intensity of flavor and bitterness. Grow in a basal rosette or loose the cabbage. In the ground or planted seedlings, or seeds in the very early stages and the whole warm period every 1-2 weeks podstavitsya new beds.
3. Arugula
is a legendary plant, considered a panacea for many diseases, has a spicy mustard and a slightly buttery flavor, especially delicious accompaniment to meat or as additional spicy note vegetable and green salads. Planted in the garden 4-5 times per season, easily propagated by self-seeding.
4. Watercress
salad rareripe, which is ready to go on the plate already 10-20 days after germination. Has a pleasant bitter-spicy flavor. Planted with an interval of 12-15 days. Also ideal for growing on the windowsill, adding comfort in the kitchen.
5. Radicchio Rosso
is the favourite of all Italians with a signature bitter and spicy taste. Grows in a dense head of deep red color with thick white streaks of contrasting color. Depending on grade it is sown from early may to late August.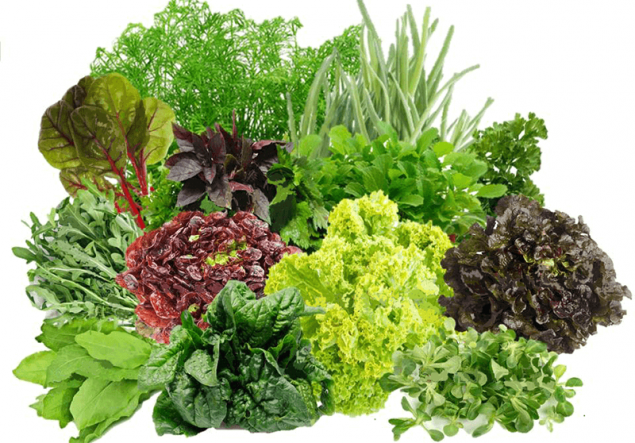 Useful herbs
6. Romaine
– another "legend" in cooking, because its leaves are an integral part of the Caesar salad. Grows loose or compressed to the center of the rosettes with thick juicy Central veined, famous for its freshness with a slight nutty flavor. Planted every 3-4 weeks.
7. The wild garlic
and the first green that appears on our beds, and when the onions and garlic just start to grow. Has a mild garlic flavor and resembles bushes Lily of the valley. Grown as a perennial bulbous plant, definitely in the shade. The most delicious and healthy the very first spring leaves.
8. Fennel
– received among farmers name is fennel. The appearance corresponds to a kind of fennel, with large rosettes and growth. Is a source of ascorbic acid, a large number of rutin, vitamins b, E, K and A. Gives the dish a sweet anise flavor. The food uses all the parts of the plant – about the bulb, leaves and seeds. Sown 1-3 times per season.  
Ramsons
9. Luke
– another large group of plants that are of different types. This is the onion, shallot, leek, Welsh, chives, slizun and stacked bow. This same attribute and garlic. It's all perennials that are growing in the same bed, always come to the table for any dishes. The richest storehouse of the most valuable vitamins and mineral elements.
10. Sorrel and spinach
is a perennial plant growing from a basal rosette of leaves are very useful. Spinach is not wrongly attributed incredible properties that make a person healthy and strong. Have sour taste, sorrel is a little more intense, a superb addition to green salads, the first dishes as the filling in ravioli and more. It is sown once a year in spring or a winter, because the second year is spent in flowering and often disappears after the winter.
11. Celery
is a plant, a listing of useful properties which, worthy of a thesis. Has a recognizable "celery" taste and aroma. For our beds we use two kinds of celery – leaf and stem, which grow as a low Bush or a powerful succulent plant with thick root stalks. Grown seedling method or direct sowing in the soil at the end of April once a year.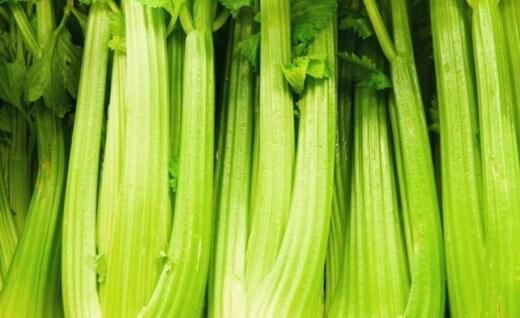 Celery
12. Parsley
is an extremely useful plant that spit five times the lemon for vitamin C and carrots for carotene content. An indispensable addition to summer salads, it adds a homemade taste. Sowing is carried out annually in the early spring or before the first frost in late autumn.
13. Borage
is a great alternative to cucumber, when he hardly had sprouted out of the earth, and the usefulness of running much ahead of him. Grows a basal rosette of rough leaves with cucumber fresh smell and taste. Very quickly begins to bloom, so planting is carried out every 3-4 weeks.
14. Chard
is a spectacular plant that has become an ornament to any garden. This is the basal rosette of leaves on long, and most importantly, bright crimson, white, yellow, or orange stalks. Do eat the stalks and leaves like spinach. Mostly promotes the removal of insoluble salts from the body and improves immunity. Beet is sown in April-may, once per season.
Salad beds can be made worse beautiful flower garden. Any greens and salads, and the flowers have a different shape and color. So even from a simple patch you can create landscape masterpieces. Also a useful complement to garden herbs: dill, tarragon, or tarragon, Basil, cilantro, thyme, oregano, marjoram, Basil, peppermint, Melissa, thyme, and many others.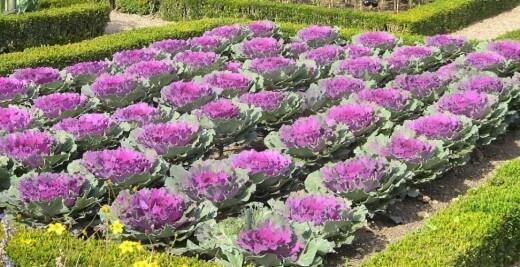 Bed in a flower gardenTo bed was:
Helpful garden laid in late autumn, when it is possible to sow parsley, sorrel, spinach and plant garlic. In early spring, planted the entire pre-selected range of salads and plants.
Plot of land for this perekidyvaetsya, fertilized only with organic fertilizers, because we lay in bed, then get in greens, and as a consequence in your body.
Seeds are sown in parallel to the beds to a depth of 1-3 cm After sowing the soil is carefully flavored moisture in the form of a fine rain from a watering can or with special installations.
Care for your favorite garden includes watering, weeding and regular podsekanie fresh seeds for new plants. To seeds best rose in the summer, the soil with the newly sown seeds with mulch on top of the peat, sawdust phoinix rocks, peel of sunflower seeds, shredded bark or grass collected after mowing the lawn.
​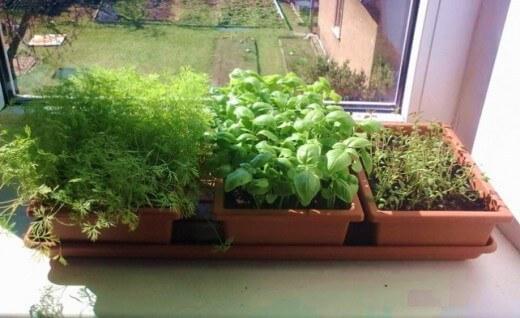 Herbs on the windowsill
A useful plot is valuable for its diversity, affordability and freshness of products. It is proved that green after a couple of hours after harvesting loses up to 70% of useful properties and vitamins. To grow in the garden or windowsill, this useful herbs available to everyone, the vitamin supply to the body is guaranteed! published  
P. S. And remember, only by changing their consumption — together we change the world! ©
Join us in Facebook , Vkontakte, Odnoklassniki
Source: botanichka.ru/blog/2014/09/15/poleznaya-gryadka/