If a Russian woman does not find it necessary cosmetics in the shops, she creates it. Success story the rules of life and the most charming owner country Catherine Macanawai.
It started at 24 and did not consider it something amazing. "What's wrong? One of my girlfriend's business appeared in 21". For me, this young woman was amazing everything – and the fact that she succeeded, and what remained soft and feminine. Maybe that's the secret of the Kirov businessman that she does not want to defeat the competitors, it is engaged in favourite business? And maybe that her favorite thing about natural cosmetics? More feminine than ever.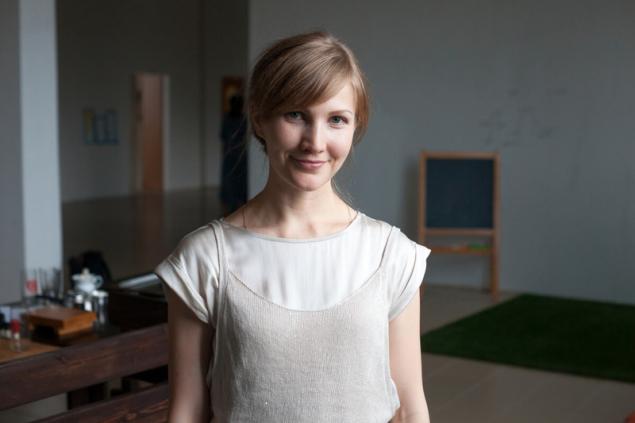 Essential oils instead of "periodic table"
Ekaterina Matantseva.
By education I am an economist, graduated from the Vyatka State University. Studied full time, worked in the business journal. During this time I read many success stories of entrepreneurs – how they started the business that has helped them. And then I decided: I want their job! But I was not sure in what area, a lot was interesting.
Idea seven years ago when I was pregnant. I always chose quality food. But it's easy: I read the composition and understand, is worth buying the product or not. And household chemicals and cosmetics is not so – look at the composition and see the periodic table.
I began to study the components and frightened. Roughly speaking, it means the machines have cleaned, and now the head wash. I didn't want those chemicals affect the unborn child. It was 2007, natural cosmetics in Kirov practically was not, even foreign brands. And then I thought: if it's not, so it is necessary to create. No money, no understanding of the process.
When I spoke about his idea of family, they offered to help. Husband gave 20 000 rubles for raw materials, a small amount invested in a project dad. Mum then worked as the Vice President of the chamber of Commerce and industry, she had experience managing staff and projects. She left everything and started a new business, the success of which was questionable. So there was our family business. Dad was responsible for the technical part of it – equipment, lights, repair. I was involved in strategy, working with suppliers. Then we had the accountant and the designer.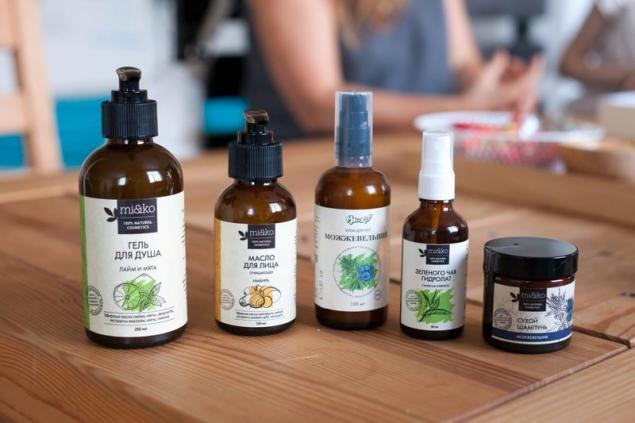 Cosmetics from the "Mi&Co" for the summer  
I often say, "But you're the economist, and the production of cosmetics should do the chemist". Not at all. We hired professionals, herbalists with extensive experience. They advise us – what are herbal extracts which combination will be effective. The promotion of the product we have engaged marketers. Well, the point of leadership is to think. If he will be cooking the soap, its production will forever remain microscopic.  
About the production
Incidentally, when we started, many were engaged in homemade soap making. But we decided that we should have the production of a separate room, the sanitary workers medcircle. If you produce a product for outsiders, it is necessary to observe all sanitary rules.
We rented a small lab of 30 square meters, it housed the entire production. Now we have to rent is 1300 square feet, but we've been to this was. At first, literally to survive, had to work a lot. The staff didn't pay much, but I first worked for two years without any salary. In order for your business to become successful, you need either money, or knowledge, or communication. And we had it all to turn out.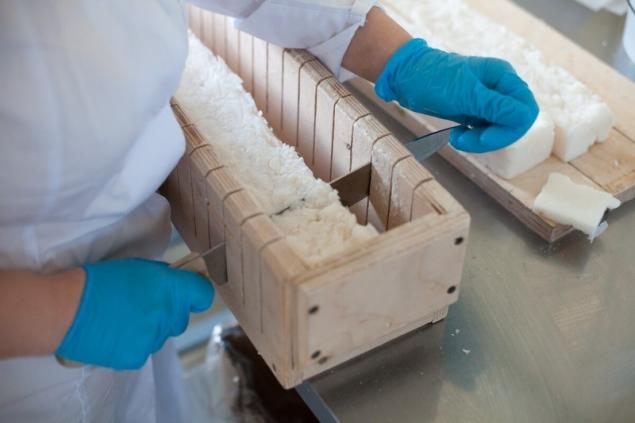 The soap factory "Mi&Co"  
See how many diplomas hanging on our wall? This is because we don't have enough money, and we participated in many competitions of innovative grants. A few won. The Fund "Our future" gave us an interest-free loan. And we received a grant from the state. As a result, our business and developed.
Now, when someone asks me how much money you need to start the production, I answer: if you have less than ten million, it is not necessary to go into the beauty industry, will be difficult.  
"We need to look for the key not where light, and where lost"
In Kirov was not natural cosmetics, and we thought that rapidly become popular. I spoke with many of the local mothers, they also wanted to use all natural. A year passed, then another, and profit was not.
I went to the shops, which sold our makeup, look to buyers. Standing, carefully study the bubbles. Think: "well Done, composition read". But one day I heard two girls talking: "you See, the volume is larger and there is a tool cheaper. We must take it". It turned out, the trains didn't care, all that mattered was the price.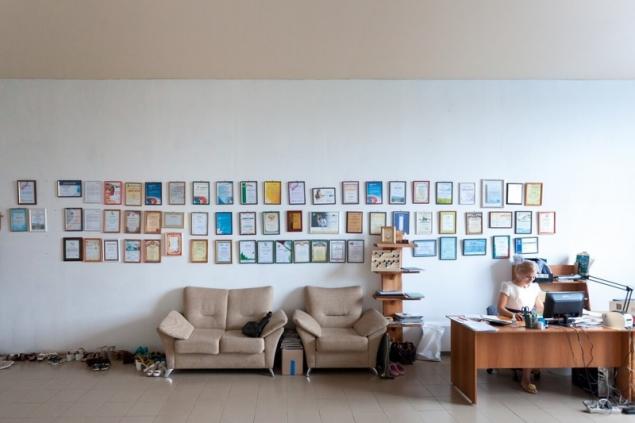 Firm "Mi&Co" has won many competitions for innovation grants  
You know what they say: it is necessary to look for the key not where light, and where lost. And we realized that it was necessary to put the cosmetics are not in those stores that are willing to take, and where it will surely be in demand.
We decided to enter the Moscow market. It was in 2010. I called the stores and told me: we need eco-certificate. But it was expensive. I began to go to Moscow for the exhibition. Income is not brought. But people tried our products, and then came in eco-shops and asked her. Then the stores themselves began to call us and ask about the supply, the situation has changed dramatically.
Our path was unusual: all businessmen first, negotiate with wholesalers, and then conquer the market and we started with that won buyers. Almost three years it took. But now our cosmetics are sold in 60 cities of Russia, in Kirov now she is also popular. And we are not going to stop there.  
The production of "Mi&Co" in numbers
In the month produced up to 40 thousand units.
Consumers by about 10 thousand people per month.
The average price unit retail is 500 RUB.
Average check in the online store — 3-4 thousand rubles. in the regions, 8 thousand rubles. in Moscow
Wholesalers tend to buy at 40-120 thousand RUB
Products are sold in 60 cities of Russia.
Developing and testing recipes takes about three months, another three months spent on implementing in production.
The intricacies of production
To create natural cosmetics is easy. To create an effective natural cosmetics is an art. Even creams to deal with dummy, placebo, give a certain effect – 30%. Our creams are effective in 80%. There are components that act quickly – for example, caffeine. But the effect of it passes just as quickly. We are adding makeup oil green coffee. It and caffeine and antioxidants that improve skin condition, its effect persists for quite a long time.
When we order samples of raw materials, check it out for yourself, test on a group of volunteers. Only after that launch a new product into production.
Plant extracts we have Russian, because we produce cosmetics for Russian women, considering the climate and natural environment. Use and some domestic oil – sunflower, rapeseed, mustard. But mostly, essential oils and vegetable oils we purchase from foreign vendors with organic certification in France and in Germany.
About essential oils and their combination gives us advice aromatherapist from France. With us also has a team of international experts in cosmetics manufacturing. They recommend us what components to use because our product contains no preservatives, even acids.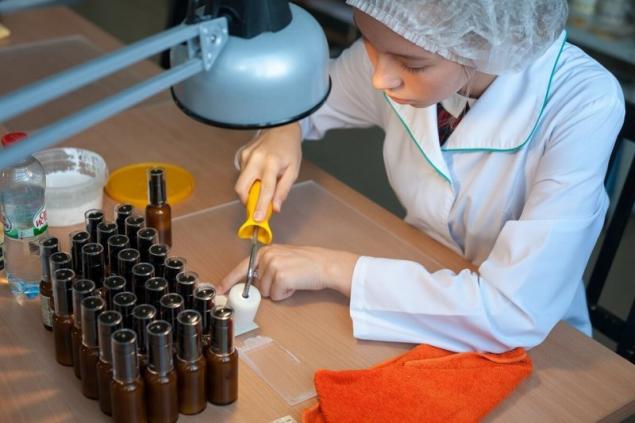 Production  
The fact that we have our own production is essential. We could develop a formula and enter into a contract with some factory – though they are cosmetics made. It's cheaper than to buy their equipment, rent space, hire employees. But then we will not be able to control, to use our raw materials, not added it to anything outside, do not save on it. Than wash the equipment in this factory, which employees work in production? We would not know, and this is very important.
In Russia have little trust in domestic producers, and we want to trust us. So we completely write the product on the packaging, honestly answer any tricky questions, do not hide anything. We like people who want to understand.
We have a small audience – only 2% of Russians. These are the people who choose natural eco-friendly cosmetics. So we orientirueshsya on the products that will be demanded are, as a rule, shampoos, care products, household chemicals, which, by the way, no chemistry at all. We call it: household Nehemia.  
The business feminine
I have a purely feminine approach to business. Men need to conquer new space, at any cost to achieve their goals. I'll put it easier. Form the goals for the next six months. Six months later, look: op! They are all done!
The main thing for me internal balance. If you go into business to earn a lot of money, you are unlikely to succeed. If you are passionate, other people will want to join him, to be in this aura.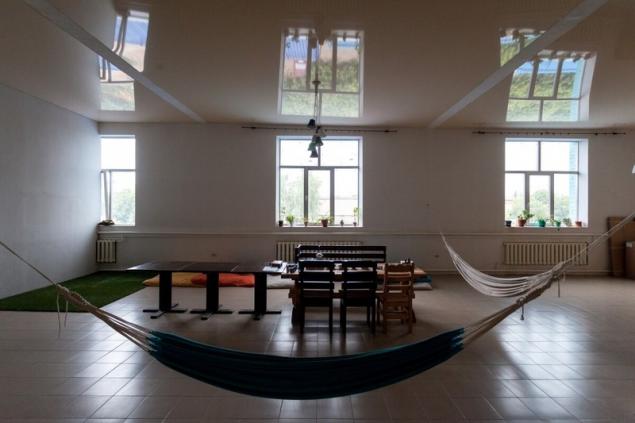 Rest room  
Sometimes, to communicate with journalists, and then read their own interview and think: "is it my answers? It seems so simple to me." Ask: "How did you get into this chain of stores?". "Well, that's it, wanted – and got." I don't know that we've sent a lot of business proposals, and then led a long negotiation is routine. And it turns out like a fairy tale: wanted – and got.
Of course, I do not see our business as just business. It's been 6 years, but I'm not ready to sell it. For me it does not work, and the realization of their abilities, their knowledge, work with experts who can teach something new.  
Also interesting: Magic anti-aging cream made from natural ingredients How to produce natural cosmetics
Almost as men
After talking with Catherine Macanawai, cease to wonder that for all its fragility it has achieved success. And inevitably believe that this is only the beginning. Its women's business has a great future because it is built on the love of child, parental care, dedication to its business, intuition, honesty and hard work. Almost as men. And yet, in another way.published  
Author: Natalia Bulanova  
Source: lavkagazeta.com/fermery/krasota-iz-vyatki/