Homemade cosmetics, made from natural ingredients will be an excellent alternative to expensive cosmetics!
During crisis not everyone can afford to buy expensive cosmetics. But to save on own beauty!
How to reduce spending on cosmetics and not to abandon the usual products? There is a solution: you can do them yourself.
Home care is much cheaper than purchased funds, it's completely natural, hypoallergenic and very effective! We offer you the recipes of the best cosmetics that you can prepare at home.
For the faceNourishing creams for the face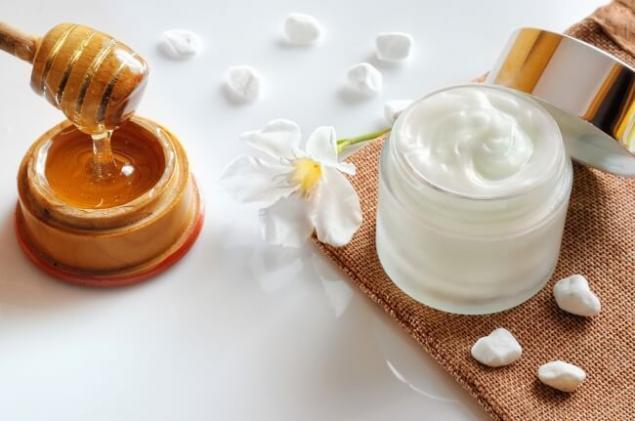 What ingredients no added cosmetic products manufacturers in the creams to increase their effectiveness! But homemade creams made from simple and affordable products can compete with even the most fashionable means. Delicate texture and tailor-made
ingredients homemade cosmetics provide the skin a healthy and radiant appearance without the risk of allergies.
Use these creams twice a day. Don't forget that they have no preservatives, so
natural remedies for face are kept short and only in the refrigerator.
RECIPE PECHALNOGO CREAM
This cream will help to improve complexion. Suitable for normal and dry skin, can be used as a cream eyeshadow.
Need:
1 teaspoon beeswax
1 teaspoon butter
1 coffee spoon of a solution of retinol acetate (vitamin a)
5 rose buds
How to prepare:
Melt in a water bath beeswax and butter. Mix the ingredients until smooth and pour the oil solution of vitamin A. mince rose petals and add to the mixture. Sort colors does not matter, but if you have a choice, prefer tea roses – their petals contain a large quantity of rose oil.
The cream should be put into glass jar, store in refrigerator and use within a week.
RECIPE anti-aging FACE CREAMShould:
2 tsp almond oil
1/2 of chicken egg yolk (you can use quail eggs, then you need 2 egg yolks)
1 teaspoon sea salt
2 tablespoons of chamomile decoction
0.5 teaspoon of liquid honey
2 teaspoons of vaseline
How to prepare:
Prepare the mayonnaise of almond oil and half a yolk. Thoroughly mix the oil and egg yolk, add salt without fragrance. Pour in the mayonnaise of strong chamomile broth and liquid honey. Melt a couple of vaseline and a little cool, add to the mixture. Stir until a homogeneous mass, to shift into a suitable storage jar with lid and put in the freezer. It is recommended to apply the cream on wet skin, after the evening washing decoction of chamomile.  
Facial masks from natural ingredients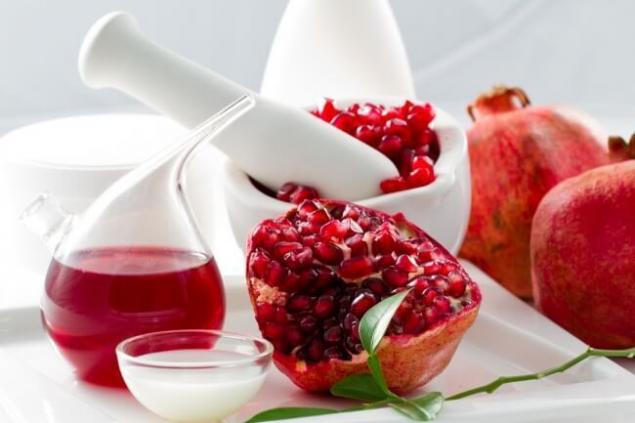 Facial masks, made with familiar and available products, can be worthy alternative to expensive store-bought counterparts! They are much cheaper and not inferior to them in efficiency.
The main thing — to choose the ingredients for your skin type and blend them in the correct proportions.
Do not forget that natural mask could be prepared, calculating the amount of ingredients one at a time, and apply to the skin immediately to get maximum benefit. Among these recipes you are sure to find one that suits you!
Quickly lead to skin tone will help
lifting the mask
from egg whites, lightly beaten. Apply it in 3-4 layers. After the last layer dries, rinse the protein mask with cool water.
For
dry skin the
perfect nourishing oil mask.Here is the simple oil mask that you can do at home: take a piece of any of a nonwoven fabric (e.g., nonwoven fabric), cut out holes for the nose and eyes soaked his warm olive or almond oil. Apply the resulting mask on face for 15-20 minutes, then remove, remove the remaining oil swab dipped in warm water. If the skin needs extra nutrition you can add in the mask a little bit of honey or aloe juice:
this powerful biostimulants that enhance the activity of cells
.
For Mature skin
good homemade mask of aloe. For example, in a mixture of honey, egg yolk, sour cream, cream or vegetable oil. Very well smooths wrinkles facial mask of aloe juice mixed with olive oil in 1:1 ratio.
For normal and combination skin
suitable fruit mask. They are also very simple to prepare: mashed egg yolk add 1 tsp of any fresh juice (except citrus) or the same amount of fruit pulp and apply the mixture on the face. After 10 minutes, rinse with cool water.
Oily skin
well help the yeast mask. Here is the recipe for a simple and effective yeast mask
for oily and problem skin
: mix 10 g of fresh yeast with a tablespoon of yogurt, add half a teaspoon of fresh lemon juice, grapefruit or cranberry mix. Apply the mask in thick layer for 15 minutes rinse with warm, then cold water (the latter is necessary to narrow pores). Oily skin may need extra power. You can make effective nourishing mask, mix 1 egg, 2 tablespoons of bran and add a teaspoon of honey, milk and lemon juice. After 20 minutes, rinse the mixture with warm water.    
Means for cleansing the skin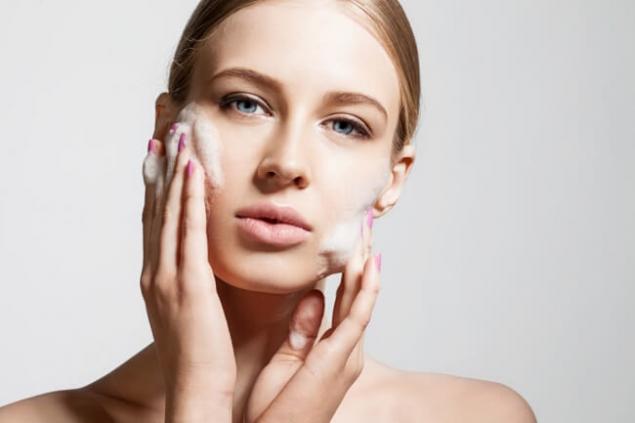 Cleansing is one of the main stages of skin care.
There are many tools that help to remove dirt, but the soft ones are foam and the milk cleanser. They can easily make your own at home. In this case, you not only save, but also be sure the genuineness of the product.
The main ingredient of the foam is soap based:
it is combined with water and essential oils which are chosen depending on skin type. And home cosmetic lotion designed to cleanse the skin, should contain at least 30-40% fat, so to make it use
milk and milk products
, and oils.  
Cleansing foam for normal skinShould be:
50 g of soap base
4 tbsp distilled water
1 tbsp almond oil
1 tbsp oil of wheat germ
1 tsp. honey
1 vial of vitamin E
How to prepare:
Place soap base into a small bowl and melt in a water bath. Next, pour in the distilled water, add essential oil, honey and vitamin E. Whisk the ingredients with a whisk until smooth, cool to room temperature. Ready to wash the scum to pour into a small bottle or jar.
Cleansing foam for dry skinHave:
50 g of soap base
1 tbsp distilled water
5 drops of lavender oil
1 tbsp Shea butter
5 drops of oil of sage
1/2 tsp beeswax
How to prepare:
Soap base, beeswax and Shea butter, heat in a water bath to completely melt the first two ingredients. Whisk the mixture using a blender until frothy. Add in a facial wash essential oil and water, whisk again.
Cleansing foam for oily skinHave:
50 g of soap base
2 tbsp purified water
1 tbsp grape seed oil
5 drops of tea tree oil
5 drops peppermint oil
5 drops rosemary oil
How to prepare:
Melt soap base in a water bath, add water and essential oils. Whisk the ingredients together until a light foam. Foam ready.
Foam for washing face apply on moist skin with light massage movements, then rinse off with warm or cool water. This remedy is also suitable for removing eye make-up. Keep a facial wash in a warm dry place or in the refrigerator for 2-3 weeks.  
Softening lip balm
Natural lip balm is a versatile tool for daily care. Constituent oils soften lips and protect them from chapping and cracking, and honey nourishes tender skin.
Lip balm you can prepare yourself at home.
Ingredients:
beeswax – 2 teaspoons;
base oil (sunflower, castor, coconut, jojoba, etc.) 4 tsp.;
essential oil – 3-4 drops;
honey – 1 tsp
Method of preparation:
Chop the wax grated. In a small saucepan, combine the oil, grated beeswax and honey. Heat on low heat until the mixture melts. Remove from the heat and let cool for 3-5 minutes. The resulting mixture is put in small jars and let it cool down and then use your health! This lip balm can also add a few drops of your favorite essential oil or a little lipstick to make a light shade.  
BodyBody scrubs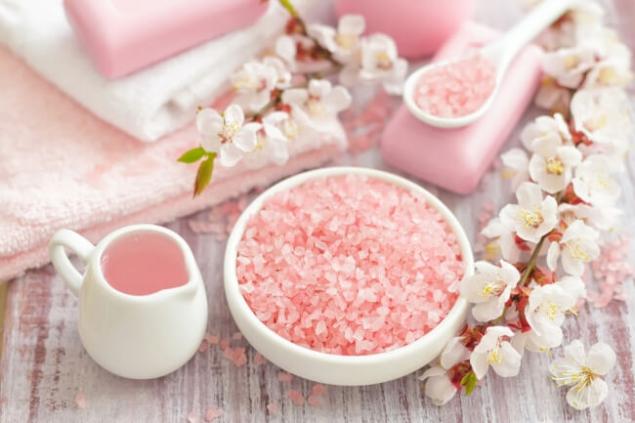 Our skin regularly, but over time, these body processes slow down. To the skin to remain young and beautiful, she needs a cleansing not just from dirt but also dead skin cells. That's what
scrubs, they exfoliate cells and stimulate skin renewal.
The most effective and useful are salt and sugar scrubs: large crystals they are used to remove excess cells and saturate the skin with nutrients. For preparation you can use table or sea salt either regular or cane sugar. And the additional ingredients – butter or honey – perfectly nourishes the skin.  
Scrub to cleanse the skinNeed to:
3 tbsp freshly ground coffee
3 tbsp fine sea salt
1 tbsp olive oil
How to prepare:
Thoroughly mix all ingredients. Get a great aromatic coffee exfoliant. Apply the mixture in circular motions on the body and then rinse under the shower.
Scrub against stretch marks on the skinShould:
1 tbsp fine sea salt
1 tablespoon of sugar
1-2 tbsp olive oil
How to prepare:
Mix in equal parts salt and sugar, dilute with olive oil to get the consistency you apply to body and use as a scrub.  
Home remedies for hands and nails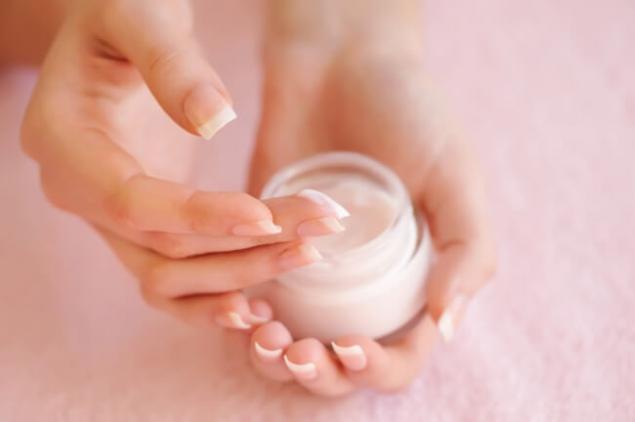 After the winter, our body lacks vitamins, that is not the best way affects the condition of nails. The same thing happens with the skin: because of the cold, it becomes dry and scaly, causing severe discomfort.  
HairNatural remedies for hair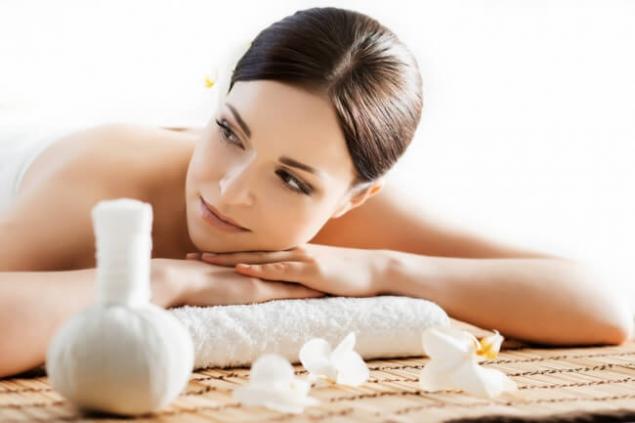 Fashion brand shampoos and a hair mask instead of the expected effect often produce the opposite result:
the scalp becomes dry and sensitive, dandruff appears, and the hair looks dull and lifeless.
To solve these problems, try making hair products at home. No wonder these recipes are passed down from generation to generation: their effectiveness has been proven by many women. Herbal rinse, natural masks and oil wraps will help to restore the condition of the hair and save money on expensive cosmetics.
Herbal shampoo
Crush with a rolling pin a few dry Bay leaves, a handful of dried chamomile flowers and a handful of rosemary.
Put in a large bowl and pour 1 liter of boiling water. After 2-3 minutes, strain and add to the infusion of 1 tbsp soft or liquid soap. Apply the mixture on hair and massage for a few minutes. Rinse thoroughly.
Rinses(use after shampoo)
Lemon juice added to water for rinsing hair, will make
blonde hair
brighter.
And 2 tbsp of Apple cider vinegar will add Shine
to any colored hair
.
You can prepare a variety of rinses, depending on the problems to be solved. First, mix a solution: put 2 tablespoons of fresh or 1 tbsp dry herbs in a glass or ceramic container.
Add 600 ml boiling water, cover and allow to steep for 3 hours. Before using, strain. Try:
* Shrubby wormwood against
greasy hair.
* Nettles
for hair growth
.
* Rosemary
from static electricity
.
* Lavender
tight against the scalp
.
* Tea tree
to fight infection
.
For nourishment and Shine to the hairEGG MASK
Mix 2 egg b with 2 tbsp water and 1 tbsp Apple cider vinegar or lemon juice. Massage into wet hair and leave for 10-15 minutes. Then rinse with warm (not hot) water.
BANANA MASK
Mix 1 mashed banana, 3 tbsp honey, 3 tbsp milk, 5 tbsp olive oil and 1 egg. Apply to wet hair, hold for about 30 minutes, rinse thoroughly. Then wash your hair with shampoo and apply conditioner as usual.
YOGHURT MASK
Mix 7 tbsp. yogurt and beaten egg whites 1 egg. Apply to wet hair, massage into hair from roots to ends and leave on for 30 minutes. Wash your hair with shampoo and apply conditioner as usual.
Be beautiful always! published  
P. S. And remember, only by changing their consumption — together we change the world! © Join us at Facebook , Vkontakte, Odnoklassniki
Source: domashniy.ru/article/moda_i_krasota/uhod_za_telom/antikrizisnyj_uhod_naturalnaya_kosmetika_svoimi_rukami.html