Useful tips for the kitchen
1. From peeling potatoes to darken the skin on the hands. To avoid this, you need to work to moisten hands with vinegar and let them dry and then just wash with soap and use the cream.
2. All glassware — drinking glasses, vases — can be cleaned without special tools. To do this, in warm water add a little vinegar or salt. Dishes will be cleaner and more transparent.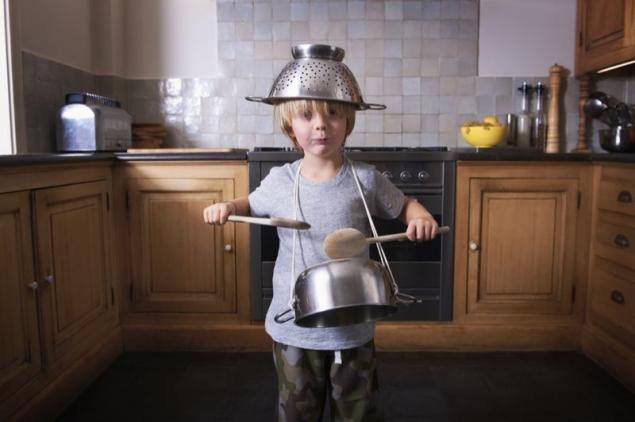 3. Aluminum pans will Shine again, if they are boiled along with potato peelings, Apple peel, peel rhubarb or vinegar.
4. Darkened enameled pans must be boiled with any part of the dishwashing and then rinse with hot water. But if two times a month to boil them with the vinegar solution, they will not darken.
5. If something burnt in the pan, you can pour on the bottom of cold water and pour salt. After a few hours you can easily remove food residues. For enameled pots will suit this method: pour the pot of hot water with a tablespoons of baking soda, leave to stand and then boil — food remains perfectly depart.
6. The pan can be cleaned easily so: lightly heat them and RUB with salt, and then parchment (in an extreme case — plain paper).
If a runaway milk spilled on a hot stove, you need to fill flooded the place with salt, and cover it with a wet paper — then the smell is not spread throughout the room.
7. That the flour was not bugs, you need to put in the pouch where she kept a few cloves of garlic with the peel from the top of the skin.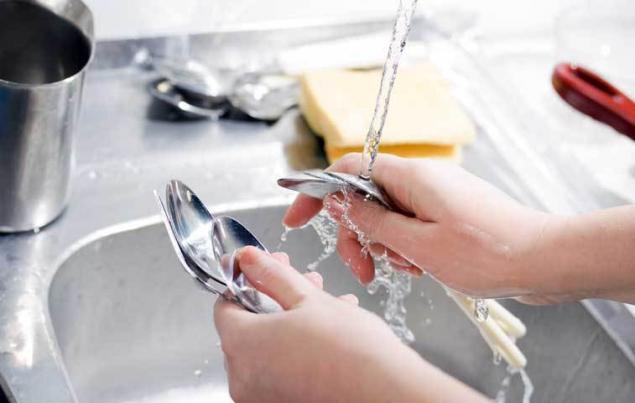 8. The flour should be sifted, and pour into a clean bag.
9. To knives, scissors, etc. easier to sharpen, you can put them in a weak salt solution for half an hour and grind, not wiping.
10. Wash the meat grinder is much easier, if at the end skip raw potatoes.
11. It is not necessary to dry the meat grinder near a heat source — this tupyatsya knives.
12. New glasses will not be beat, if you put them in a bowl of cold water, slowly heat it to boiling and leave them to cool in the same water.
13. Metal foil for baking will last much longer in the refrigerator — it is not glued together.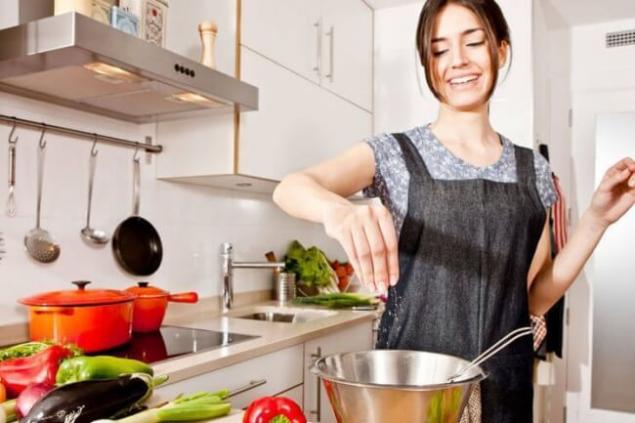 Eliminating odors
1. Unpleasant smell on the hands (from fish, garlic, etc.) can be removed by rubbing hands with salt and then washing them with soap and water.
2. The smell of garlic breath can be removed by chewing parsley.
3. The smell of fish from pots and pans will disappear if to wipe them warmed with salt, and then rinse.
4. The smell of onions can be removed, rubbed kitchen boards, Cutlery with dry salt.
5. Odor in the kitchen can be removed if the boil in an open pan of water with vinegar and after a few minutes to ventilate the room. With the same purpose can be put on a heated burner
peel of orange or lemon,
or pour on a hot stove a little salt.
6. Escaped the smell of milk spilled on a hot stove, you can localize and covered flooded the place with salt and covering it with a wet paper — then the smell will spread throughout the room.
7. To remove the smell of paint from the premises, you need to RUB the head of garlic and leave it for a while in the room.
8. The smell of oil paint in the apartment quickly disappear if a few places to put the dish with salt.
9. Tobacco smell from the room is expelled even bad drafts. But it can be done is to open a window and put in different places of the room for 2-3 wet towels. They absorb the tobacco smell. With the same purpose in a room where people smoked, you could light some candles.published  
P. S. And remember, only by changing their consumption — together we change the world! ©
Join us in Facebook , Vkontakte, Odnoklassniki
Source: vk.com/eto_nygno?w=wall-50588463_24281