Prepare the salad of pickled vegetables for the winter in the Italian style. Pickled vegetables are perfectly combined with the fresh bread.
Cooking time
- 2 h 30 min
Number of servings
- 10
The complexity of cooking
- medium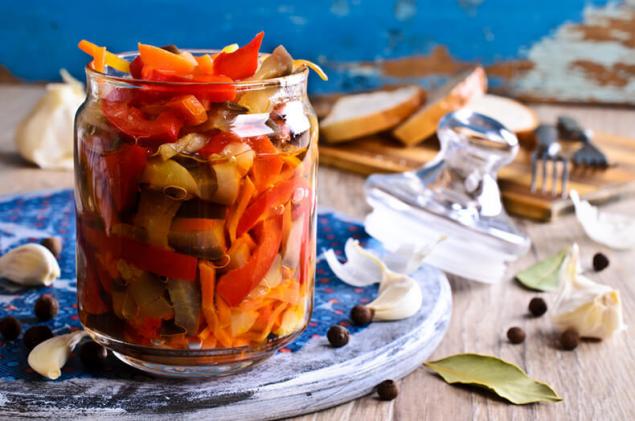 Ingredients:
black pepper – 8 grains
vegetable oil – 300 ml
red bell pepper – 1 PC.
olives – 100 g
salt – 2 tbsp
yellow sweet pepper – 1 PC.
olives – 100 g
dried oregano – 1 tsp.
eggplant – 1 PC. small size
zucchini – 1 PC.
thyme – 1 sprig
vinegar white wine – 200 ml
How to prepare:
Step 1
All vegetables to be washed. Eggplant and zucchini cut into circles thickness of about 0.5 cm. Peppers cut in half, remove the core and cut into longitudinal slices. Place eggplant, zucchini and peppers in a separate bowl, sprinkle with salt and leave for 1 hour
Step 2
Rinse the vegetables with cold water. Boil the vinegar with 200 ml of water.
Step 3
Put the eggplant and cook 3 minutes with a slotted Spoon to shift to tissues.
Step 4
Repeat the same operation with zucchini and peppers. Give the vegetables to dry for 30 min.
Step 5
Lay the vegetables in layers in a sterilized jar, alternating with the olives. Put a sprig of thyme.  
Recipe in a hurry: a baguette with vegetables and cheeseHow to make airy pancakes without the frying
Step 6
Vegetable oil peas of black pepper to bring on a small heat until boiling. Add the oregano, mix well. Pour the hot oil on the vegetables. Cover the jar and allow to cool. Once the vegetables are cooled to room temperature, seal jar and put in storage in a cool place.published    
Source: www.gastronom.ru/recipe/6357/salat-marinovannye-ovoshchi-po-italyanski