Of course lucuma powder, an excellent source of beta-carotene, vitamin B3 and many minerals, including high concentrations of contains iron, calcium and phosphorus.
Turkey delights — native country, and this ingredient will make recognizable without a simple and super-delicious "raw" useful analogue of sweetness, which is the calling card of this beautiful country.
Here are a couple of ideas more much more harmless Turkish delight without the sugar and starch. On the same principle you can make variations to your taste.
The General principle of cultivation of the agar — 1 tablespoon flakes or 1 teaspoon of powder per Cup (250 ml), pour warm water, let stand for 10 minutes, then bring to the boil stirring occasionally.
In cases where part of the ingredients — juice or berry puree, agar is heated with water only part (usually half the volume, half — grinded berries, half water). Of course, a pity to heat fresh juice — and this can easily be avoided.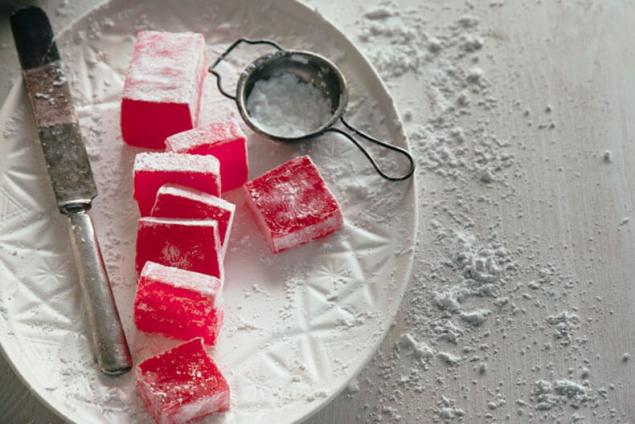 Blueberry/berry delight:
1 Cup berries (blueberries/raspberries/cherries/black currants)
1 tbs. liquid honey, agave nectar, or Jerusalem artichoke syrup
half a Cup of water
1 tbsp cereal agar-agar or 1 tsp agar powder
half a Cup of hazelnuts or other nuts
optional — 3 Royal 5-6 date or dates Caspian
+ ideally, the powder delights for sprinkles, but you can use pistachios or almonds, ground into flour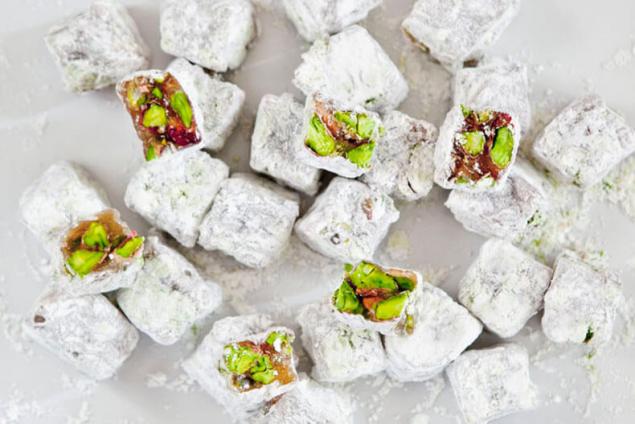 Fruity delight:
8 Royal dates or figs 12-16 Caspian (you can do without dates altogether)
a half Cup of freshly squeezed orange juice or juice of other fruits (apples, pears, pineapple, while very nice and festive out Turkish delight from carrots or beets)
1 tbsp honey or agave nectar, syrup Jerusalem artichoke, for the low-carb option to the juice add the infusion liquid stevia — 0 carbs
half a Cup of water
1 tablespoon flakes of agar-agar or 1 tsp agar powder
half a Cup of hazelnuts or other nuts, and again sprinkles — voltage or ground into flour, pistachios or almonds, cashews
Pour the agar water and then do berry or juice part.
Variations for berries first in the blender mixed to homogeneity dates or honey with berries, and the juice of variation is first mixed into a paste dates or honey with the juice.
The specified amount of water with soaked agar bring to the boil and boil for 5 minutes until complete dissolution of agar. You can give the broth a bit to cool down (a minute), then mix with berries or the juice part out of the blender and again blend thoroughly. Pour walnut large fraction, halves or whole, mix and pour into silicone or any container, lined with cling film, remove in the cold.
If you want to get neat cubes, it is best to send an hour in the freezer, then pull out of the container a lot of film, chop into cubes and at this point, roll in the powder delights.  
Cook with love!  
Baklavas Greek: amazing Oriental sweetCanning without salt, sugar and vinegar: eggplant
Source: ecoways.ru/ru/recepti/zdorovoe_pitanie/Deistvitelno_polezny_rahat_lukum_svoimi_rukami_RAW.htmlecoways.ru/ru/recepti/zdorovoe_pitanie/Deistvitelno_polezny_rahat_lukum_svoimi_rukami_RAW.html