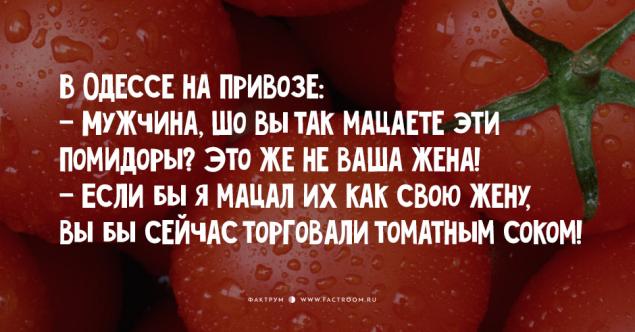 The Odessa jokes is a delicate mix of humor, wisdom and that special view of the world that we love this city so much. Hello, Semyon Abramovich! How's life?
— In life, of course, is not enough, but the funeral, thank God, we also can not afford.
***
Odessa Privoz:
Man, you sho so matzo these tomatoes? This is not your wife!
If I had their matzoh as his wife, you would now be traded in tomato juice!
***
— Bob, what are you doing?
— Learn Braille for the blind.
Why? You have eye drops?
— No, I want to save on electricity.
***
— You don't know why Rabinovich lives in such luxury?
— Due to lack of evidence.
***
— Asya Markovna, what can you say about your son-in-law?
— It looks like a plane on the earth are from him absolutely no good.
***
There are still 2 kinds of women. On the 1st look and think: "I do not drink so much".
And the 2nd: "I can't earn".
***
Odessa, message Board:
"Aunt Fira with Moldovanki for a very inexpensive ready to promote you as a man among his many friends."
***
How much for these coat for my Sarocky?
— It will cost you 3000 euros.
Wait, somehow this is all wrong. Let's do it slowly.
— It will cost...
— Exactly! It will cost!
***
Odessa is a very cultural city. Exhibitionists here, even before you open the cloak, warned: "I'm awfully sorry, but it is still worth a look!"
***
— Hello! The police! I was trying to Rob!
— Solomon Moiseevich, it's you again? If a customer requests a discount of 5% is not considered a robbery!
***
Odessa, the beach, the announcement:
"Women are forbidden to sunbathe Topless! But not every bottom is a stand.
***
— Sam, your wife is a fool!
— Moishe, would you silently envy?!
***
Madame Fishman, looking at the wedding procession:
— Well, another carried the dishes to wash...
***
— Doctor, you know, my nose is stuffed up!
— Oh, I beg you! I laid flat, and you are funny with your snot!
***
As said aunt Celia, not in money happiness! But with money you can afford to be miserable anywhere when anywhere and with anyone...
via factroom.ru