I like cakes that are low in dough and lots of toppings. Gentle, refined, it contains fewer calories but is extremely delicious!
The most delicious Apple pie
I had to try, was prepared by the grandmother. No wonder she called him "Invisible". The secret of this dish is in the thinnest slicing apples into slices.
Of course, the dough into a pie is present, but in such trace amounts that it is almost not felt and not seen on the cut. If the soul asks for something refined, we know how to comfort you...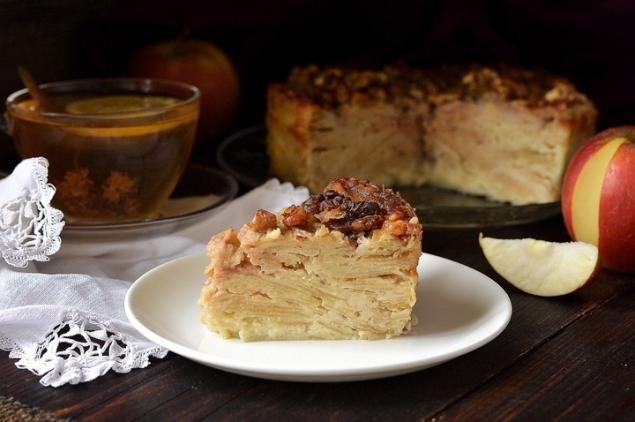 How to cook Apple pyrogenicity
90 ml milk
60 g flour
10 g sugar
3 eggs
2 tbsp vegetable oil
2 tbsp. butter
1 tablespoon of brandy
4 apples
3 tbsp walnuts
Cooking
Whip eggs with sugar in air foam. Add the flour and baking powder. Also add sunflower oil, milk and cognac.




Slice apples into thin slices and put in the dough.



Grease the form of butter a small pie and bake for 30 minutes at a temperature of 200 degrees.




The finishing touch: fill! Combine 1 egg, 80 g sugar and 2 tbsp melted butter. Ready for a hot pie pour the filling, put the top nuts. Bake the pie for another 15 minutes.




What flavor! Now you know how
to prepare tasty Apple pie
. The mood can add cinnamon to the apples, a pinch of nutmeg and even ground ginger. Cognac you can substitute sweet brandy! Bon appetit, be happy this fall.