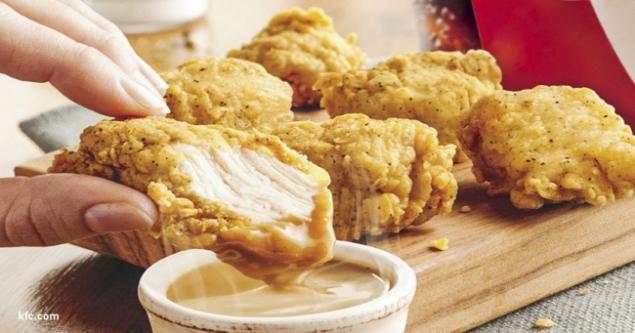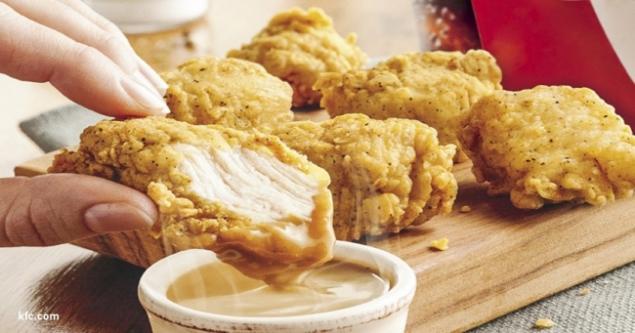 As many as 67 years (since 1940) KFC company carefully kept secret recipe chicken, and now more recently Chicago Tribune newspaper published it. < The original recipe of "11 herbs and spices» edition opened of Colonel Sanders' nephew. Man found it in the writings of the second wife of the founder of KFC.
And here is the legendary recipe that allows you to cook delicious chicken.
Cooking time: 30 minutes
Time to soak 20-30 minutes
Time for cooking: 15-18 minutes
Servings: 4
Ingredients:

2 cups of flour 2/3 Art. l. salt 1/2 Art. l. dried thyme leaves 1/2 Art. l. dried basil leaves 1/3 Art. l. dried oregano leaves 1 tbsp. l. celery salt 1 tbsp. l. ground black pepper 1 tbsp. l. dry mustard 4 tbsp. l. paprika 2 tbsp. l. garlic salt 1 tbsp. l. ground ginger 3 tbsp. l. ground white pepper 1 cup of fat-free cream 1 beaten egg 1 chicken, cut into pieces; bacon should be cut into two pieces for even toasting canola oil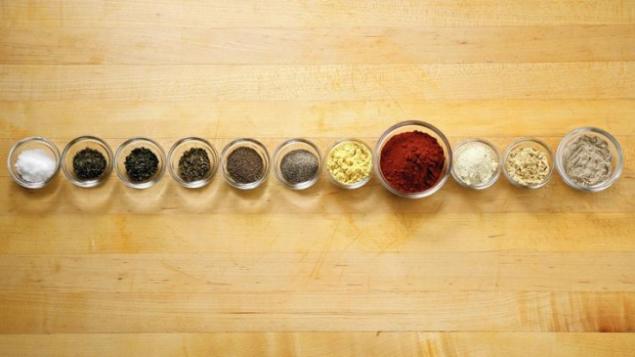 Combine flour and whole spices in a cup. Mix the cream and egg in another bowl. Soak the chicken in mixture of cream at room temperature for 20-30 minutes. Take the chicken out of a mixture of cream and wait until the excess cream drain. Dip the chicken pieces in the flour mixture and spices, so that the whole chicken was covered with it, shake off the excess. Put the chicken on the grill and let stand 20 minutes. While advocates chicken, pour 7-8 cm oil in a pan with thick walls and high sides (or shown) and heat on medium-high heat to a temperature of 175 ° C (use a kitchen thermometer to monitor the temperature). When the temperature reaches 175 ° C, reducing heat to medium. Fry 3-4 chicken pieces until golden brown crust for 15-18 minutes, flip once. Cooked chicken out onto a plate covered with paper towels.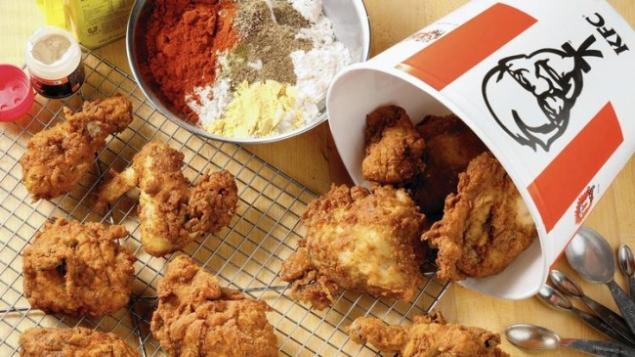 It is noteworthy that the This recipe is one of the most valuable commercial secrets in the field of nutrition. A copy of the prescription with Sanders autograph contained in a safe in the company's headquarters in the city of Louisville, Kentucky.

tengrinews Source, chicagotribune
Photos on the preview kfc.com


See also:
Only a true chef will pass this test without a culinary
errors 11 delicious sandwiches that do not need bread


via www.adme.ru/zhizn-kuhnya/11-vkusnejshih-buterbrodov-dlya-kotoryh-ne-nuzhno-hleba-1329065/