Do you like fish dishes? Learn how to cook mackerel so that after meals for a long time to lick your fingers.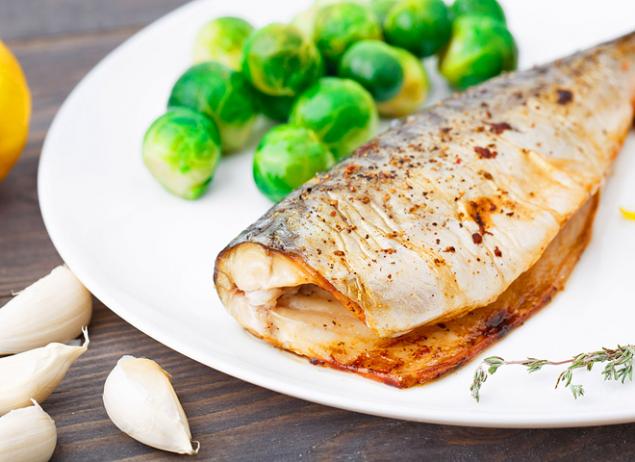 How to cook mackerel in the oven. Ingredients:
The whole mackerel - 1 piece,
Onions - 2 heads,
Carrots - 1 medium piece (about 200 grams),
Salt - to taste,
Seasonings for fish (basil, oregano, black pepper powder) - optional, to taste,
Food foil -. For baking
The process of preparing
Mackerel - it is very fleshy, fat and juicy sea fish, with its unique flavor, loved by many since childhood. Like any saltwater fish, it has a minimum number of bones - in addition to the spine, ribs and fins of large stones that can prick the tongue or palate, there is simply no. This makes mackerel popular even among the lazy people who like to fish, but too lazy to seek out in her bones.
As practice shows cooking any dish is most useful if it is cooked in its own juice. That is why the recipe, how to cook mackerel this most delicious way is very popular and in demand.
For a start it is necessary to wash the mackerel. Clean it from the scales do not have to, since it is the nature of it is not. evisceration process is also simple: to cut off the head behind the gills of mackerel, rip open the abdomen and carefully clean out the insides. If you got eggs - can be separately pickle. Some eat the same way, and milk - but it's not for everybody. After gutting the carcass sure to rinse.
Problem one: if the baked mackerel envelope foil just so, her delicate skin will burn to the foil, and the fish will unpresentable (though not lose flavor). With this you can easily handle, laying on a foil chopped onion rings, and on top of it - carrots
. Mackerel rubbed with salt and spices, it is necessary to arrange on a bed of vegetables, hiding on top another layer of onions. This is followed to make a neat envelope, put it on a baking sheet. It is advisable not to leave holes in the envelope - otherwise moisture will evaporate or, worse, to flow to the pan and burn saturating fish tart taste of burning
. Bake the mackerel must be within 30-40 minutes (depending on size) at a temperature of 180 degrees. The fish turns out very tender, fried own flavor, aroma of spices and vegetables. Meat easily behind the bone, so that even the laziest guests will not experience discomfort when eating. Naturally, if you wish, you can again make a number of mackerel, which will fit in the pan.