Kugel - a dish like a casserole, and referring to the Jewish cuisine. It is prepared from a variety of foods: pasta, cereals, cheese ...
«Website» offers recipe Kugel from vegetables. This casserole can be a full meal for the whole family and for those who follow the figure, will be the dish-discovery!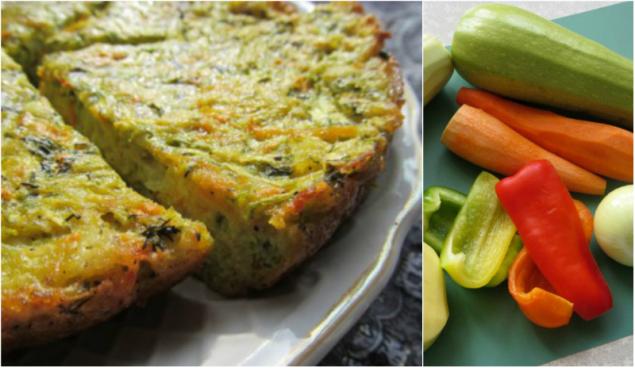 casserole ovoscheyIngredienty
2 medium sized zucchini 2 potatoes 2 carrots 1 onion 1 bell pepper 4 cloves garlic 4 eggs 4 tbsp. l. breadcrumbs 1 tbsp. l. vegetable oils green salt, spices to taste

Preparation
All the vegetables and wash and cleanse. With zucchini peel can not be removed. Squash , potatoes and carrots grate on large grater. Bulgarian pepper and onion we shall cut into strips, garlic passed through the press. To the prepared vegetables add eggs, breadcrumbs, salt, pepper and your favorite spices to taste. Mix up everything, if left too much juice, Slay part of it. Form for baking smazh prisyp oil and breadcrumbs. Lay it all the vegetable mass and send bake for about 45 minutes at a temperature of 200 ° C. Willingness to check toothpick Kugel: she must go out of casseroles dry

. They taste best is, if the file is a dish hot with sour cream, sprinkle with fresh herbs. Baked zucchini - the perfect solution in the season of plenty of vegetables!

Share with your friends a simple recipe, they will be grateful!