The right to the championship for the invention pate France and Germany have disputed more than a century. The French believe that the birthplace of foie - Alsace and Lorraine, and the Germans stand up for its Périgord and Gascony. Whatever it was, this dish is firmly established on our tables.
Offer to cook a delicious and delicate, with spicy notes of cognac pate that complements any
holiday table !

Pate chicken pecheni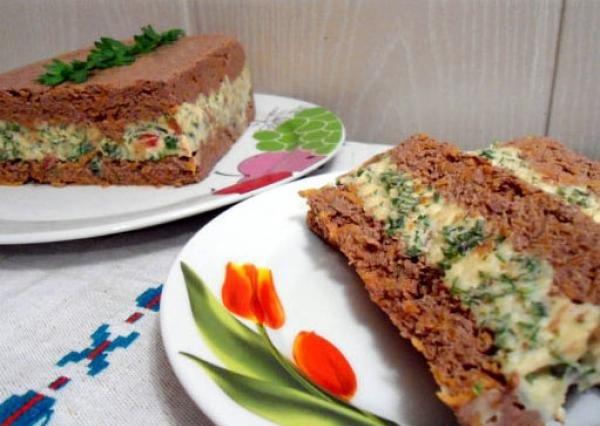 Ingredients 500 g chicken liver 300 g of cheese 10 g gelatin 150 g tomatoes 150 g carrots 150 g onion 20-50 ml brandy 1/2 hours. l. salt 50 g of vegetable oil green beam

Preparation Soak gelatin in 150 ml of hot water, aside Carrots decoction 5-7 minutes, cool Onions, finely we will cut greens, tomatoes -... cubes Carrot and cheese rub on a small grater. Onions fried in vegetable oil until golden brown, add to it chopped liver. Salt and pepper. Continue to roast for approximately 10 minutes, then let cool. Heated swollen gelatin, but not to bring to a boil! Liver with onion mince, mix with grated carrots. Cognac is advantageous set off taste liver. But here it is necessary to comply with the measure: to overdo it - Cognac flavor score of all products. Add to the resulting mass of gelatin half. Now turn the cheese. Mix it gently with tomatoes, greens and remaining gelatin. Take the appropriate form (preferably silicone), laid out in her half of the hepatic mass, smooth. Evenly distribute the cheese portion. The remaining liver overlaid on top. Form a paste cover with cling film and send it in the fridge. Remove the ready pate from the mold can be 5-6 hours, carefully turning the dish shape laying on a plate.

It's time to invite guests to the table! Beauty and the taste of this dish will impress all!