The oldest Russian Alla surgeon Ilyinichna Lyovushkin 87 years! Until now spends bollee hundred operations a year with zero mortality.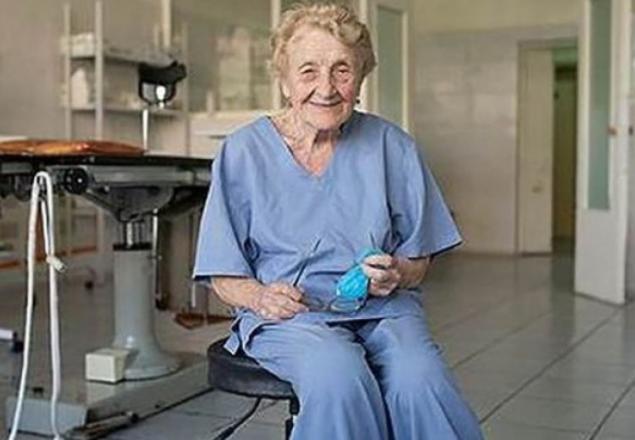 During this 87-year-old Alla Levushkin and was awarded the prize "Vocation" in the nomination "For fidelity to the profession»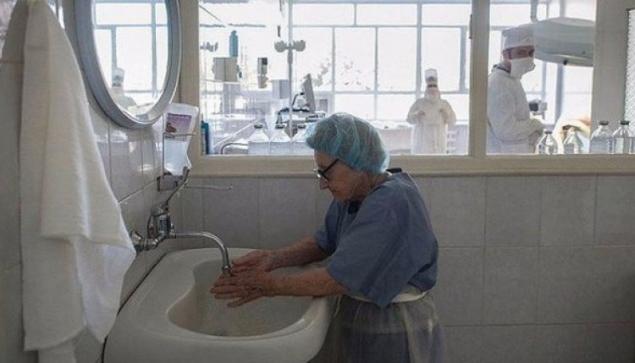 About "The Calling" award "recently awarded the prize for the best doctors in Russia. "Vocation" award. I was rewarded for his loyalty to the profession. Handing the statuette, a great - a hand with the crystal. I'm afraid that does not hold up, it is very heavy, she looked. I mentioned this to the men, who were nearby, they went with me. Among them was Onischenko - chief sanitary doctor of Russia, he went upstairs and took this thing, it helped me to carry. I was greeted with such applause that can be stunned. To be frank, I am very pleased, but I was tired already of congratulations. The street is now know, a lot of words to say warm, and I was embarrassed by this, I want to live in peace like other people, and do their own thing. »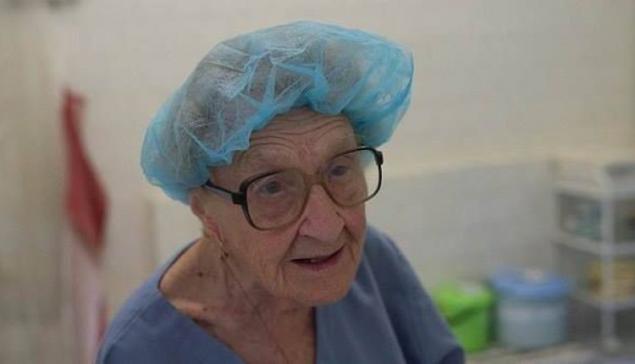 Loyalty to the profession Alla Ilinichna stores for 63 years. "Actually, I wanted to be a geologist - I like the camp life, difficulties, obstacles. Then I read the "Diary of a doctor" Veresaeva and decided to enter the medical - very romantic young lady was. In 1945, competition in the Second Moscow Medical Institute named after Stalin was huge, which further spurred me. I said, "Well, where you climb, the village", and I decided that I would venture. " On the first student years Levushkina responds briefly:
"We were starving, that's all." Students were given food stamps, but there is some food, soup - only water. But once a month, medical school students relied bottle of alcohol, and the alcohol all ran to the market, half a liter could barter for a loaf of bread. "We survived only because the hostel ate chipped. My parents, though malnourished themselves, but a few potatoes from our village in Ryazan sent. Other students passed the fat, the rump. And so it stayed. I remember one girl brought a hefty bream. It was something incredible! We have this great fish a week ate more soup and cooked to perfection of gnawed bones
. "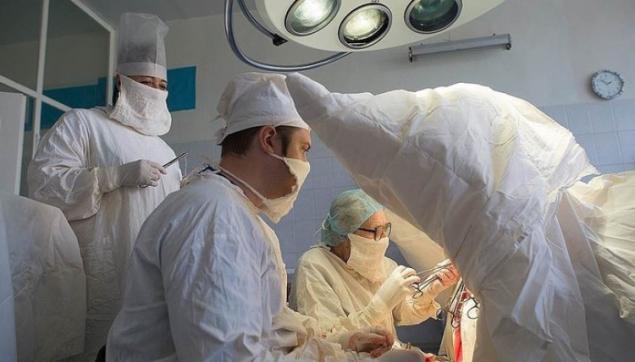 In his native Ryazan young surgeon he began to work in the air ambulance. "The old doctor did not want the region by helicopter to wander, they sent me:" My daughter, come to fly. " So I'm 30 years old and flying, all on the premises, though the youngest. Then the pilots were given special badges for flying hours, and they joked that I, too, it is time to give this icon - no joke, so many hours in the sky. But I liked this work. Previously, because in district hospitals operated, and we, the regional surgeons, called on the most difficult cases. It was the case, even in the barn chest sewed: bow to the lung, all fell out, transporting the patient was impossible. Nothing survived. And once we met in the village of wolves - the pilot wanted to land, afraid, "because you will eat, doctor!" I shouted: "Sit down! Let's try it! "And nothing, nothing happened, the car quickly drove up and I jumped back." "Incidentally, proctology - one of the most difficult areas in surgery - says Levushkina.- It's now have a bunch of tools, and earlier as all hands did, it was a piece of work. Specialists lacked proctologist surgeons throughout Russia on the fingers can be counted - well, was not willing to handle this part of the body. It was believed that it is messy and too complicated. So I, of course, caught fire when we received a "pass" on by proctology courses. "Send me!" - Says the head. And they arranged another meeting, questioned, given that no-proctologist surgeon was not in the Ryazan region. But then one doctor put forward the argument: "You look at the growth Levushkin appropriate: one and a half meters. She just proctology and engage ».»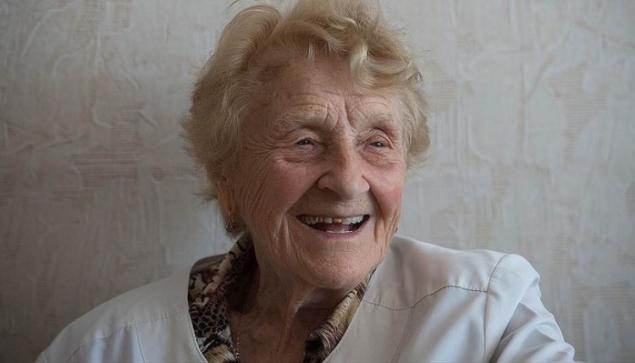 Operates Alla Ilinichna so far - in the clinic to her place for a visit, and in 11-th city hospital in Ryazan ordinatorskoj all, all - to Levushkin. "The patients I was just overwhelmed. All climb the surgery is to me. Why? Ask them. " We ask. Nina, a resident of Ryazan, now have an operation, "I just wanted to Alla Ilyinichna. She had such an experience, it is praised as people. " Nina was nervous, it even shakes with fear. "What are you afraid of? - 87-year-old surgeon leans over operating stolom.- What trembling? Then half an hour in all cases now go to sleep, get some rest, wake up already without its problems. Smile "Nina anesthetized and Alla Ilyinichna drove a special chair on wheels:"! Coach filed "" You name your article "Grandma with a twinkle," - jokes the surgeon's assistant Vladimir Dobrynin and then seriously added: - You do not look much Alla Ilyinichna years. Her hand is still strong. And we do it with 150 operations a year. In this last year and the death rate -. Null »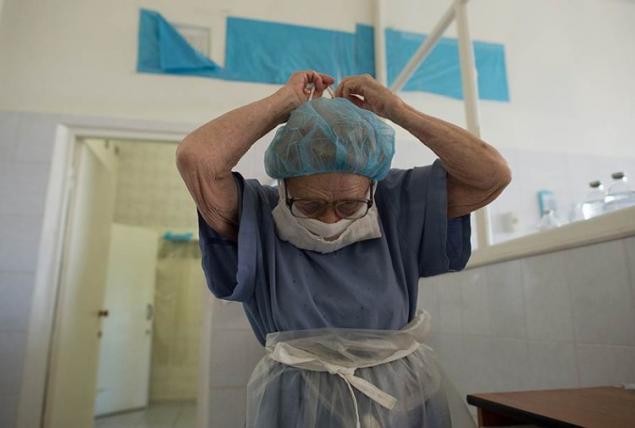 In proctology indications for surgery are often very very advanced cases, often associated with cancer, and "Zero" - an excellent result. Therefore Levushkin on the streets know more than half a century, are suitable: "You do not remember me, but I'm fine, I live", thank you. "Many of my kiss. I am small, worth nothing to kiss, hug me. One went: "Wow, my dear!" - And clutched in his arms, like a kitten. Then I could not breathe. It turned out - a broken rib. " Physicians and give as gifts, not without it. "In the past we gave crystal candy. I had a closet, forced the "Red Moscow". rabbit Recently presented - said they killed specifically for me. I'm a hypocrite, meat eating, but I can not have the one who killed for me, so I called her niece: "Take away the rabbit." And 30 years ago the cook of our first secretary, she was oncology, sent her husband a bag of canned goods, meat and cheese. My brother then came to visit me, opened the fridge and was stunned: "Well, you live" And the cook, by the way, is still hard at work, I saw her recently. " She prays for them every morning - for their patients. "I became a believer for a long time, years, to 60. Prior to that, was a convinced atheist, a college times seriously fond of philosophy, read the works of Hegel. But confused me, Marxism-Leninism, which claims to be the absolute truth is not knowable. A strange statement for the materialist. I began to think: what, then, the absolute truth? So I come to the faith. I go to church, pray morning and evening, in his own words: about his patients, especially for the most demanding of his family, of himself, to hold out a little longer ... Why am I still working? Firstly, it is very interesting: to win, to cure. I have in fact been quite miraculous healing. Young woman, I remember, was a rectal tumor - all inoperable. But I'm brave, and nobody but me did not take. I operated on her, and she went on the mend - how, why? It's been many years, this patient lives, her children have grown up ...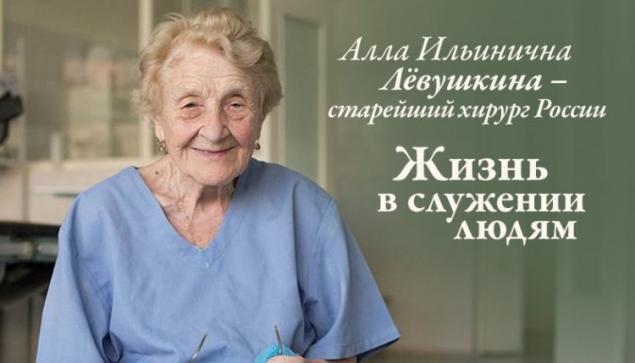 And I have to work to feed her. Children I do not have, and I married a never was, but there is the nephew of a disability - it contains, and his seven cats in the care of, but I still have your seven. " It lists the pupils: "Gosh, Son, Lapa, Lada, Chernyshkov, Haze ... old cat just now gave birth to a kitten, and I appointed her high-calorie diet. In the morning I give all pollack with noodles, when I leave, then I cut finely doctoral sausage - another not eaten. Bags with them to buy special food, canned food, a filler. Only cats out of 200-300 rubles per day. But I still feed yard cats, dogs ... Here you are asking how to maintain activity in these years. And I have no other exit, I'll be the end of life to earn. Won the birds outside the window - I see that they are hungry, trough in the morning again empty, so you have to buy food, then again we need the money. " She smiles, and once it becomes clear what she looked like as a child. "Is it possible to feed all the birds in the world?" - We ask, and she, still smiling, quite philosophically replied: "But you can try»
Loading ... Loading ...
Liked? Share with your friends!
Loading ... Loading ...