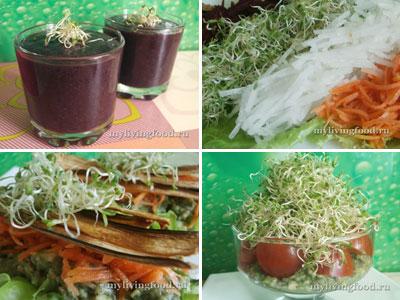 Under these conditions, "permafrost", in my opinion, it's time to recall the alfalfa. After all, alfalfa - one of the most undemanding plants to produce green sprouts at home
! Let's start with the story ... Do you know that it is alfalfa stands at the origins of network marketing and the first supplement in the world has been made on the basis of alfalfa ?! It was like ... Carl Franklin Renborg - an outstanding representative of the incredible realization of the "American dream" and the inventor of the multi-level marketing scheme since 1915 worked a sales representative in China. By the nature of the activities of driving around the whole country, Carl Rehnborg parallel studied local traditions, food habits, compared nutrition and health of urban and rural residents. Over time, he came to the conclusion that most diseases are caused by lack of nutrition "additional factors", which are in abundance found in plants and must be included in the daily diet. Today, these "additional factors" are known to science as phytonutrients, but then - it was a real breakthrough
!

Catching up experiments on the release of nutrients from plant extracts raw materials, Carl Rehnborg Explore the stunning properties of alfalfa - in Chinese medicine since ancient times, it was considered "the basis of all good things." After studying the chemical composition of plants, Karl - already from a scientific point of view - concluded that "it contains the entire universe," and created the world's first dietary supplement - concentrate based on alfalfa, watercress, parsley and yeast starter. In 1934 Renborg founded the world's first company selling nutritional supplements by "word of mouth» - «California Vitamins», in 1939, after moving to Los Angeles, Carl renames his company in «Nutrilite Products», in 1947, the distributors' Nutrilite "become the creators of the future," the Amway "Rich DeVos and Jay Van Andel, 1972 merge" Amway "and" Nutrilite ", and" the Amway Nutrilite "becomes the world's first brand of organic vitamins and minerals. Brilliant life genius! But what is it about food plants of the legume family, which allowed the place of an entire multi-billion dollar network marketing industry?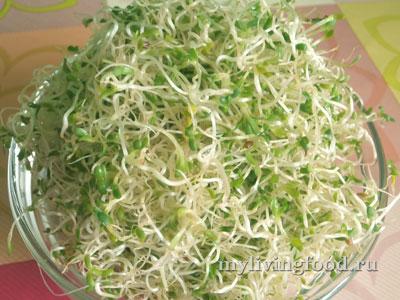 Lucerne - The chemical composition of the beneficial properties of alfalfa sprouts is truly unique - they contain an incredible amount of vitamins, minerals, amino acids and, of course - chlorophyll - a powerful catalyst of biochemical processes occurring in the body. Alfalfa is an adaptogen - a plant capable of enhancing resistance to various diseases and strengthen the human immune system. There are a number of scientific publications that prove the antitumor properties of this plant. Alfalfa sprouts contain plant fluoride helps strengthen tooth enamel, prevent tooth decay and has a strong bactericidal effect. Due to the complex of active compounds alfalfa improves blood and increases hemoglobin, has a powerful alkalizing, diuretic and anti-inflammatory effect, helps reduce cholesterol in the blood, improves the nutrition of the skin, preventing aging, is unsurpassed means for the prevention of osteoporosis and normalize the activity of cardiovascular system. In addition, alfalfa sprouts - it's just a very sweet, crisp and juicy greens tasteful green peas, which is available all year round! WARNING: it is believed that alfalfa is strictly contraindicated in people with first blood. Such data are Sergey Gladkov in his book "Culinary book of life" - a reference to read online, you can find in the section recommended. I do not know how to deal with this information, but I have no reason not to trust the opinion of Sergei Mikhailovich. Therefore, if you have the blood of the first group, I suggest definitely clarify and examine this point. How to sprout alfalfa sprouts For us, of course, need seeds. You can order seeds for germination in any online store and is guaranteed to overpay 3-4 times more. If you feel calmer when ordering products in the audited stores with organic-products - buy there. But I take the seeds for germination in-store with the seeds - in the end, to put parsley or turnip, most gardeners merchandised here. In a simple store with seeds 30-gram bag of alfalfa stands - for a minute - only 40 rubles. A bag of seeds - two nearly full liter cans green shoots
!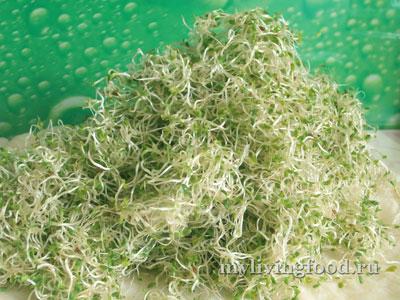 That is, you first need to buy seeds, and more - all very simple. 1. Soak 1, 5 -2 tablespoons seeds in clean cold water liter jar at night: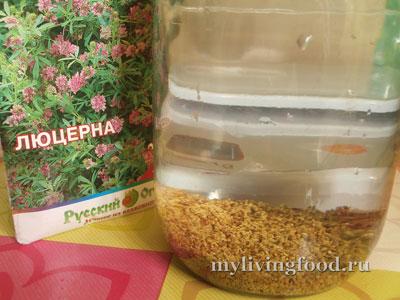 2. Then rinse the seeds under running water in a sieve, let the water drain out, to shift the seeds in a jar, put the jar on its side and left for germination: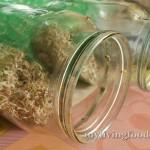 3. Rinse seeds 2-3 times a day and after about 8-10 days appear here are green shoots: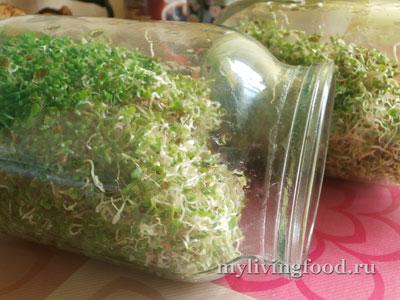 4. Ready alfalfa sprouts placed in a bowl with cold water and gently but thoroughly rinsed several times in order to brown skins and seeds were separated at the bottom. Some of the scales anyway will remain, but it is not terrible. 5. Put the washed alfalfa sprouts on a folded in several layers of paper kitchen towel and place in a container with a lid and put into the refrigerator. Use as needed.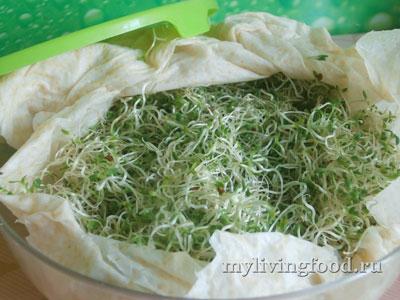 How to eat alfalfa sprouts, of course, fresh! Add to salads, soups, smoothies, sandwiches ... I mean, literally, in any dish in which the taste of fresh green peas will be appropriate.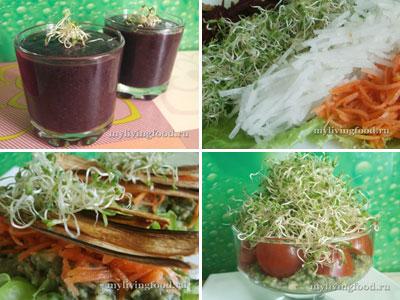 This is delicious! Especially good taste legumes combined with guacamole sauce and pickled vegetables - such as carrots in Korean
. Source: mylivingfood.ru/lyutserna/