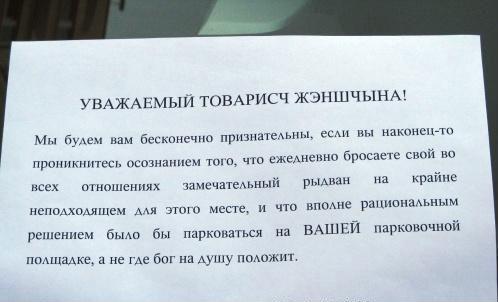 In the courtyard of an office building asphalt come into complete disrepair and made the historic decision to bring the coating in order. Patio narrow, two cars are leaving butt, besides himself patio deadlock. When the machine is already stuck, just go backwards.
Employee has been brought to the attention of all accepted with relief and said the whole day was personal transportation home. Pristine courtyard expected arrival repairmen.
And here's languishing on waiting patio enters heaven blond creation on freshly bought "Mercy Corps» S-class, famously parked across the yard and going to disappear in the office womb. Guard, aware of the impending action in the yard, trying to explain quite well the creation of the undesirability of such a disposition. Describe in detail why. Received in response to a select portion of predominantly profanity, stoically shrugs and turns away.
When a couple of hours the girl flew from the building, she found that among its "gelding" and staggered gate are eight huge piles of rubble that exclude even the theoretical possibility to leave the yard. Alert employees about what is happening with understandably looked forward to further developments in open windows.
The roar of chainsaws friendship - is a quiet rustle of leaves as compared with a squeal that issued mersovladelitsa. With imagination and vindictiveness she, too, was in order. Based on the text, which she gave out, the scene was supposed to arrive Sonderkommando in an amount at least division.
And then she made a strategic miscalculation. Pulling the phone and explain the essence of his claim "papa", she switched the machine on the speakerphone, and in a closed pit yard very clearly sounded tired doomed voice:
 - Stay where you are, you fool. Now you bring a shovel!